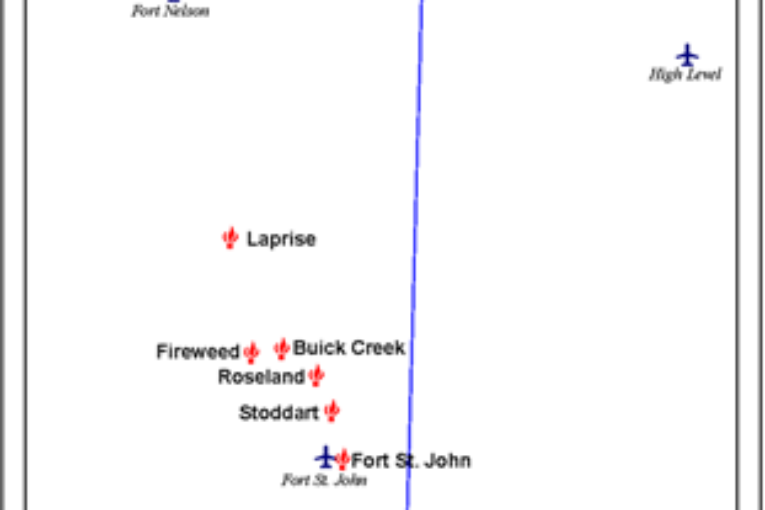 Erikson National Energy Inc. ("Erikson" or the "Company") has engaged Sayer Energy Advisors to assist Erikson with a sale of the shares of the Company.
Erikson is a junior oil and natural gas company with assets located in the Wildboy and Greater Fort St. John areas of British Columbia (the "Properties").
The Properties consist primarily of operated, high working interest shale natural gas production from several formations including the Baldonnel, Charlie Lake, Debolt, Halfway, Jean-Marie and Muskwa formations.
In the Greater Fort St. John area, the Company has working interests in the Buick Creek, Fireweed, Fort St. John, Laprise, Roseland and Stoddart areas.
The Company's average daily sales production in the fourth quarter of 2022 consisted of approximately 18.1 MMcf/d of natural gas and 22 barrels of oil and natural gas liquids per day (3,043 boe/d).
Operating income net to Erikson from the Properties for the year ended September 30, 2022 was approximately $602,000 per month, or $7.2 million on an annualized basis.
As at September 30, 2022, Erikson's working capital deficit was approximately $4.6 million. The Company has 100% owned midstream facilities capable of over 140 MMcf/d of natural gas throughput.
Deloitte LLP ("Deloitte") prepared an independent reserves evaluation of Erikson's Properties (the "Deloitte Report") as part of its year-end reporting. The Deloitte Report is effective September 30, 2022 using Deloitte's forecast pricing as at October 1, 2022. Deloitte estimated that, as of September 30, 2022, the Properties contained remaining proved plus probable reserves of 115.2 Bcf of natural gas and 392,000 barrels of oil and natural gas liquids (19.6 million boe), with an estimated net present value of $105.2 million using forecast pricing at a 10% discount.
Erikson has significant upside in drilled, uncompleted inventory ready for execution. Erikson commissioned Deloitte to provide independent resource estimation and economic evaluations of the Muskwa, Evie, Bluesky, Spirit River, Shunda and Debolt formations for the Properties effective September 30, 2022.
The Company has been reactivating operations since acquiring the Properties in June 2020. Further asset retirement obligation work is to be continued in 2023. Erikson anticipates having an updated Permittee Capability Assessment score in early February which will be provided to parties that execute a confidentiality agreement.
Summary information relating to this divestiture is attached to this correspondence.  More specific information is available at www.sayeradvisors.com. A package of more detailed confidential information will be sent to any party executing a Confidentiality Agreement (copy attached).
Proposals relating to this process will be accepted until 12:00 pm on Thursday, March 2, 2023.
For further information please feel free to contact: Ben Rye, Grazina Palmer, or Tom Pavic at 403.266.6133.
You can read more of the news on source