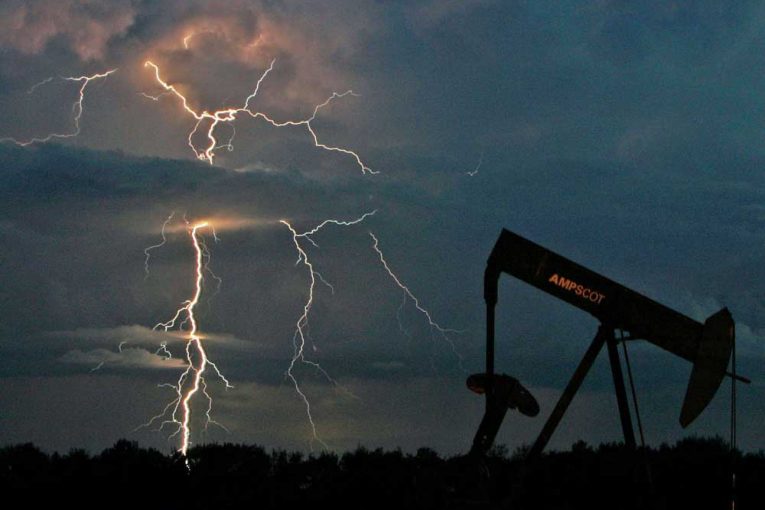 CALGARY — Despite a recent uptick in oil prices, analysts believe Canadian oil companies are preparing to unveil one of the worst financial results in recent years in what is being diplomatically described as "a rebuilding year" for the oilpatch.
Earnings season in the domestic oilpatch begins this week and is expected to show the depth and severity of the COVID-19 induced oil price crash. The quarter will reflect a period when crude oil prices crashed into negative territory for the first time in history.
On Tuesday, Prairie Sky Royalties Ltd. kicked off the results, reporting a 59 per cent drop to $28.2 million in revenues for the second quarter, compared with the same period a year earlier when it reported $69.3 million in revenues. The company swung to a net loss of $400,000 in the quarter, from $44 million in net income a year earlier.
Companies that produce oil on the company's royalty lands "shut-in approximately 30 per cent of PrairieSky's net oil production volumes in response to volatile crude pricing with shut-ins peaking in May at over 40 per cent," company president and CEO Andrew Phillips said in a release. The company stock surged 6 per cent to $8.77 per share on Tuesday in a broadly positive market.
Suncor Energy Inc., the biggest Canadian energy company by market cap, reports late on Wednesday, Cenovus Energy Inc. on Thursday, while Husky Energy Inc., Imperial Oil Ltd. and embattled Athabasca Oil Corp. report next week. Canadian Natural Resources Ltd., the country's largest oil and gas producer by volume, will release its earnings on Aug. 6.
Whereas the first two months of the first quarter saw benchmark oil prices trading in the US$50 to US$60 range, the second quarter has seen prices barely climb over US$40 per barrel. Indeed, on April 20, as the contracting period for next-month oil deliveries was set to expire, the West Texas Intermediate oil price collapsed to –US$37.63 per barrel, marking a historic drop for crude markets.
"With WTI breaching zero in April, to say (the second quarter of 2020) was a challenging quarter for the energy patch would be a meaningful understatement," CIBC World Markets analysts wrote in a July 15 research note, which called 2020 a "rebuilding year" for oil producers.
WTI rose 3 per cent to US$42.20 per barrel on Tuesday on the back of European Union's US$856 billion stimulus package and hopes of a vaccine. The Western Canadian Select heavy oil blend also traded up US$1.13 per barrel, or 4 per cent, Tuesday to US$32.71 per barrel.
Analysts have described the oilpatch's expected results as "unprecedented," "the ugliest" or "the worst" as companies tried to survive the coronavirus collapse in crude prices, a dramatic reduction in demand for refined products and an oil-price war between Saudi Arabia and Russia.
"Definitely Q2 will be the ugliest as far as seeing the real impact of COVID-19 and what that did to commodity prices," Edward Jones analyst Jennifer Rowland said, noting that she expects cash flows at major North American oil companies to be down 60 per cent compared with a year ago.
By contrast, cash flows were down 20 per cent in the first quarter compared with a year earlier — which at the time resulted in some major losses for major companies.
Rowland said that gasoline and diesel prices also fell dramatically in the second quarter, which would leave refining margins down 50 per cent year over year, Rowland estimates. "There really was no place to hide," she said.
As oil prices collapsed, refineries turned down their run rates and commuters stayed home; oil production companies across North America shut in their wells and began producing less oil.
The combination of these factors caused a "downward spiral" in cash flows among oil companies, Rowland said. "The cash flow numbers can get pretty small, pretty quickly."
So, while the first quarter was bleak — Suncor, for example, reported a $3.5 billion net loss — most analysts expect the real extent of the pain to be disclosed in the second quarter.
"Everyone is expecting it to be more difficult for the numbers than in Q1," Eight Capital analyst Phil Skolnick said.
Skolnick thinks the market has already priced in brutal results from major North American producers in the next few weeks given the decline in refining activity, oil shut-ins and historically low crude prices. "You put all that together and it makes for a negative quarter-over-quarter event," he said.
S&P/TSX Capped Energy Index remains down around 49 per cent this year, compared to the broader S&P/TSX Capped Composite Index which has clawed back some of its steep losses and is down just over 5 per cent for the year.
As oil and gas companies begin to report their earnings, Skolnick said he's watching to see how deeply companies cut their production, whether they brought all that production back online and how much debt companies added to survive the oil price collapse.
Rystad Energy estimated the total volume of Canadian oil shut in during the pandemic was 1.14 million barrels of oil per day.
But as oil prices rebounded, Canadian oil producers reversed their oil production cuts more quickly than expected, Peters & Co. analysts wrote in a July 13 research note.
Latest data from the U.S. Department of Energy shows that Canadian oil exports to the United States, its largest market, dipped below 3,000 barrels per day in May for the first time since December 2017, before rebounding to 3.17 million bpd by the week of July 10.
The industry's total production remains below capacity, however, as companies such as Canadian Natural chose to use the period of low oil prices to embark on maintenance at their facilities.
Peters & Co. analysts note that Imperial Oil Ltd. is also considering rescheduling some of its planned maintenance at the Kearl oilsands project from the fall to the summer for the same reason.
Peters' analysts recommended Canadian Natural and Cenovus as their "best ideas" among Canadian and U.S. large-cap oil producers as the industry navigates through one of its most testing periods.
• Email:
You can read more of the news on source