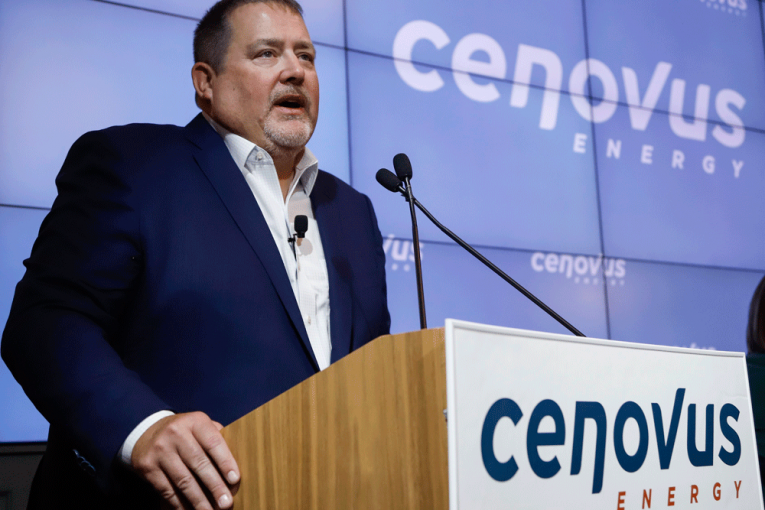 CALGARY – As oil prices rise, more Canadian oil and gas companies are striking deals to buy and sell their competitors and the frothy market has begun luring in foreign private equity players into the domestic oil patch.
Cenovus Energy Inc. president and CEO Alex Pourbaix said Tuesday that his company may look to resume asset sales that were paused in bear markets in previous years.
He said Cenovus asked Husky's management team to pause its planned sale of Husky's retail fuel business last year during a period of low oil prices when the two companies were negotiating their $24-billion merger.
"From my perspective, they were trying to sell at what was really the very bottom of the market," Pourbaix said, adding the company believes better prices could emerge for those assets, as well as Husky's assets in Asia.
"We're probably moving into a much better market for that kind of asset," Pourbaix said.
"At these kinds of prices, we're deleveraging very quickly without any asset sales," Pourbaix said Tuesday, noting that the uptick in oil prices may allow the company to reach an $8 billion debt target, rather than the company's previously announced debt target of $10 billion.
As Cenovus looks to sell, new buyers are beginning to take fresh interest in the Canadian energy sector.
On Tuesday, two London, U.K.-based private equity players, McIntyre Partners and Griffon Partners, announced they would buy the 10,000-barrels-per-day Hangingstone oilsands project through an acquisition company called Greenfire Acquisition Corp for an undisclosed sum.
"While 2020 was a challenging year for the energy sector, within every challenge there is an opportunity," said Julian McIntyre of McIntyre Partners, he called the Hangingstone project a "first class asset with a tremendous management team."
A release announcing the deal said Greenfire "sees a range of investment opportunities in the sector with significant potential."
West Texas Intermediate benchmark oil prices traded up 1 per cent, or 80 cents per barrel, to US$59.45 per barrel on Tuesday. The price of a barrel of Western Canadian Select heavy oil also rose roughly 1 per cent to US$49.41 per barrel Tuesday – a 454 per cent jump from the US$8.92 per barrel the heavy crude oil benchmark fetched on the same day last year.
"What a difference a year makes," Crescent Point president and CEO Craig Bryksa said Tuesday at the Scotiabank CAPP Energy Symposium, adding the focus for Canadian oil and gas companies is "completely different" now than it was in April 2020 after the COVID-19 pandemic led to a historic collapse in oil prices.
"Last year, you're worried about your overall debt levels and your bank covenants and how does that look and this year you're focusing on free cash flow generation and what you're going to do with free cash," Bryksa said.
If oil prices average US$60 per barrel, his company will generate $600 million in free cash this year, most of which would be allocated to paying down Crescent Point's debt, Bryksa said.
The recent uptick in oil prices has sparked a wave of mergers and acquisitions in the Canadian oil patch, headlined by Cenovus' purchase of Husky, but also including ARC Resources Ltd.'s $8.1-billion purchase of Seven Generations Energy Ltd. and Brookfield Infrastructure Partners $13-billion hostile bid for Inter Pipeline Ltd.
Crescent Point Energy Corp. closed a $900-million deal to buy natural gas-producing assets from Shell Canada Ltd. last week.
FP Data shows 24 energy M&A deals have been proposed or concluded in Canada for a combined value of $20.5 billion year-to-date, compared to $805 million across 14 deals during the same period last year. The Canadian oil, gas and consumable fuels M&A space has seen the best start to the year since 2017 when 47 energy M&A deals were proposed or concluded for a combined value of $33.9 billion during the same period.
However, against the backdrop of improving commodity prices and market conditions, oil industry groups in Canada and the U.S. are concerned about policy changes that could hamper the industry's future growth.
"Perhaps the most significant change is the shift from the Trump administration to the Biden administration. On policies dealing with energy and the environment, the Biden administration is principally focused on addressing climate change," said Frank Macchiarola, senior vice-president of policy, economics and regulatory affairs at the American Petroleum Institute.
Macchiarola said U.S. President Joe Biden's pause on oil and gas leasing on U.S. federal lands and his cancellation of TC Energy Corp.'s Keystone XL pipeline on the first day of his presidency was "disappointing."
Still, there are broad topics including carbon capture and carbon pricing where the U.S. energy industry was looking to engage with the administration on policy.
Meanwhile, Alberta Energy Minister Sonya Savage candidly remarked that CAPP held the government's "feet to the fire" on energy policy issues, and the oil and gas industry was instrumental in forming government policy in the province.
"I appreciate the work that CAPP does, that's our point of contact for making sure that we're doing the right things on policy perspective," Savage said, adding that "it takes industry and government working together" to implement competitive policy.
University of Alberta business and economics professor Andrew Leach said the comments about CAPP holding the province's feet to the fire raise some concerns about what stakeholders the government is engaging with.
"When the province is under so much scrutiny about its environment and social governance initiatives, certainly one of the attributes that you'd look for in proper resource governance is distance from the industry," Leach said. "What I would like to see is there's evidence of engagement with other stakeholders as well."
• Email:
You can read more of the news on source