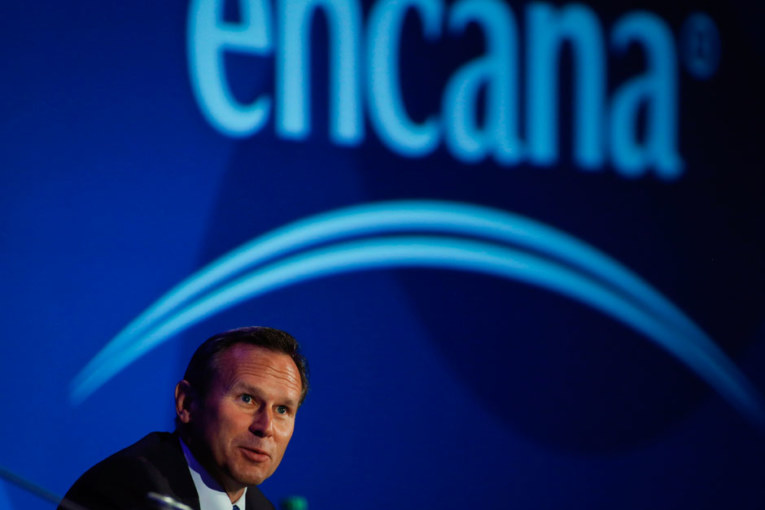 CALGARY • Shares in Husky Energy Inc. tumbled while Encana Corp. jumped after the two competing energy companies released divergent earnings results Friday.
Executives at both companies have worked to transform their companies and reduce debt during the prolonged oil price collapse and described how lower commodity prices were again a challenge in the recently completed quarter.
West Texas Intermediate oil prices rose above US$54 per barrel at the beginning of April but fell steadily over the course of the second quarter to US$45.83 per barrel on Friday afternoon.
Both Encana and Husky tried to highlight efforts to improve their results but Encana's stock rose, as analysts said the company exceeded expectations, and Husky's fell as the company missed targets.
Encana reported its second quarter in a row of positive net earnings — it earned US$331 million in the second quarter, compared with a US$601 million loss at the same time last year — and its shares rose over 2 per cent in mid-day trading Friday to $12.45 each.
The company's margins improved 25 per cent in the quarter despite the drop in oil prices, Encana president and CEO Doug Suttles said during an earnings call. "We don't expect the productivity improvements to stop. We continue to push this," Suttles said.
Husky shares, meanwhile, fell 3 per cent, or 43 cents, to $14.18 after it reported a $93 million net loss for the period, down from a $196 million net loss at the same time last year, but a reversal of its positive earnings number from the first quarter.
Husky's results were affected by $168 million in impairment charge on crude oil and natural gas assets in the second quarter.
"We are focused on reducing the price we need to break even on earnings," Husky president and CEO Rob Peabody said on his company's results call, adding the company had done so in the quarter when its net earnings are adjusted to remove impairments and write-downs.
The company missed its cash flow projections largely as a result of expenses from drilling two dry holes offshore Newfoundland in the second quarter, AltaCorp Capital analyst Nicholas Lupick said in a research note.
The company's production was also slightly below analysts' estimates, Lupick said, as a result of maintenance at the company's processing facilities. Husky produced 320,000 barrels of oil equivalent per day in the second quarter, up from slightly from 316,000 boe/d at the same time last year.
Encana, meanwhile, beat targets and produced an average of 316,000 barrels of oil equivalent per day in the quarter, though production was down from 368,000 boe/d for the same period last year as a result of dispositions.
The company has refocused its portfolio in an effort to produce more oil and liquid hydrocarbons like condensate and less natural gas. Between the first and second quarter of the year, liquids production rose from 35 per cent to 40 per cent of its production.
"This should go a long way to alleviating concerns regarding the company's ability to self-fund a meaningful growth program next year at strip pricing," Raymond James analyst Chris Cox wrote in a research note, of the company's operations and financial results.
Financial Post
The sale is raising questions about whether Teck Resources is laying the groundwork to pivot away from its smelting business to focus on other businesses elsewhere
The NDP leader who criticized LNG during his campaign could make a big difference to the industry on an upcoming trip to Asia
If you're taking chances with your tax filing in the hopes that you don't get caught, your time may be running out
Wynne is double-doubling down on her criticism of Tim Hortons franchisees who cut worker benefits amid the province's minimum wage hike
You can read more of the news on source