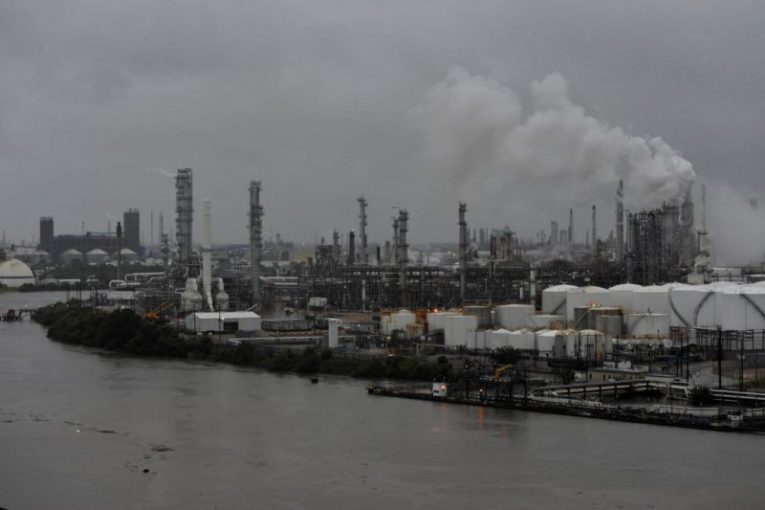 U.S. gasoline in first slide since Harvey, oil under pressure
NEW YORK (Reuters) – Benchmark U.S. gasoline prices slid for the first day since Hurricane Harvey struck the U.S. oil industry heartland, as some refineries restarted operations, while oil prices remained under pressure and settled about flat.
Harvey, downgraded to a tropical storm and losing steam as it moved inland, killed more than 40 people and brought record flooding that shut at least 4.4 million barrels per day (bpd) of refining capacity.
Closure of roughly a quarter of the U.S. refining industry sparked fears of fuel shortages before the Labor Day weekend and cast doubts on refinery demand for crude. This widened the crack spread, the difference between the prices of U.S. gasoline and crude oil.
On Thursday, U.S. gasoline hit a two-year high above $2 a gallon. On Friday, as two refineries began to restart and some ports reopened, gasoline futures RBc1 fell 2 percent and the crack spread fell more than 5 percent.
Brent crude for November settled 11 cents lower at $52.75 a barrel. The Brent contract for October, which expired on Thursday, closed up $1.52 at $52.38.
U.S. crude CLc1 settled 6 cents higher at $47.29 a barrel after trading lower for most of the day.
For the week, Brent was up 0.65 percent while U.S. crude posted a weekly decline of 1.25 percent.
Analysts said prices would seesaw until there the market got a clearer outlook for the refinery industry.
"We're continuing to assess the refining sector and its ability to come back from Harvey," said John Kilduff, partner at energy hedge fund Again Capital LLC. "The good news for consumers is that it seems some of the units are in the process of getting back in operation."
Marathon Petroleum Corp's (MPC.N) Galveston Bay Refinery in Texas City, Texas, had raised production to 45 percent of its 459,000 barrel per day capacity, sources told Reuters on Friday. Citgo Petroleum Corp said it was moving to restart its 157,500-barrel-per-day (bpd) refinery in Corpus Christi, Texas.
The Explorer Pipeline, which hauls fuel from the Gulf Coast to the Midwest region, aims to restart its main lines this weekend as refineries indicated they would be able to resume supplies after Tropical Storm Harvey, a spokesman told Reuters.
The U.S. government tapped the Strategic Petroleum Reserve for the first time in five years, and on Friday authorized an additional release of 3.5 million barrels, adding to the 1 million barrels of crude already cleared to go to a working refinery in Louisiana.
U.S. crude oil stocks fell sharply last week as refineries raised output with the approach of Harvey, the Energy Information Administration said.
The oil market outside the United States remains well supplied with ample production by the Organization of the Petroleum Exporting Countries. However, OPEC oil output slipped in August by 170,000 bpd from a 2017 high, a Reuters survey found.
You can read more of the news on source