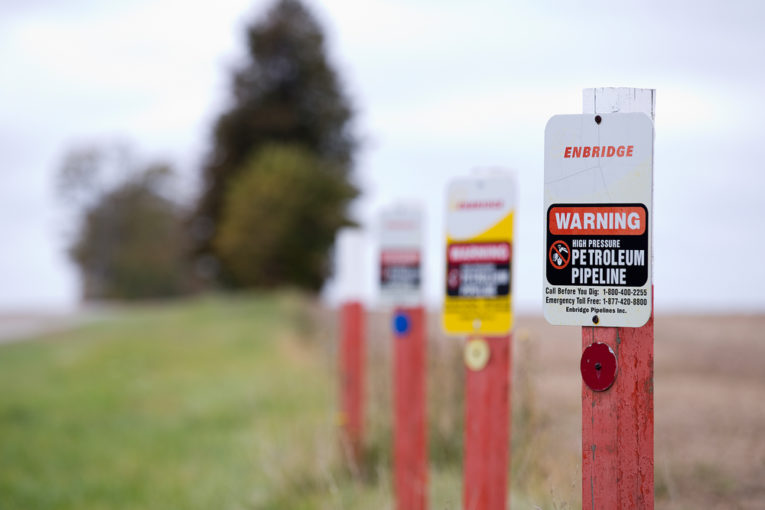 CALGARY — Enbridge Inc. is sweetening its offer to buy all the units in Spectra Energy Partners LP it doesn't already own, raising its proposed share exchange ratio by almost 10 per cent in the all-shares transaction valued at $4.3 billion.
The move, which was expected by some analysts following a U.S. regulator's final tax policy ruling in July, means that holders of the 17 per cent of Spectra not owned by Enbridge will receive 1.111 Enbridge shares for each common unit, up from 1.0123 shares per unit offered in May.
Spectra shares rose by as much as 4.6 per cent on the New York Stock Exchange to US$39.62 on Friday morning while Enbridge fell by as much as 2.4 per cent to $45.99 on the Toronto Stock Exchange.
"We view this as a positive step towards reducing corporate complexity, but note there will be marginal dilution from the transaction … as the increased offer is somewhat offset by elimination of distributions to the 17 per cent non-controlling interest," said analysts with Tudor Pickering Holt & Co. in a report.
As Enbridge owns 83 per cent of Spectra's shares, it already has the two-thirds majority required for unitholder approval of the transaction, which is expected to close in the fourth quarter.
It said the revised deal has unanimous support of a conflicts committee appointed by the separate Spectra board of directors.
In May, Calgary-based Enbridge launched an initiative to buy back all of its pipeline subsidiaries in the United States with shares worth $11.4 billion at the time, citing a Federal Energy Regulatory Commission decision in March to end certain tax loopholes they enjoyed.
American pipeline rivals The Williams Cos. and Cheniere Energy Inc. launched similar multibillion-dollar offers for their subsidiaries at the same time for the same reason.
In 2016, a U.S. Appeals Court ruled that energy regulators were allowing master limited partnerships (MLPs) to benefit from a "double recovery" of taxes. MLPs are tax-exempt corporate structures in the United States that pay their profits to investors in dividend-style distributions.
Enbridge said the decision hurt its subsidiaries by cutting into their distributable cash flow. It also weakened their credit worthiness and ability to raise money from investors, a process that fuels "drop-downs" of assets from Enbridge Inc. in return for cash to support the parent company's growth.
Enbridge proposed separate all-share offers with the boards of Spectra Energy, Enbridge Energy Partners, L.P., Enbridge Energy Management, L.L.C. and Enbridge Income Fund Holdings Inc.
Only Enbridge Energy Partners and Spectra Energy Partners are MLPs, but Enbridge said the FERC ruling negatively affected all four.
In a news release Friday, Enbridge said a July 18 FERC order clarifying its revised MLP income tax policy "could potentially improve SEP's position" given its historical deferred income tax balances "and is therefore uniquely positive for SEP among the Enbridge family of sponsored vehicles."
"Our offers for EEP and EIF remain fair and are not linked to the SEP deal," said spokesman Michael Barnes in an email, adding the FERC tax clarification provided little benefit to Enbridge Energy Partners and none for Enbridge Income Fund and therefore those offers won't be increased.
Enbridge Energy Management is a company that manages and controls Enbridge Energy Partners, he said.
You can read more of the news on source