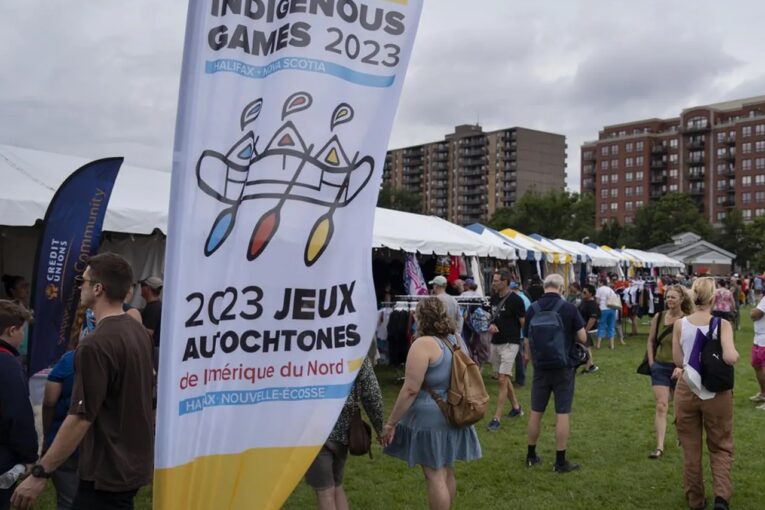 HALIFAX – Organizers of the North American Indigenous Games ignited a sacred fire on Saturday, saying the rekindling of First Nations culture is at the heart of the sports competition.
"We set the goal at these games to have 50 per cent culture and 50 per cent sport, so we're infusing cultural aspects into all aspects of the games themselves," said games president George (Tex) Marshall in an interview after the ceremony.
The 2023 version of the games is taking place at venues in Halifax, referred to as Kjipuktuk, along with events at Millbook First Nation, near Truro, N.S., and Sipekne'katik First Nation, about 60 kilometres north of Halifax.
Sports include the traditional Indigenous sports of canoe/kayak, archery, and box lacrosse, as well as soccer, softball, swimming, volleyball, wrestling, beach volleyball, rifle shooting, golf, athletics, badminton, baseball and basketball.
Indigenous ceremonies will occur at each of the venues, said Marshall. "There will be smudging (with sacred smoke), there will be elders available to athletes for comfort and advice, and our signage will have our language (Mi'kmaq) displayed."
However on Saturday, the bustling heart of the games was at the cultural village in downtown Halifax, where thousands attended to watch demonstrations of traditional woodworking, observe a handcrafted, birchbark canoe or enjoy a game of waltes — a Mi'kmaq dice game.
The games will bring together about 5,000 athletes, coaches and mission staff from more than 750 Indigenous nations across North America.
As the sacred fire was lit, two elders called out for their ancestors to enter the sporting competition of youths 13- to 19-years old.
"Our ancestors are always present, through smudging, sacred fires, sweats and ceremonies. They made themselves known through the strength of the fire, which was strong from the start," said Marshall.
Nearby, a stage was prepared for an evening concert featuring current Indigenous artists, including standup comedian Clifton Cremo, a Mi'kmaw performer from Eskasoni First Nation in Cape Breton.
Marshall said Halifax won the games in part due to its size, as he promoted it as being large enough to provide good facilities, but small enough to ensure the games featured prominently in the city while they were underway.
As he spoke, the Halifax commons filled with families curious about the various demonstrations and displays.
Outside the cultural village's meeting tent, Ernest Johnson, an 82-year-old resident of Eskasoni First Nation in Cape Breton, showed how he uses a razor-sharp plane to shave off pieces of ash that are then crafted into wooden flowers.
He also told those gathered around him how he uses bark to make tea, and explained how certain types of poplar can be used to provide remedies for headaches.
"I have some of that in my yard," exclaimed one surprised onlooker. Johnson replied, "You don't need expensive, high-end stores to provide for you. It's all there for you. You just have to learn it."
He said in an interview after the demonstration that he wants to provide city dwellers with an alternative vision of the value of wood.
"When we see an opportunity to rescue wood, we do that," he said, showing how he turns a piece of ash into a clapper-style percussion instrument — known as Ji'gmaquan — to be used with dance and song.
Maureen MacMullin, a former music teacher, listened to Johnson's talk, saying it was learning experience.
"The way he looks at wood, he refers to it as 'a gift'… It's nice to hear of the traditional ways. I appreciate it so much," she said.
"So many people are coming here and learning."
Fiona Kirkpatrick Parsons, the games chair, said in an interview that she believes the prominence of the cultural activities amid the sports competition stems from a renaissance within First Nations.
"It was really only in recent history that we could practice our culture, whether it be our spirituality or ceremonies, our dance, our songs. All of that was forbidden for so long," she said.
"I feel like my ancestors are saying, 'Look, we didn't suffer for nothing. It's time to take it back.' It's time to take back who we are and bring that forward not only for ourselves and for the future generations, but for everyone that that we touch, all peoples."
This report by The Canadian Press was first published July 15, 2023.
SHARE:
JOIN THE CONVERSATION
Conversations are opinions of our readers and are subject to the Code of Conduct. The Star
does not endorse these opinions.
You can read more of the news on source