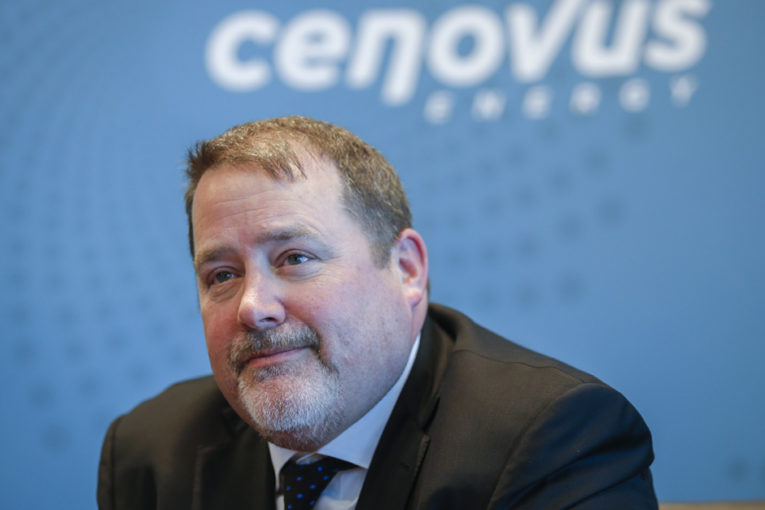 It's been barely a week since Alex Pourbaix started his new job as the president and CEO of Cenovus Energy Inc. and he's already eagerly immersed in realizing his priorities — reducing costs, getting debt to a manageable level and improving shareholder value.
"What I can commit to is that this company is going to be a cost leader going forward," Pourbaix said in an interview in Calgary's grand Bow tower, where Cenovus is a lead tenant.
"All you have to do is look out the window in Calgary's downtown to see that Cenovus's competitors have had to be very aggressive in terms of streamlining their organizations," he said. "The company has already done a significant amount of cost cutting. And I am going to spend a lot of time here in the early part of my tenure understanding what represents really top notch cost performance in this company."
It'll be a big job to return Cenovus — an oilsands producer that uses in-situ technology – to the top of the pack after its March acquisition of ConocoPhillip Co.'s 50 per cent interest in the oilsands venture jointly owned by the two companies, plus Conoco's conventional oil and gas assets in Alberta and British Columbia.
Investors were concerned by the hefty price tag — $17.7 billion — which led to a pile of debt. It came after competitors Suncor Energy Inc. and Canadian Natural Resources Ltd. made large acquisitions of their own at attractive prices. It didn't help that the oilsands in general are out of favour because of continuing market access challenges and uncertainty over carbon policy.
Still, Pourbaix is optimistic about the future. Cenovus has some of the industry's best assets and top technical expertise to produce them, he said.
On new pipelines, "I am confident that the right decisions will be made and we will see more takeaway capacity," said the former TransCanada Corp. executive, referring to the Keystone XL pipeline, which is due for a major ruling next week from regulators in Nebraska that could lead to construction, and the Trans Mountain pipeline expansion proposed by Kinder Morgan Canada Inc., which despite ongoing legal challenges has received regulatory and federal government support. If those are resolved, the sector can put the market access challenges behind it, he said.
Non-core assets in the Deep Basin are on offer to further pay down debt, he said. Cenovus announced Monday the divestiture of its Weyburn oil property for $940 million, raising its haul from asset sales to $3.7 billion since the ConocoPhillips buy.
On cost leadership, Pourbaix said there will be increased emphasis on accountability and on making shareholder returns a priority. "It's great to have big reserves, but now we have to become excellent at turning that production and that opportunity into cash flow," he said.
And then there will be organic growth, such as from smaller conventional projects in the Deep Basin that can be ramped up quickly to complement growth in the oilsands, which tends to come in big chunks that take longer to get to production.
After a global search to replace Brian Ferguson, who retired last month, the Cenovus board picked Pourbaix, 52, as its new leader. He retired as TransCanada chief operating officer in the spring after 27 years at the company, that included leading its biggest projects such as Keystone XL and Energy East, as well as many of the company's big acquisitions.
Some think Pourbaix is an unusual choice because of his lack of oil and gas experience. Pourbaix, a lawyer, acknowledged he'll have to get up to speed on the technical aspects of the business.
Still, "The board didn't hire me because I was going to have a better strategy on well completions in SAGD," he said. "They hired me, I hope, because of a demonstrated track record of value creation, leadership, focus on accountability, cost discipline and delivering really positive outcomes."
Pourbaix will also be able to teach his new oilsands peers a thing or two about communication, another one of his big priorities.
When he was fighting the market access battles at TransCanada, Pourbaix said he often prodded oilsands leaders to better explain their economic contribution and their environmental record, instead of letting opponents define the sector's reputation.
"I have a similar view going forward," he said. "I think the industry still has a long way to go to educate stakeholders."
Financial Post
You can read more of the news on source