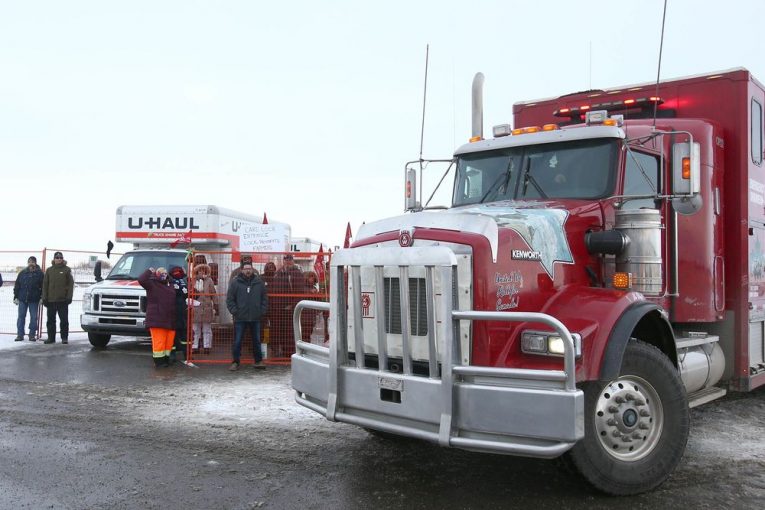 Barricades erected by locked-out Saskatchewan workers at a Federated Co-op Ltd. fuel terminal in Carseland must come down, a Calgary judge ordered Thursday.
But Unifor, the union representing the workers, says they won't take down fencing at the site, arguing the barricades are necessary to keep pickets safe from vehicle traffic into the facility.
Justice Glenda Campbell agreed with lawyers for Federated Co-op Ltd. that
the barricades and picket lines
that have been in place since Jan. 24 are unlawful.
She said the barricades, which have allowed pickets to restrict access to the fuel terminal, must come down, and union members or supporters are prohibited from preventing individuals from entering or exiting the property.
"The respondents may be present at the Carseland fuel terminal, they may convey their message to those persons who choose to stop and engage in discussion, but they may not impose that discussion on the unwilling," Campbell said.
She said while injunctions against the union members in Regina have allowed for stopping individuals for up to 10 minutes, or until they insist on being allowed to proceed, there would be no time allotment given to the pickets.
Campbell said any strikers, union members or people acting on their behalf are "restrained from blocking, impeding, obstructing or interfering with ingress to, or egress from access points, entrances, driveways or gates to the Carseland fuel terminal."
Her order also prohibited those individuals "from impeding, obstructing, blocking, intimidating, harassing, coercing or in any way interfering with employees, contractors, customers, buyers, members of the public or any other person seeking to leave or enter the Carseland fuel terminal."
Campbell said pickets will have to be at least five metres from any entrance to be in compliance with her order.
The injunction did not, however, include a police enforcement clause, which would have allowed RCMP to force pickets to take down the barricades.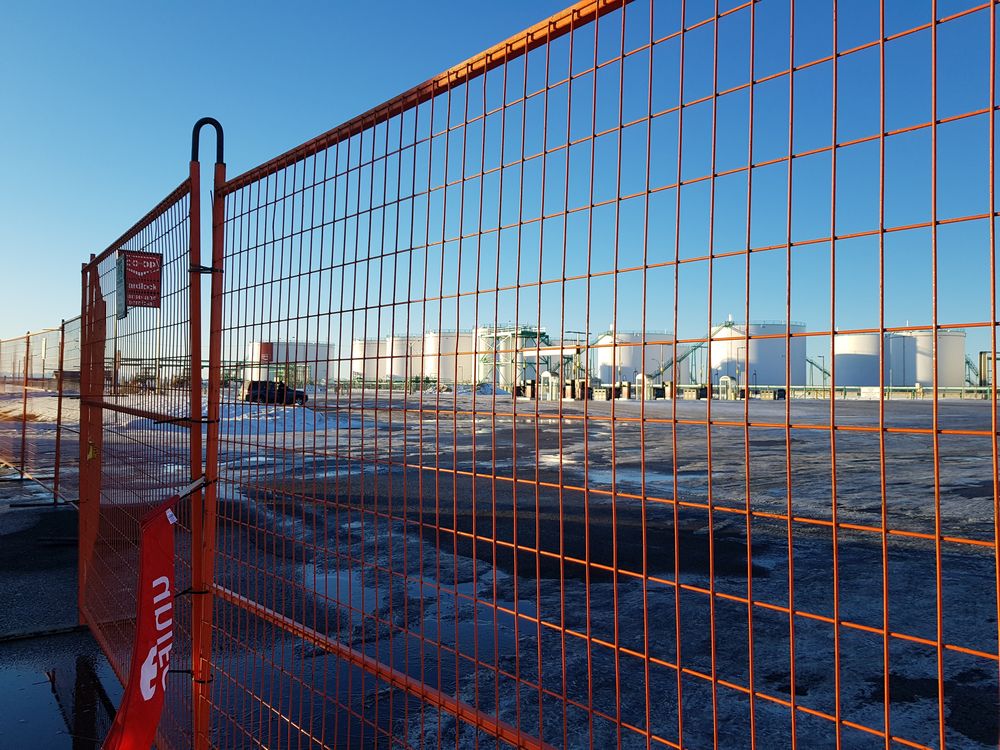 Fences have remained up at the Carseland facility since the ruling was issued. FCL said it will monitor compliance with the order through Friday and will pursue further legal action if fences remain up. Conversely, Gavin McGarrigle, Unifor's western regional director, said his union is more worried about "the contempt (FCL) has shown for its own workforce" than a potential contempt of court ruling.
McGarrigle added pickets will remain on site in Carseland and the union is planning to expand secondary pickets to additional FCL facilities across Western Canada.
Justice Minister Doug Schweitzer weighed in on the dispute Thursday, saying the province expects Unifor to abide by the injunction and calling on RCMP to enforce the ruling — even though a clause was not granted that would allow police to do so.
"While law enforcement is responsible for their operational decisions, like all Albertans it is my expectation that the RCMP will enforce the law," Schweitzer said in a statement.
"And while all Canadians have a right to protest in a legitimate fashion, breaking a court order is a violation of the law and it is incumbent on all individuals and organizations to abide by the law in Alberta."
The injunction is the latest development in the ongoing labour dispute between Unifor and workers at an FCL refinery in Regina over worker pension plans.
The tense dispute spilled into Alberta in late January, when Unifor members
began picketing the fuel storage terminal in Carseland
, about 65 kilometres southeast of Calgary, erecting fencing to limit when vehicles could enter and exit the facility.
A similar chain of events played out in Regina, where a judge imposed restrictions on action by locked-out workers at that city's refinery. A judge later found Unifor guilty of contempt of that court order and fined the union $100,000.
In a statement Thursday, FCL CEO Scott Banda said he was pleased with the ruling but that the company is still unable to operate in Carseland while the injunction is unenforced. He reiterated no bargaining would take place while barricades remain up.
"We've said that we're willing to bargain for as long as it takes to get a deal, but we will not bargain as long as these illegal blockades are in place," said Banda. "It's obvious that Unifor doesn't share our interest in bargaining since they continue to use illegal actions to hold our business, and a good portion of western Canadians' fuel supply, hostage."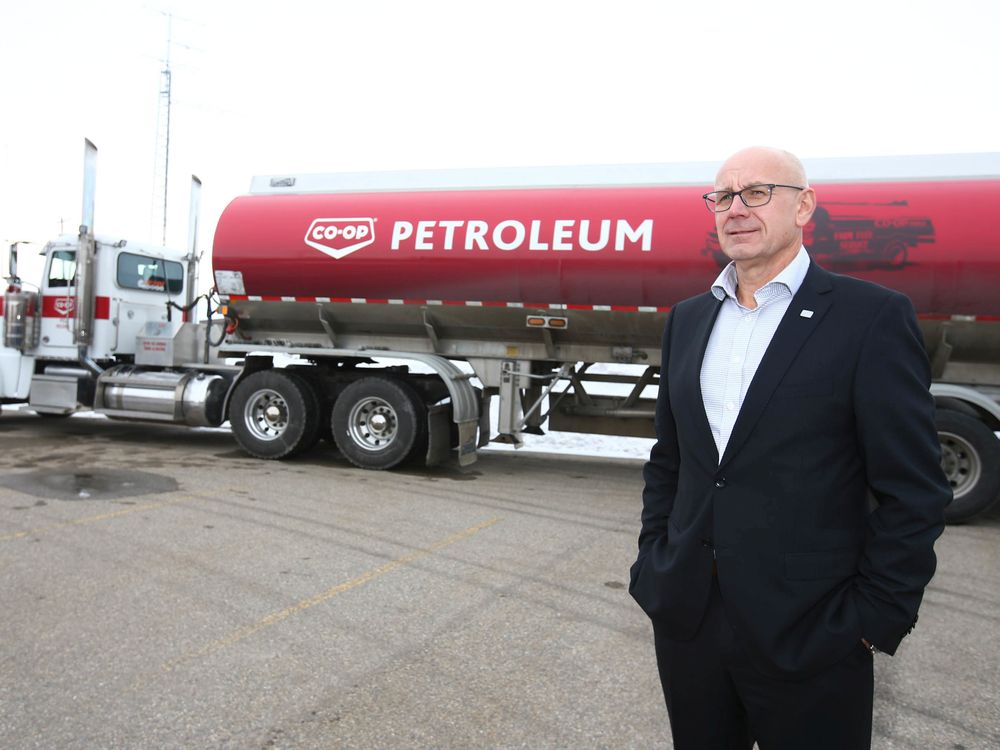 Unifor said FCL's legal strategy isn't going to lead the two parties back to the bargaining table.
"Once again, Co-op is using courts and the police to try and enforce its way to the bargaining table," McGarrigle said. "They're trying to use the legal system and the police system to avoid their obligation to treat their workers with respect."
There have been periodic fuel outages at Co-op gas bars and cardlocks as a result of the labour dispute, FCL says. The company also imposed fuel restrictions at its cardlocks of 300 litres of diesel and 100 litres of gasoline on Wednesday.
Also on Thursday, dozens of truckers with horns blaring drove their semis into downtown Regina to protest the blockades at that city's refinery.
About 90 independent lease operators who transport fuel for the refinery demanded Unifor remove its barricades.
Saskatchewan Premier Scott Moe has said he's prepared to appoint a special mediator and that a negotiated settlement is the best option to end the lockout.
— With files from The Canadian Press
Twitter:
@KMartinCourts
Twitter:
@jasonfherring
You can read more of the news on source