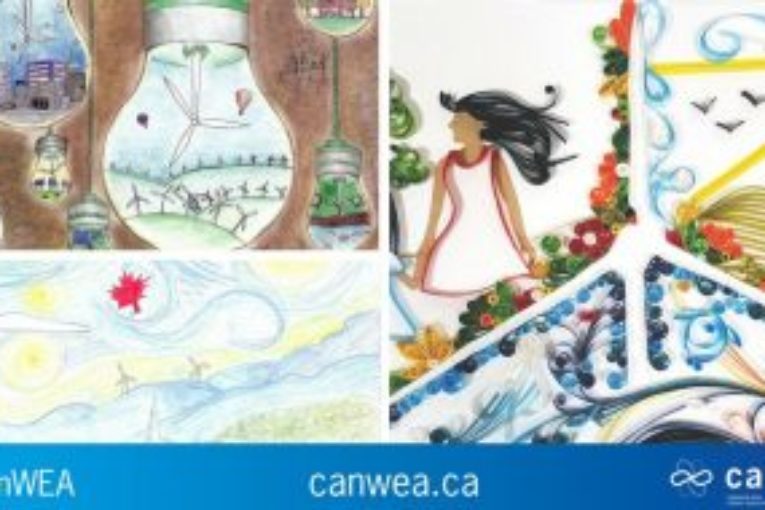 CanWEA unveils the winners of its 2017 Power of Wind contest
For the past seven years, I've had the enviable task of managing the Canadian Wind Energy Association's (CanWEA's) Power of Wind contest, and it's given me a unique perspective on how the thinking of Canadians is evolving along with the way we produce and use energy. As wind energy has expanded to become a mainstream source of electricity in advanced economies like Canada's, the benefits of clean power and clean growth have become more ingrained in people's thinking.
I think you'll see what I'm talking about when you look at the winning entries in the 2017 edition of the contest, which we are unveiling today. All three of them draw a direct connection between wind energy and their everyday lives. Wind is not some kind of far-off concept in a far-off future. In fact, virtually every entry we received this year had a similar theme. We saw a sketch of an electric car drawing power from the wind and storing energy from the grid, a photo of farmer taking off a hay crop while a wind turbine generates royalty income for his family from the same field, an illustration of wind energy at the centre of a clean and vibrant cityscape, and many more examples of how Canadians are becoming more conscious about where our electricity comes from, how we use it, and how our choices can contribute to a more prosperous and sustainable world.
What's particularly exciting for me is seeing how this vision of a clean energy future is shared by Canadians of all ages and backgrounds. The Power of Wind contest has traditionally been targeted at post-secondary students, but this year CanWEA decided to open it up to members of the general public. The top two student entries will each receive a $1,000 bursary, with a third $1,000 prize awarded to the best public submission.
We made the change for a couple of reasons. With wind energy playing a more and more prominent role in our energy system, it is touching the lives of more and more Canadians. It is also putting Canada at the heart of a global movement towards a low-carbon future. Earlier this year, I was honoured to be part of the judging panel for WindEurope's Global Wind Day photo competition, Capture the Power of Wind 2017. The winners came from different countries, but what brought them together was their recognition of the power of wind to create positive change.
Our contest winners demonstrate that same understanding. They are:
Valerie Chang, a second-year environmental design student at Dalhousie University. Valerie took top honours with a drawing that depicts scenes of clean nature "as it is supposed to be, as it originally was and still can be once again, with renewable energy being the centre of it all."
Sophie Jiang a first-year computer science and business administration student at the University of Waterloo. Sophie came second with a drawing showing wind energy as the light of hope in a world that relies on polluting sources of energy.
Julia Gent, a grade 9 student at Ottawa's Lisgar Collegiate Institute, who was one of the youngest to enter this year's contest. Julia won the general public category with a drawing inspired by Vincent van Gogh's nightscape, Starry Night, where wind energy lights homes under a clear star-filled sky.
The three winners, and nine more of our top picks, are featured in the 2018 edition of CanWEA's popular Friends of Wind calendar. We combined the contest and calendar for the first time in 2016 and we had so many rave reviews, we knew we had to do it again. Every month tells a story of the artist, who they are, and how sustainable practices and renewable energy fit into their world.
I remember thinking back then that a calendar was a good way to keep the vision of Canada's clean energy future alive throughout the year, and it turns out I was right. Every time I flipped a page, I had another chance to contemplate the ideas, and ideals, that the artists took the time to share. I found it motivational, and I think you will too.
That's why I encourage you to visit windcalendar.ca to purchase the 2018 calendar. All proceeds from the sales go back into CanWEA's Friends of Wind program, helping to support initiatives that promote a renewable, sustainable and clean future.
Senior Communications Advisor at the Canadian Wind Energy Association
You can read more of the news on source