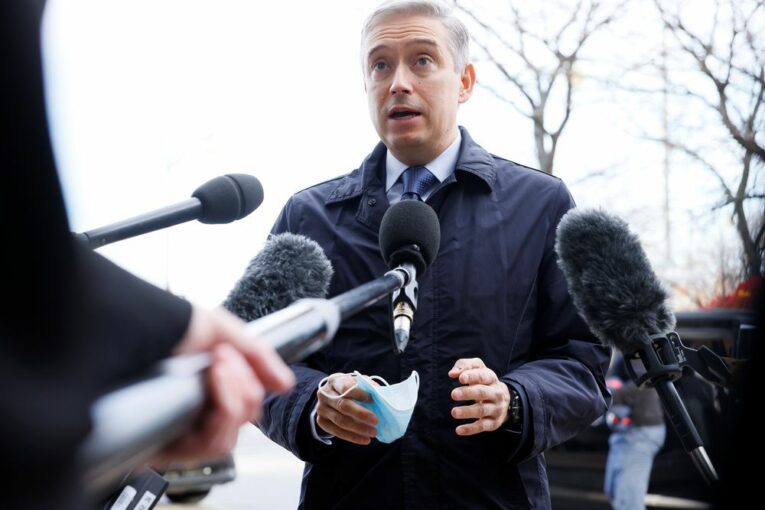 Innovation Minister François-Philippe Champagne says he's close to securing a major investment in the electric-vehicle-battery ecosystem as Canadian governments race against rivals in North America and Europe to secure zero-emissions-vehicle manufacturing.
"We're well advanced in creating the battery ecosystem in Canada, from the mine to the recycling plant," Champagne said in an interview with The Logic on Friday.
In November, Champagne travelled to the U.S. and Europe "to consolidate the discussions we had with a number of key players in the battery ecosystem," he said last week. "I would say we're getting closer and closer to land some very significant investment."
Champagne cited as domestic advantages the knowledge base of the existing auto industry, along with reserves of the critical minerals that go into electric-vehicle cells, renewable power capacity, and projects designed to produce "green" steel and aluminum. "I've been talking to CEOs of a number of companies [that] would be key," he said.
Auto and light-duty-vehicle manufacturing accounted for $40.6 billion of the country's $522 billion in goods exports last year and directly employed nearly 122,000 people as of September 2021, according to Statistics Canada data. But the domestic sector faces an overhaul sparked by major markets' efforts to cut emissions by electrifying transport. The Liberal government has tried to position Canada as a major force in the zero-emissions-vehicle supply chain.
The capital expenditure required to build battery facilities is "in the billions," he noted. "This is an industry which has the potential to be, over a generation, as big as the aerospace industry for our country." During his November visit to Belgium, France and Germany, Champagne met with executives from automakers and parts suppliers including Bosch, Eberspächer, Evonik Industries, Mercedes, Porsche and Stellantis, said spokesperson Mohammad Hussain. "I've been kind of a matchmaker," Champagne said, noting he's talked to mining, chemical, battery-assembly and auto-manufacturing firms.
Canada's EV ambitions face challenges. Governments in larger consumer markets are offering billions in incentives and erecting regulatory barriers to encourage firms to innovate and manufacture to locate within their borders.
This is an industry which has the potential to be, over a generation, as big as the aerospace industry for our country

François-Philippe Champagne
In January, the European Commission approved up to 2.9 billion euros ($4.5 billion) for projects across "the entire battery value chain." The Biden administration's original jobs plan included US$174 billion to "win the EV market." The U.S. Congress is considering a bill that would restrict green-car-buying incentives to U.S.-produced batteries and U.S. union-made models. Meanwhile, growing auto markets are also seeking to join the supply chain — India reportedly plans to offer US$4.6 billion for advanced battery manufacturing.
Announcements of new facilities have ramped up recently. For example, General Motors (GM) and LG have formed a US$2.2-billion joint venture to produce batteries in Ohio. And in September, U.S. giant Ford and South Korean supplier SK Innovation announced an US$11.4-billion EV project in Kentucky and Tennessee, backed by a reported US$884 million in incentives from the latter.
Canada has also attracted some investment, albeit at the end of the manufacturing supply chain. Last fall, Ford and Stellantis announced plans to build passenger cars in Ontario, while GM said in January it would make light commercial vehicles in the province. All three of the auto giants sought Ottawa's support. In August, the federal government signed an agreement to give Ford a non-repayable contribution of $295 million from its Strategic Innovation Fund for its $1.8-billion project in Oakville, Ont. It has yet to reach similar deals with GM or Stellantis, said Yara El Helou, a spokesperson for Innovation, Science and Economic Development Canada.
Provincial governments have also been courting EV supply-chain investment. In October, Quebec Economy Minister Pierre Fitzgibbon met with executives from Tesla. And Ontario is "in discussion with some of the largest players in the sector about making major EV [and] battery production investments," Kwok Wong, a spokesperson for Economic Development Minister Vic Fedeli, told The Logic last month.
Champagne did not directly answer a question about whether he'd also spoken to Tesla, or name with which firms in the battery supply chain he'd had discussions.
"We've been coordinating with a number of provincial colleagues," he said. "I hope to have good news to announce, because we're very advanced with a number of players."
The Logic
You can read more of the news on source