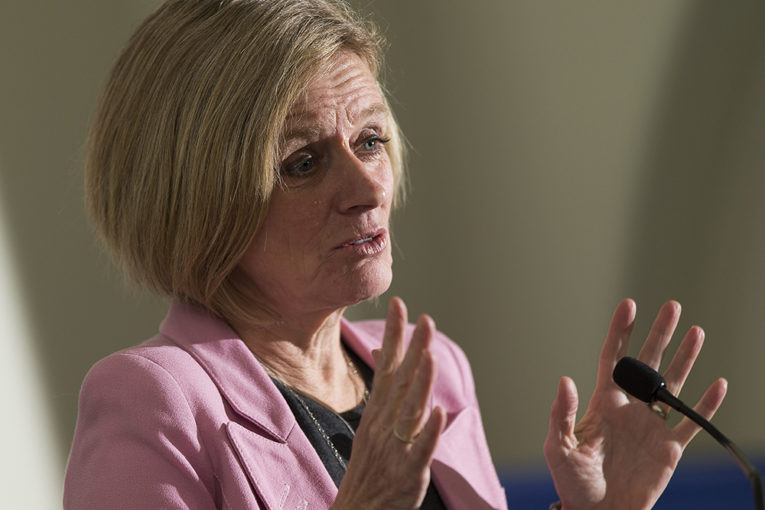 Premier Rachel Notley will likely unveil plans for mandatory oil production cuts when she makes a key announcement Sunday.
Notley and her ministers discussed measures to force up oil prices at a Friday cabinet meeting that hadn't been previously scheduled.
In an op-ed piece published by Postmedia papers, Notley says the announcement coming Sunday "is one of the toughest decisions we will make as a province."
She said that political parties, including the UCP and Alberta Party, seem to agree on the need for mandatory cuts.
But she adds that "no such consensus exists within industry. At this point, no industry consensus is expected.
"So, Alberta, it comes down to what is best for us, all 4.3 million of us, the owners of our oil resources. As owners, we have an obligation to get the most value possible."
Noting that the government is also buying rail cars and locomotives, she said that measure won't bring about price relief in the short term.
"We need to do more and do it now," she wrote.
The implication seems clear. On Friday, the government wouldn't officially confirm the decision to cut production, but it wasn't denied, either.
Whether the cuts would apply to all producers or only the largest-volume companies remains unclear.
It's also not certain whether the government will have to go to the legislature for a new law or amendment to enable the cuts. Some methods being considered apparently don't require legislative action.
Many people in the industry agree that production has to shrink to close the price gap between Alberta oil and West Texas crude, which has reached more than $40 a barrel.
In her op-ed, Notley said the differential "is absurd, economically dangerous, and cannot be allowed to continue."
The cabinet meeting lasted about 90 minutes — a very short time if there's major disagreement to overcome.
Related
Alberta revises deficit down to $7.5 billion, but Ceci calls oil price differential a 'crisis'
Oil companies that backed Notley's carbon taxes learning hard lesson
Varcoe: Six energy experts weigh the risks and benefits of cutting production
As the moment approaches, the NDP is also amping up its attacks on Ottawa, which has so far refused to help with the rail purchases announced this week or adopt any other measures.
Finance Minister Joe Ceci hammered in the regional wedges Friday when he released the province's latest fiscal update.
"If we were in a different region of the country, if we were Bombardier or the auto industry, the federal government would have no trouble stepping in and helping," he said.
Ceci was obviously referring to the recent federal panic over the announced closing of the General Motors auto assembly plant in Oshawa, Ont.
One victim of the oil price crash is any lingering alliance between Notley's NDP and Prime Minister Justin Trudeau's Liberals.
The rupture may be a hometown winner politically, but it leaves Notley without any reliable national allies among the feds, the provinces or any national political party, including her own.
The fiscal update is almost poignant in its picture of rising hopes that could soon be dashed.
The treasury was set to reap higher oil royalties with rising prices this fiscal year: $1.4 billion more than projected in spring.
The government says that number could still be realized, but it's hard to see how that's possible if both low prices and the mammoth differential persist.
The general picture shows a deepening slide into more debt and lower revenues to deal with it.
Total debt of all kinds is projected to hit $98.5 billion, $8.2 billion higher than last year.
Combined debt for the capital and fiscal plans (essentially, the tab for building and running the government) will be almost $52 billion.
The annual charge for servicing all this debt will hit $1.8 billion, up nearly half a billion from last year.
The overall economy still has reserve strength. Alberta is a resilient place.
But we could very well tip into recession if conditions deteriorate further.
At this crucial moment, the treasury is ill-equipped to take on big costs like the rail and locomotive purchases, as well as any indirect losses from oil production cuts.
But Notley and her crew are stuck. They have to protect the energy industry and give some confidence to investors.
In all this, the province and the government are on their own.
A cabinet room can feel very lonely sometimes, even when it's full of politicians.
Don Braid's column appears regularly in the Herald.
Twitter: @DonBraid
Facebook: Don Braid Politics
You can read more of the news on source