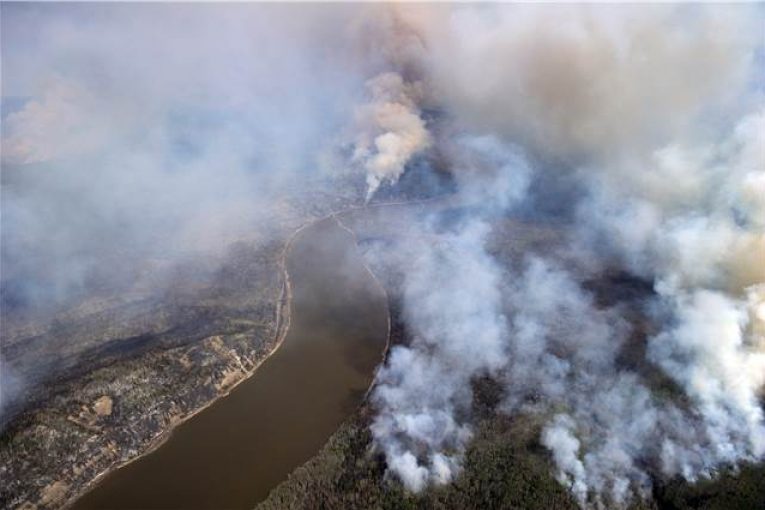 Alberta wildfires have cut daily crude production by over 1M bpd
OTTAWA, May 25 (Reuters) – Damage from the Alberta wildfires will shave 1.25 percentage points off economic growth in the second quarter, though a speedy rebound was likely, the Bank of Canada said on Wednesday in a statement that was considered more hawkish than expected.
The preliminary assessment was in contrast to the 1.0 percent annualized growth the central bank forecast in April for the second quarter, and leaves the economy on course for a contraction in the quarter after a strong start to 2016.
"The second quarter will be much weaker than predicted because of the devastating Alberta wildfires," said the bank, which kept its main policy rate at 0.50 percent, as expected.
The fires are estimated to have cut daily oil production by more than 1 million barrels and taken half the nation's oil sands capacity offline.
Still, the central bank anticipates a third-quarter rebound as production restarts and reconstruction begins.
The Canadian dollar strengthened against the greenback following the decision.
"They offered a downside assessment of the Alberta wildfires as something preliminary but they do characterize this as a transitory shock, which will prove to not impact bank policy, in our view," said David Tulk, chief Canada macro strategist at TD Securities.
"The currency market has interpreted it as a more hawkish statement."
After cutting rates twice last year to offset the impact of cheaper oil, the bank is expected to keep rates steady until the third quarter of 2017.
Wednesday's statement provided even more reasons for the bank to stay on the sidelines, said Paul Ferley, assistant chief economist at Royal Bank of Canada.
Overall, the economy's adjustment to lower oil prices is uneven, the bank said. Although business investment and intentions remain disappointing, first-quarter growth looks in line with the bank's 2.8 percent forecast.
Recent indicators suggest the United States, Canada's main trading partner, will see a return to solid growth in 2016 despite weakness at the start of the year, the bank said. Improved U.S. growth will help boost Canada's exports.
The bank noted that oil prices have rebounded somewhat, partly due to short-term supply disruptions, while the Canadian dollar is now close to the level assumed in April.
As the economy adjusts to lower oil prices, the housing market continues to show strong regional divergences, the bank said.
(Editing by Bernadette Baum)
You can read more of the news on source