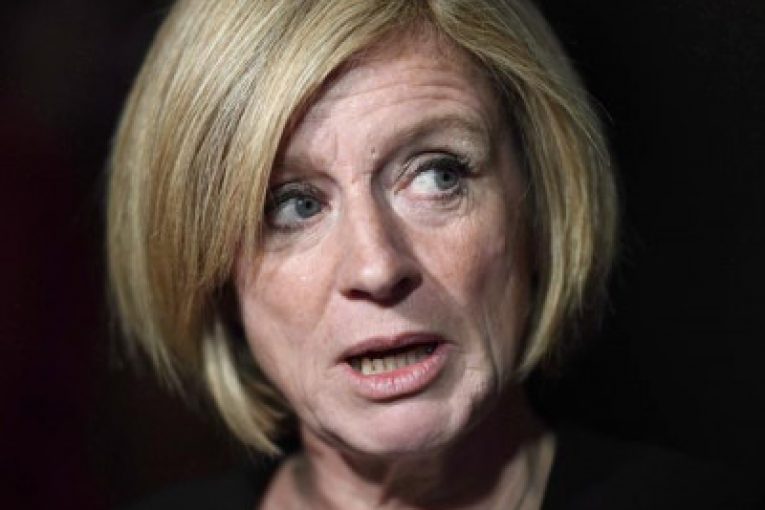 EDMONTON — Alberta Premier Rachel Notley is to go on tour later this month to stump for the Trans Mountain pipeline, but is resisting opposition calls to wield a big stick against its opponents.
Notley is to speak in Toronto, Ottawa, Vancouver, Calgary and Edmonton over the next three weeks on the importance of the pipeline expansion to the British Columbia coast through Burnaby.
The $7.4-billion Kinder Morgan Canada (TSX:KML) project is to expand an existing pipeline so Alberta can get a better price overseas for its oil.
The line was approved last year by the federal government, but is opposed by B.C.'s governing NDP. Burnaby officials have been accused of delaying the project by dragging out permit approvals.
Jason Nixon, critic for the Opposition United Conservatives, says Notley needs to threaten consequences.
"Will you use this opportunity to send a message to (B.C. Premier) John Horgan, as well as the mayors of Vancouver and Burnaby, that would include potential consequences if they block Trans Mountain pipeline?" Nixon asked Notley in the legislature Monday.
Notley said Alberta will continue to fight for the project through the proper channels. She noted that such action is what got the project approved in the first place.
Alberta has joined Kinder Morgan in urging the National Energy Board to cut the red tape and get the permits approved.
"We will continue to do the work that we can do in the appropriate forums to advocate for Alberta's position (and) for Kinder Morgan's position," Notley told the legislature.
The pipeline expansion has met fierce opposition in B.C. on the grounds it is an environmental hazard, perpetuates a greenhouse-gas economy and doesn't respect the rights of Indigenous people.
Nixon pushed Notley on how she feels about federal NDP Leader Jagmeet Singh opposing the project.
"Has the premier spoken to her federal leader and informed him he is wrong on his position on pipelines?" Nixon asked.
Yes, said Notley.
"I've told Mr. Singh that he is wrong, he is dead wrong, but just as important, he is irrelevant — and the reason he is irrelevant is because the decision has already been taken by the federal government."
Pipelines have become the focus of question period in the current Alberta legislature sitting.
Jason Kenney's United Conservative Party is accusing Notley's NDP of being a puppet for Prime Minister Justin Trudeau, especially over the recent federal change to include downstream greenhouse- gas emissions when considering pipeline projects.
TransCanada Corp. (TSX:TRP) recently withdrew from its trans-continental Energy East pipeline project. The company cited, in part, changes to the regulatory regime.
Notley has spoken out against including downstream emissions in the approval process and has accused the Opposition of putting party above province.
"I know the UCP over there is gleefully predicting that the pipeline will fail," Notley told the house.
"They are cackling, praying that it won't be built, but for Albertans this issue is bigger than partisan politics. I get that, and I think it's about time that they do, too."
Share This:



---
You can read more of the news on source