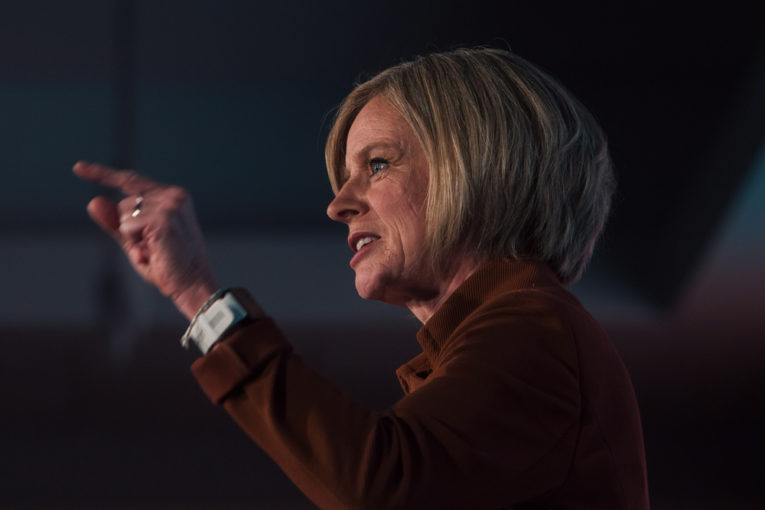 CALGARY — With the Canadian economy losing out on $80 million per day due to heavily discounted oil prices, the Alberta government is weighing a number of options to resolve the crisis, including closer scrutiny of companies that overbook on clogged pipelines.
Alberta Premier Rachel Notley said Monday squeezing "air barrels" off the pipelines in the province was one option being considered, as oil from the province is trading at a US$40 discount to global prices.
"The efficient use of pipelines as they contribute to our overall takeaway capacity has been one topic of discussion," Alberta Premier Rachel Notley said during a press conference Monday.
Air barrels result from oil companies or traders booking more pipeline space than they physically need, so that pipelines are not full even when more oil is being produced than the network can accommodate.
Separately, documents reviewed by the Financial Post also show the province is considering giving itself the power to scrutinize oil shipping data on pipelines and rail cars moving in the province.
The data would allow government officials to determine which companies are taking up pipeline capacity through contracts, but not actually using the space.
The province could then question oil companies deemed responsible for those air barrels. The threat of additional regulation could reduce the incentive for those oil companies to over-nominate capacity onto scarce pipelines. The province's energy ministry did not respond to questions about the documents that offer recommendations to address the oil price gap.
At the press conference, Notley said squeezing air barrels out of the pipeline network "is certainly one of the things that will be discussed in more detail" as the province ramps up consultations with industry on methods to fix the problem. She added there "has been disagreement" on how effective the solution could be.
One wrinkle is that the solution cannot be implemented immediately, and would be limited to oil moving within the province, as the National Energy Board federally regulates export pipelines leaving Alberta.
It would also require co-operation from the Alberta Energy Regulator and at least a month's worth of shipping data from intra-Alberta pipelines and storage facilities.
The province's mines and minerals, public utilities and pipeline acts also do not give the provincial government power to force producers to disclose trading data
The province's current mines and minerals, public utilities and pipeline acts also do not give the provincial government power to force producers to disclose trading data, which many companies consider to be commercially sensitive information.
Notley also said she has appointed three experts to work with the energy industry to find ways to close the oil price gap, and will be in Ottawa and Toronto next week to make her case.
The advisors include Robert Skinner of the University of Calgary's School of Public Policy, deputy energy minister Coleen Volk and Brian Topp, Notley's former chief of staff and a policy consultant.
The province is looking for solutions "in a two- to four-week horizon" and has not ruled out any option, including province-mandated oil production curtailments, Notley said.
Cenovus Energy Inc. chief executive officer Alex Pourbaix says the solution to squeeze out air barrels would not fix the problem, as it would likely take too much time to implement and, in any case, market pressures have largely eliminated the problem.
"I don't think anybody should be looking at this as solving this acute problem," Pourbaix said. "That is not going to change the fact that we're effectively selling our heavy oil at zero."
"I really do believe that we're in an emergency and I don't like the idea of the solution to this taking weeks or months," he said. "I do not think we have the luxury to sit here and muse about this and other options."
Pourbaix, of heavily indebted Cenovus, is demanding province-wide production cuts – a proposition that has deeply divided the oilpatch and is vehemently opposed by companies that own oil refineries, Suncor Energy Inc., Imperial Oil Ltd. and Husky Energy Inc.
Pourbaix said lower crude prices hurt the provincial treasury and producers forced to sell at a discount, but provide better margins at integrated companies' downstream refineries.
"Companies in Alberta pay royalties based on upstream prices, they don't pay royalties on downstream profits," Pourbaix said. "The government has a massive hole in its revenue requirement as a result of this."
But Canada's three largest integrated oil producers – Suncor, Imperial and Husky – oppose curtailment.
"We made unparalleled capital investment in the province over the last 30 years," Suncor spokesperson Sneh Seetal said, including the company's $17-billion Fort Hills oilsands project and a major conversion project at its Edmonton refinery.
"Our position is that government intervention in the market sends the wrong signal to the investment community regarding doing business in Alberta and Canada, and we really need to take a long-term view and allow the market to operate as it should," Seetal said.
… government intervention sends the wrong signal to the investment community regarding doing business in Alberta and Canada; we need to take a long-term view and allow the market to operate as it should

Sneh Seetal, Suncor
Suncor, Imperial and Husky all said market forces are currently working to solve the problem.
"The market is working. Pipelines and other transportation solutions are required to clear the market and eliminate bottlenecks, and we believe the best option is to advance pipeline solutions," Husky spokesperson Kim Guttormson said.
"Market intervention comes with an unacceptably high level of economic and trade risk," she said.
All three companies declined to comment on how they would respond if the province enforced curtailments, or if they would launch a legal challenge.
Imperial spokespeople reiterated comments made by president and CEO Rich Kruger on the company's recent earnings call.
"It's supply and demand. We've got limited pipeline access. This is the way markets work," Kruger said, adding that Imperial had invested in refining and petrochemical assets in order to insulate itself from swings in the price of crude oil.
"When times are good we enjoy it, when times are bad, we suck it up and improve on it. But the market works. That's what we're seeing. And we are prepared to compete in that environment and to compete with the decisions we've made and the assets we have," Kruger said.
• Email: [email protected] | Twitter: geoffreymorgan
You can read more of the news on source