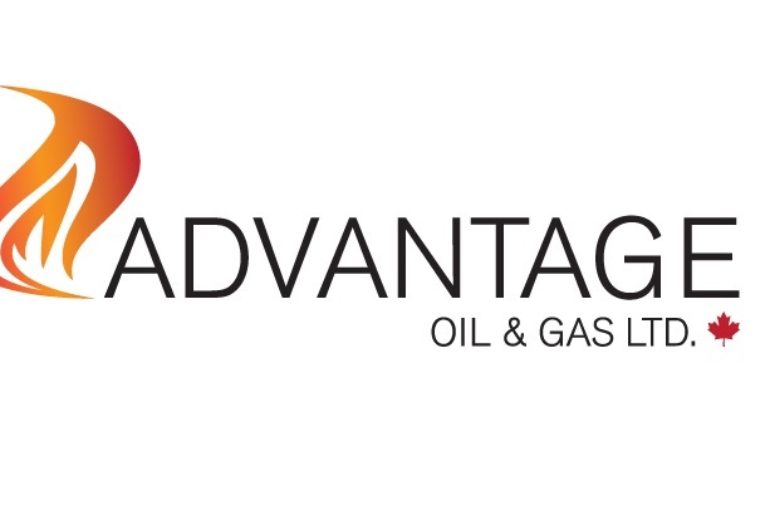 Increased Focus on Liquids Development & Growth Driven by Strong Well Results Underpins 2018 Cash Flow Funded Capital Budget
(TSX: AAV, NYSE: AAV)
CALGARY, Dec. 11, 2017 /CNW/ – Advantage Oil & Gas Ltd. ("Advantage" or the "Corporation") is pleased to announce that its Board of Directors has approved a 2018 capital budget of $175 million funded through cash flow that prudently advances our industry leading low cost Montney development and results in increasing liquids production growth through 2018 and beyond from our assets at Glacier, Valhalla, Wembley and Progress.
Advantage's significant and growing inventory of commercial liquids rich natural gas development opportunities was recently extended by a 4 well pad at Valhalla which demonstrated a combined initial production flow rate of 6,410 boe/d comprised of 32 mmcf/d gas and 1,075 bbls/d of liquids (based on Glacier gas plant shallow cut extraction process) with certain liquid yields comprised of 90% free condensate/oil in excess of 100 bbls/mmcf.  Middle Montney results at Glacier in 2017 also extended our liquids rich fairway and confirmed well performance improvements from frac design technology changes which will be applied to high liquids rich areas and reservoir layers within our Montney lands.   In addition, well results from our liquids rich lands at Wembley and Progress are expected to be available by early 2018.
The Corporation's 2018 budget has been designed with significant flexibility to modify capital expenditures, capital allocation and production in H2 2018 or 2019 while advancing our liquids development initiative.   The Corporation's 2018 capital budget of $175 million maintains a year-end 2018 total debt to cash flow of 1.3x (AECO price of Cdn $1.75/mcf & WTI $55 US/bbl) and provides for:
Cash flow of

$175 million

to

$200 million

and positive net income based on an AECO price range of Cdn

$1.75

/mcf to

$2.25

/mcf and a WTI oil price of

$55

US/bbl, including Advantage's strong commodity hedging and market diversification positions.  Total year-end 2018 debt to cash flow ranges from 1.0x to 1.3x.
10% Annual average production increase to 260 mmcfe/d (43,330 boe/d)
50% increase in annual average liquids production to 1,900 bbls/d (73% condensate). Liquids revenue grows by 61%
80% increase in 2018 liquids production exit rate over 2017 to approximately 2,400 bbls/d

$30 million

to further advance liquids rich development at

Valhalla

,

Wembley

and Progress
An initial facility installation at

Valhalla

to transport higher liquids production for processing at our industry leading low cost Glacier gas plant enhancing netbacks and investment returns
Preferential focus on liquids rich Middle Montney production/development at Glacier and deferring dry gas drilling and on-stream dates to provide flexibility to ramp up gas production later in 2018 or 2019 subject to strengthening prices
Completion of the Glacier gas plant expansion by the second quarter of 2018 to increase liquids handling capacity to 6,800 bbls/d and raw gas processing to 400 mmcf/d, accommodating future growth
Total corporate cash costs of

$1.10

/mcfe for 2018 (royalties, operating, transportation, G&A and finance expenses, including Dawn,

Ontario

transportation tolls on ~20% of gas production)
All-in 2018 estimated annual capital efficiency of  $11,400 per boe/d
2018 Budget & Guidance Commentary
Glacier Development
Capital investment at Glacier in 2018 is targeted at $145 million, allowing flexibility during the year to modify spending, since the majority of well operations are planned in the second half.  Planned expenditures includes $35 million to complete our Glacier gas plant expansion.  Well operations include completion and equipping of standing wells that were drilled in 2017 and a second half 2018 drilling program that is weighted toward liquids rich wells.
Advantage's 2018 production target is supported by a year-end 2017 inventory of 12 completed standing wells, 18 drilled standing wells and available Glacier gas plant capacity.  The number of wells drilled in the second half of 2018 can be varied sufficiently to provide the option for a broad range of production in 2019, subject to investment returns and commodity prices.
Completion of the Glacier gas plant expansion by the second quarter of 2018 increases raw gas processing capacity from 250 mmcf/d to 400 mmcf/d with propane plus ("C3+") liquids handling capacity increasing to 6,800 bbls/d.  This expansion has been designed to accommodate gas and liquids compositions from the Valhalla and Progress areas and provides immediate cost efficiencies for processing Valhalla liquids rich natural gas in 2018. This also allows for efficient processing of additional liquids rich natural gas from the Middle Montney at Glacier and our undeveloped lands as Advantage increases its focus on developing its liquids rich Montney resources.
Additional infrastructure expenditures include a new sales gas meter station on the Alliance Pipeline system, continuing expansion of the field gas gathering system and installation of power lines to begin selling surplus Glacier electrical power into the Alberta grid.  These initiatives provide options to further diversify markets, create additional revenue and maintain cost efficiencies.
Valhalla, Wembley and Progress
Advantage's 2018 budget includes an investment of $30 million to advance delineation and development of our three land blocks at Valhalla, Wembley and Progress which consist of 94 sections (60,160 net acres) of land outside of Glacier.  The $30 million includes $20 million to install a compressor station at Valhalla and $10 million to drill 2 land retention wells at Progress (which were delayed from 2017) and the equipping and tie-in of our Wembley well.
Each land block consists of approximately 30 contiguous sections within the liquids rich areas of Valhalla, Wembley and Progress.  These land blocks create the economies of scale to support scalable drilling programs and are located such that production economics can be enhanced by connecting back to our Glacier gas plant.  Advantage's 94 sections of lands outside Glacier were acquired for a total cost of $18 million.
Recent Valhalla 4 Well Pad Exceeds Expectations with a Combined Initial Production Rate of 6,410 boe/d (32 mmcf/d and 1,075 bbls/d of liquids)
Advantage recently completed a 4-well pad at Valhalla. These wells were drilled in the Upper and Middle Montney with an average lateral length of 1,300 meters with a frac spacing of 46 meters at an average drill, complete, equip and tie-in cost of $4.6 million per well.  The wells demonstrated an average gas production rate of 8.1 mmcf/d at an average flowing pressure of 9,725 kpa after an average 80 hour flow period. Individual well C3+ liquid yields of 20 bbls/mmcf to in-excess of 100 bbls/mmcf with free condensate and/or oil compositions of up to 90% were recovered. Advantage utilized reduced frac spacing and different mechanical systems compared to its initial three Valhalla evaluation wells and achieved an initial natural gas productivity improvement of 320%. The three earlier wells have been produced in-line to our Glacier gas plant through a smaller diameter pipeline without compression and have demonstrated low decline behavior over 12 months of production.
The new four well pad will be initially produced at restricted rates by free flowing into the existing pipeline starting in the second quarter of 2018 until the compressor station is completed by the fourth quarter of 2018.  The new 40 mmcf/d Valhalla compressor station provides a cost effective initial infrastructure investment to facilitate future development.  These initial well results support economic development and are further enhanced by accessing additional low cost gas processing capacity provided by Advantage's 100% owned Glacier gas plant and infrastructure.  The compressor station is also located such that production from other land blocks could be tied-in and transported to our Glacier gas plant.  Future plans to expand this facility and the gathering pipeline to Glacier will be evaluated in 2018.
Advantage believes continued refinement of completion techniques including longer laterals and more frac stages in this liquids corridor could continue to further improve future results as it has at Glacier.  The Corporation's advanced frac technology expertise will be applied to east Glacier (higher liquids) as well as our other undeveloped lands.
Progress and Wembley
Completion operations are continuing in each of these land blocks and we expect results in early 2018.
Annual 2018 Guidance
Average annual production

255 to 265 mmcfe/d

(42,500 to 44,170 boe/d)

Liquids Annual

1,900 bbls/d

Liquids Exit

2,400 bbls/d

Royalty rate

3% to 5%

Operating costs

$0.25 to $0.29/mcfe

Transportation costs

$0.52 to $0.58/mcfe

Total corporate cash costs

$1.00 to $1.20/mcfe (1)

Capital expenditures

$175 million
Note: (1) The increase in transportation costs over 2017 is attributable to gas transportation tolls to the Dawn, Ontario market where current prices are approximately $2.00/mcf higher than AECO.   This market for Advantage commenced in November 2017 and physically diversifies approximately 20% of our current production. 
Commodity Risk Management, Transportation and Market Diversification
In conjunction with our 2018 budget, Advantage's strong hedging positions for 2018 and 2019 reduces cash flow volatility.  For the fourth quarter of 2017, the Corporation has hedged 56% of its natural gas production at Cdn $3.27/mcf and 61% for the first quarter of 2018 at Cdn $3.34/mcf.  For 2018 and 2019, our hedging positions are 37% of estimated production at Cdn $3.32/mcf and 16% of estimated production at Cdn $3.02/mcf, respectively.  These prices include both AECO and Dawn hedged prices.
Additionally, the Corporation has secured increasing levels of firm NGTL gas transportation service through 2020 and retains the ability to reduce our total commitments through existing evergreen contracts. This provides Advantage with the option to consider additional physical market diversification, in addition to our Dawn exposure, while managing our cumulative long term transportation exposure.
Beyond 2018
Advantage's recent well results at Valhalla confirms significant commercial liquids resources extending beyond the Middle Montney at Glacier.  As a result, the Corporation is allocating more investment to increase liquids production growth by focusing development and delineation on areas which are expected to contain high natural gas liquids content, while capitalizing on low production cost efficiencies provided by its Glacier gas plant and infrastructure network.
We believe in the current environment, Advantage's continuing focus on capital discipline, cost efficiencies, profitability and financial strength will remain key success factors in achieving strong investment returns. Advantage has developed a 2018 budget that maintains significant financial and operational flexibility while advancing initiatives to improve netbacks and confirm value in all of our land blocks.  We look forward to reporting our continued progress and achievements as we develop our high quality Montney resource.
You can read more of the news on source