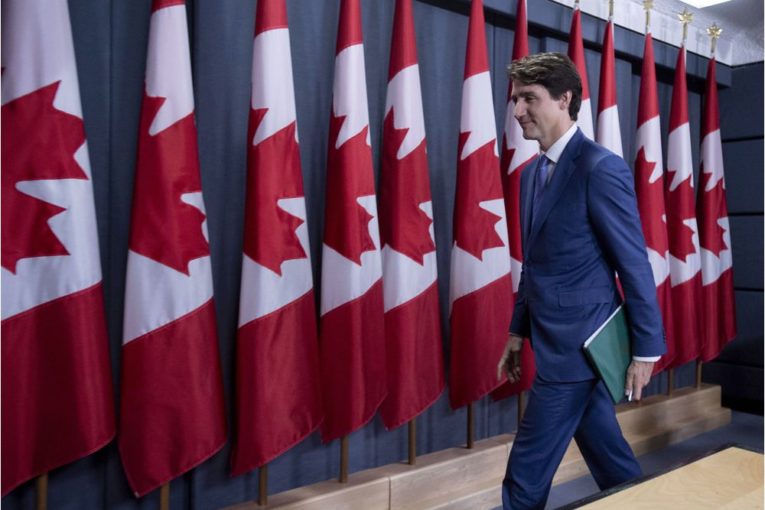 If you were grading the performances of Prime Minister Justin Trudeau, Premier Rachel Notley and B.C. Premier John Horgan following Sunday's pipeline summit in Ottawa, there's no question Horgan came away with the lowest mark.
Not quite an F, but close.
Horgan was emphatic that British Columbia can — and will — challenge the federal government's constitutional authority on Trans Mountain by proceeding with the reference case regarding jurisdiction.
It didn't take long for Trudeau to throw cold water on that pronouncement, saying Ottawa is pursuing legislative options that will assert and reinforce the government's jurisdiction over the project so it can be built.
"The first thing that strikes you when you talk to people in Fort Mac, is that they are from everywhere. Every province and territory," the prime minister told reporters. "The work these Canadians do together creates jobs and feeds families everywhere. It is with them in mind that we assert the government's constitutional authority to complete this project."
Discussions have also started between Kinder Morgan, the federal government and Alberta regarding a financial interest in the project that would help decrease the risk and facilitate the start of construction.
The key will be what the structure of that financial support looks like. But the fact those involved are from Alberta, Toronto, New York and Houston is a clear signal that intelligent financial and legal minds are working on the transaction.
It will happen. Just as it did in the cases of Hibernia, Syncrude and Muskrat Falls, where the government put dollars or loan guarantees behind projects deemed important but needing government support to clear critical hurdles.
There was no missing Trudeau's frustration with Horgan on Sunday afternoon.
Were it not for "the actions and rhetoric" of the B.C. government, Canada would not be in this position, he said.
Notley did not mince words, either.
"I think for the most part, what we have been seeing from the government of B.C. has been a very considered attempt to create uncertainty by coming up with creative areas in which to insert a certain amount of legal debate," she said.
"We don't believe it is in the best interests of the country to engage in esoteric jurisdictional debates for the purposes of harassing a project to death, which in effect, I think has been happening to this point."
The premier, like Trudeau, did not appear concerned about the case for jurisdiction.
"The federal government is very confident in the legal case and we are very confident in the legal case," she said.
Beyond that, there is the issue of investor confidence and the need to respect the decisions made by companies for investment purposes under past governments.
The previous Liberal government of Christy Clark granted approvals for the Trans Mountain project.
Governments change but companies make investment decisions based on the existing rules, as Kinder Morgan did.
And that is why B.C. will not win this one.
Horgan showed his gift for doublespeak Sunday in talking about the importance of his government balancing its budget, but not the role of investment that generates economic growth, jobs and taxes, or the fact many people in B.C. have worked — and still do — in Alberta's oilpatch.
As Trudeau stated, the inability to get Alberta's oil to world markets costs the Canadian economy $15 billion a year. Money that could go to funding health care, education, social services and infrastructure.
The other piece missing from Horgan's analysis is the impact on B.C. as it seeks investors in liquefied natural projects. By acting the way he is with respect to the Trans Mountain expansion, he runs a very big risk of companies choosing not to investment in B.C. because of the uncertainty he has created.
Horgan also didn't miss the opportunity to talk about the gaps in the Ocean Protection Plan, which he cited as another factor for opposing Trans Mountain.
But Trudeau called him out on that claim, stating B.C. has almost a year to offer input to address the gaps the province has identified, yet the federal government has yet to hear from B.C. about specific proposals.
So much for being constructive.
It's more like being incendiary.
Trudeau and Notley talked of job creation and the benefits to the Canadian economy. Horgan focused his remarks on everything that was negative; a pugilistic tone undeniable.
Now is a time to act.
Trudeau has — finally — stood up and made a strong case for why Trans Mountain is important and said his government is prepared to ensure the project will proceed in both financial and legislative terms.
It wasn't quite the equivalent of his father's 'Just watch me' moment, but it came close.
It just needed to happen a year ago.
Deborah Yedlin is a Calgary Herald columnist
You can read more of the news on source