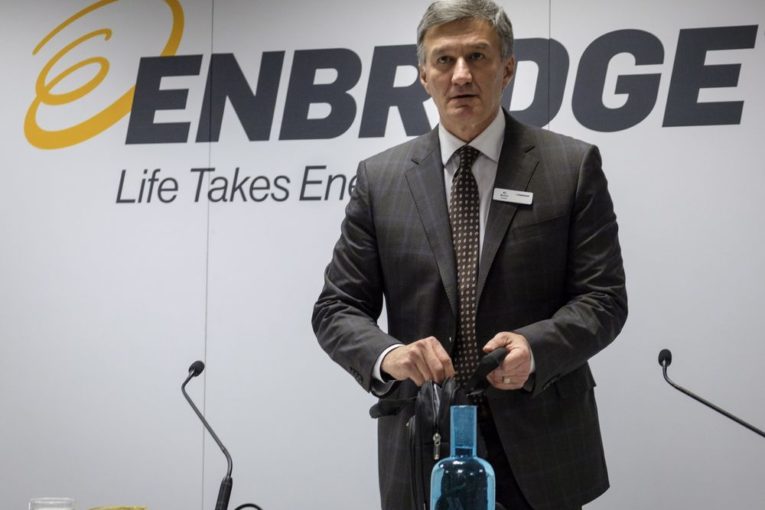 For a long while there was nothing pipeline giant Enbridge Inc. did that the market didn't like.
That held true even through the challenges of the Northern Gateway process.
When Enbridge took a big swing in September 2016 and bought Houston-based Spectra Energy, it reflected the challenges facing pipeline companies seeking to build new assets. The answer to meeting growth objectives would be to buy what was already in the ground.
Enbridge shares did not suffer, rising beyond the $53 range at the time of the deal to $59 by the end of October.
A year after the deal closed, it's a different picture. Pipeline and utility companies are under pressure, highly exposed to rising interest rates.
And that's where Enbridge finds itself.
Its stock has tumbled 25 per cent in the past year, closing at $43.14 on Friday — well off the 52-week high of $55.54.
"We're not happy about it. The management team is focused on value maximization. We certainly get this … it's very disappointing," company president and CEO Al Monaco said in an interview.
It's unlike Enbridge to face a 'show me' moment with investors who have been unhappy with the amount of debt sitting on the company's balance sheet.
As the share price began to slide in January, some questioned if Monaco would survive at the helm.
But news this week — tied to the company's first-quarter numbers and annual meeting — offers a different perspective.
Monaco sees plenty to be optimistic about regarding the company's direction. Capital investments totalling $12 billion are now in service and generating cash flow. Synergies are being captured from the Spectra deal and it's clear there is interest in those assets it has up for sale.
Monaco said Enbridge is in the process of transforming into a pure play pipeline and utility company with some renewable power. Gone — almost — are the midstream assets.
This week, it monetized renewable power assets by bringing in the Canada Pension Plan and Investment Board, selling it a 49 per cent interest in a portfolio of wind and solar farms for $1.75 billion.
Monaco said the deal's timing was a combination of need and opportunity. Enbridge needs to de-lever its balance sheet and the investment attractiveness of renewable assets — owing to market sentiment and the fact they're underpinned by strong contracts — meant they could fetch a good price.
The company announced Wednesday it had sold its U.S. midstream business for US$1.1 billion, The sale process for its Canadian midstream assets is also underway.
Repositioning the company isn't new to Enbridge.
"We had assets in Spain and assets in Columbia, and they were very good performing assets," said Monaco. "We sold them because we got valuations we really couldn't turn down. This is part of a broader strategic assessment we did last December."
Having already hit its $3 billion divestiture target set out for 2018 — and with western Canadian gathering and processing assets on the market and garnering strong interest — it's likely the number will go higher.
With all that, the heat is off Enbridge, for now.
And that's a good thing, given other items requiring attention.
Those would include the ongoing process regarding the Line 3 replacement project, the direction of the federal government's Bill C-69 to replace the National Energy Board and changing U.S. tax rules affecting Master Limited Partnerships (MLPs) that have been well-utilized by Enbridge and TransCanada as a means to monetize assets.
Earlier this year, the U.S. government eliminated the ability of MLPs to claim income tax allowances. Ultimately this could mean a hit to distributions as the entities will have to charge lower rates to their customers.
And it means it will impact the effectiveness of the MLPs financially.
Monaco said there is reason to be optimistic the Line 3 replacement will go ahead, despite a recommendation from an administrative law judge in Minnesota who rejected Enbridge's proposed routing.
Alberta Energy Minister Marg McCuaig-Boyd has written the Minnesota Public Utilities Commission to highlight the project's importance to the state.
In addition to meeting 80 per cent of demand of the Minnesota refineries, it's an opportunity to increase the safety of oil being transported in the state, she said.
It's also important from an economic perspective.
"The Enbridge Line 3 replacement project will make a major economic contribution to the economic welfare of Minnesota," the minister wrote, outlining the US$2.1 billion that would be spent before and during construction, and the $20 million per year in property taxes.
The pipeline world was once seen as a sleepy, regulatory business; no drama other than what transpired from time to time at rate hearings.
The industry has become the flashpoint for the off-oil sentiment during the past decade.
Monaco bears the scars of those battles.
Yet, despite all that, as well as the heated rhetoric taking place regarding Kinder Morgan's Trans Mountain expansion, Monaco is optimistic the sentiment is changing, for the better, regarding support for pipeline infrastructure.
"It's hard to look at our debate right now and think things are going to be great. But at a high level that is what the conversation is going to evolve into," he said.
Let's hope he's right. Too much is riding on this for it not to happen.
Deborah Yedlin is a Calgary Herald columnist
You can read more of the news on source