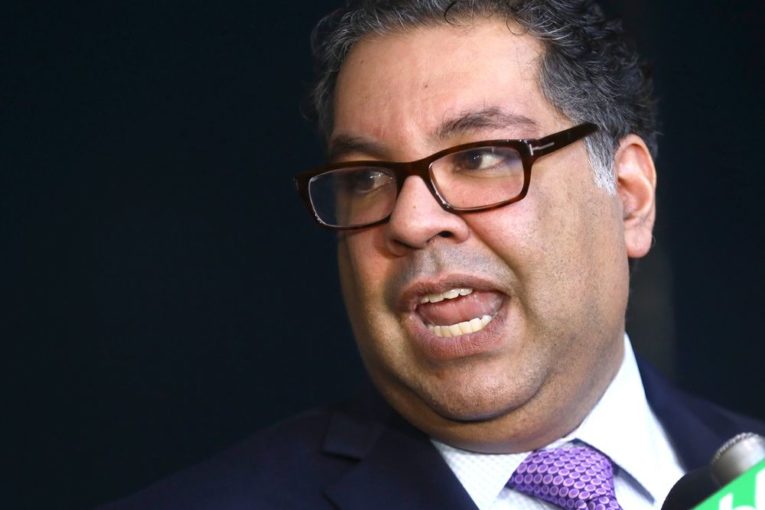 After the annual meeting of city power utility Enmax, Mayor Naheed Nenshi took the opportunity to transmit a few highly charged blasts in the direction of some vocal pipeline opponents.
He zapped former U.S. vice-president Al Gore for lacking "any actual knowledge" about the Trans Mountain pipeline expansion.
He chastised Vancouver Mayor Gregor Robertson for backing "mob rule" by a few loud protesters seeking to stop the project.
And he eviscerated B.C. Premier John Horgan as "one of the worst politicians we have seen in Canada in decades."
While some political leaders have tried to soft pedal their critiques of pipeline opponents, Calgary's mayor had no such hesitation about speaking his mind Friday.
Somebody has to.
Gore trudged into the polarized debate over Trans Mountain on Thursday in a social media post, continuing a multi-year campaign of badmouthing the Canadian oilsands and their carbon footprint.
"The Kinder Morgan pipeline carrying dirty tar sands oil would be a step backward in our efforts to solve the climate crisis," he tweeted.
Gore said he stands with Horgan, Robertson "and all of the Canadians — including the First Nations — who are fighting to stop this destructive pipeline."
Nenshi waved aside Gore's remarks like someone shooing away pesky flies at a picnic.
"The last I checked, Mr. Gore has no regulatory authority in Canada, nor obviously from that tweet, any actual knowledge of the situation," he said. "It's a shame that someone like that would comment on something they obviously don't understand."
Nenshi wasn't the only Alberta politician piling on Gore, with United Conservative Leader Jason Kenney calling the tweet an "inconvenient lie from a jet-setting millionaire."
Premier Rachel Notley said the former American politician's comments are "starting to fall on a larger and larger number of deaf ears."
It's clear the rhetoric is escalating as the clock ticks down over the project's future.
Proponent Kinder Morgan has said it's prepared to walk away from the $7.4-billion expansion if an agreement isn't reached by the end of May that provides certainty to its investors and derisks the project from further delays.
Both the Notley and Trudeau governments insist Trans Mountain will be built and are working behind the scenes on some type of financial arrangement with Kinder Morgan, while Horgan has vowed to use every tool to stop it from being built.
Vancouver's mayor, another ardent pipeline critic, made headlines this week by insisting the project would eventually fail because of growing resistance to it.
"There's a much bigger question here," Robertson told the Bloomberg wire service. "We have to get off of fossil fuels. It's really a question of how we implement that transition."
These comments illustrate how, for critics like Robertson, opposition to Trans Mountain is deeply rooted in broader climate concerns about using fossil fuels, not necessarily fears of a tanker spill off the Pacific Coast.
It also ignores the fact Alberta has voluntarily agreed to limit greenhouse gas emissions from the oilsands.
Or the fact global oil demand is expected to rise to 105 million barrels a day by 2040, up from 94 million consumed two years ago, according to the International Energy Agency.
Nenshi attacked his fellow mayor's assertion that resistance is getting stronger, pointing to polls that show a majority of Canadians back the development, including among people in metro Vancouver.
"As much as I respect Mayor Robertson, we don't operate by mob rule here," Nenshi added.
"When governments have conducted their regulatory work, when the approvals and processes have gone through, a few loud people lying in front of bulldozers don't stop (projects) in this country. That's mob rule."
Finally, Nenshi was asked what he thinks about the prospect of Alberta becoming a financial backer of the Trans Mountain pipeline.
A poll released this week by Nanos Research found two-thirds of Canadians support the line's expansion. Yet, a similar amount oppose Ottawa providing taxpayer money to Kinder Morgan.
Calgary's mayor used the opportunity to provide his own savage critique of the B.C. premier's pipeline performance.
"It's very clear that Mr. Horgan, who I think is one of the worst politicians we have seen in Canada in decades, he appeals to populism in a way that is not based on fact," he said.
"The point is that Mr. Horgan's strategy is very clear. He knows he's not going to win in court, he knows that he's not going to win the fight of public opinion. He's hoping to scare away the investors.
"So if the federal and provincial governments have to backstop that, in order to not scare away the investors, then that has to happen."
These comments underscore how high the political stakes are now for all sides.
The B.C. premier has a weak political mandate and is propped up by the B.C. Green Party, which is adamant the line should not be built.
For Alberta, the project is worth billions of dollars in revenues and Notley's government is heading into an election next year, while the Trudeau government has staked its national climate plan on balancing the economy and environment.
All of the talk and tweets likely won't sway public opinion in either direction, said pollster Nik Nanos.
"For those people against the project, it just reinforces their views," he said Friday.
"For those who want to see it move forward, Gore's intervention, they see that as a foreigner trying to interfere in the affairs of Canada."
As the Trans Mountain deadline draws near, tempers are rising — as is the tough talk — in the country's acrimonious pipeline fight.
Calgary's mayor isn't afraid to get off the sidelines and unload some pro-pipeline artillery in the market access war.
Chris Varcoe is a Calgary Herald columnist.
You can read more of the news on source