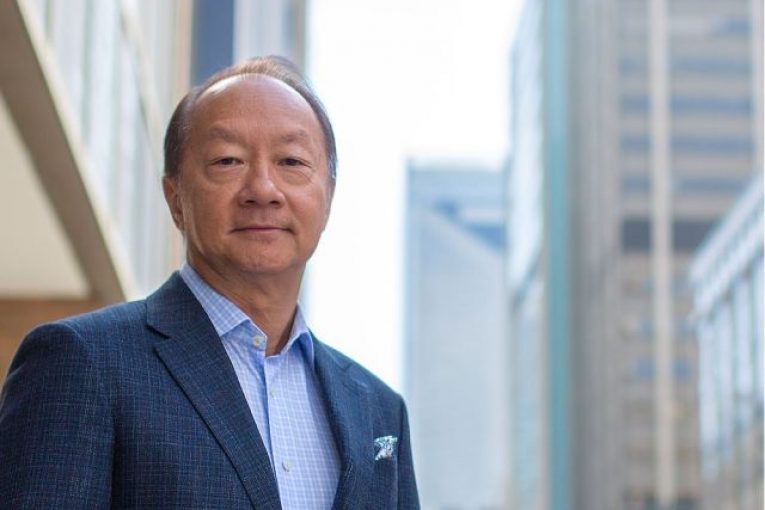 Starting his oilpatch career in the early 1980s, Roger Tang has navigated through several booms and busts that have sporadically swept through Canada's energy sector like an intense prairie thunderstorm.
But he believes the crash of 2020 trumps the troubles seen during the National Energy Program, or when oil tumbled to US$10 a barrel in the late '90s, or the prolonged price slide that began in 2014.
When oil markets went into a sudden tailspin less than three months ago, the CEO of Deltastream Energy Corp., a privately held firm that produces oil in the Slave Lake region, took drastic action.
"Before April, we were producing about 12,000 barrels per day. As of today, we've shut everything in," Tang said at the start of May.
"You are basically paying somebody to take it away. What's the point?"
Today, executives across Alberta's oil and gas sector are agonizing over the best way to withstand the gale-force winds pounding the industry.
Benchmark U.S. oil prices, which started the year over $60 a barrel, have plunged sharply, careening briefly into negative territory in April before rebounding to almost $25 in early May.
"On the futures market, we saw minus US$37 a barrel. Never has that happened," said Suncor Energy Inc. CEO Mark Little.
"That has a huge implication on everybody globally but particularly in North America, where (oil) inventories relative to demand are way out of balance."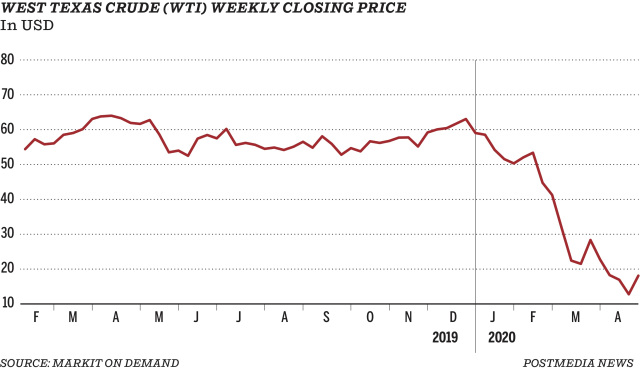 Oilpatch in crisis mode
In Alberta, the response from petroleum producers has been immediate. Most have slashed capital programs as cash flow levels have been compressed. Almost $9 billion in planned capital spending in Canada this year has vanished since March.
"It is in crisis mode," said Jackie Forrest, senior director with Calgary-based ARC Energy Research Institute.
"We've never seen anything like it because we've never seen demand collapse to this extent."
Across the world, oil consumption is projected to fall by 11 per cent, or 10.8 million barrels per day (bpd) this year from 2019 levels, according to research firm Rystad Energy.
The oil industry is used to wild gyrations caused by unstable geopolitics, fickle commodity prices and unpredictable supply-demand factors. However, the Canadian oilpatch is feeling an acute sense of vertigo today because of the sudden reversal of fortunes.
Heading into 2020, the Canadian Association of Petroleum Producers expected industry capital spending would climb by $2 billion this year, including the first increase in oilsands expenditures in five years.
Those early hopes have been dashed.
"You have a global health crisis driving behaviours that are having unprecedented impacts on (oil) demand," said CAPP president Tim McMillan. "Some companies are most certainly going to fail."
As the impact of the COVID-19 pandemic began to ripple through the global economy this year with fewer people driving and flying, energy consumption crashed.
At the same time, OPEC and its allies — particularly cartel kingpin Saudi Arabia and Russia — battled over the issue of production cuts. Both countries soon flooded the market with oil, creating a huge glut that has left storage tanks nearly full.
By the time OPEC and its partners agreed last month to reduce output by almost 10 million bpd, severe damage had been done to oil markets.
Pipeline giant Enbridge Inc. and the country's largest producer, Canadian Natural Resources Ltd., both estimate domestic oil output has fallen by one million barrels per day — nearly a quarter of all Canadian production — and it could drop further.
Huge losses
The reverberations from the oil-price war and demand destruction have rippled across the industry.
While there have been no layoffs at Calgary-based Deltastream, all salaries have been trimmed by 20 per cent. The company's 2020 drilling program has been postponed.
Although Deltastream is still collecting revenue from a strong financial hedging program, all of the company's oil will remain in the ground until prices
significantly improve, Tang said.
"I have been working in Calgary for almost 40 years now and I've never seen anything this bad in my career," he added.
At InPlay Oil Corp., a junior oil and gas producer that has about 25 head-office staff, CEO Doug Bartole has also shut-in production and the company has rolled back its wages by 20 per cent.
"It's definitely not fun," Bartole said. "You fret about that stuff continually, about having to cut people's salaries…we are right in the trenches and you see everybody, every day, in a small office."
Ten of the country's largest petroleum producers have posted combined net losses of more than $17 billion for the first quarter. Layoffs have begun to sweep through oilfield services firms.
In April, direct oil and gas employment in the country fell by four per cent. Over the past year, 25,000 industry jobs have disappeared.
At Precision Drilling Corp., its Canadian staff count has dropped by about 1,000 in the past year.
"There have been a lot of tough cycles in Canada, but this (second quarter) and likely the back half of the year will go down as the worst ever," said Precision Drilling CEO Kevin Neveu.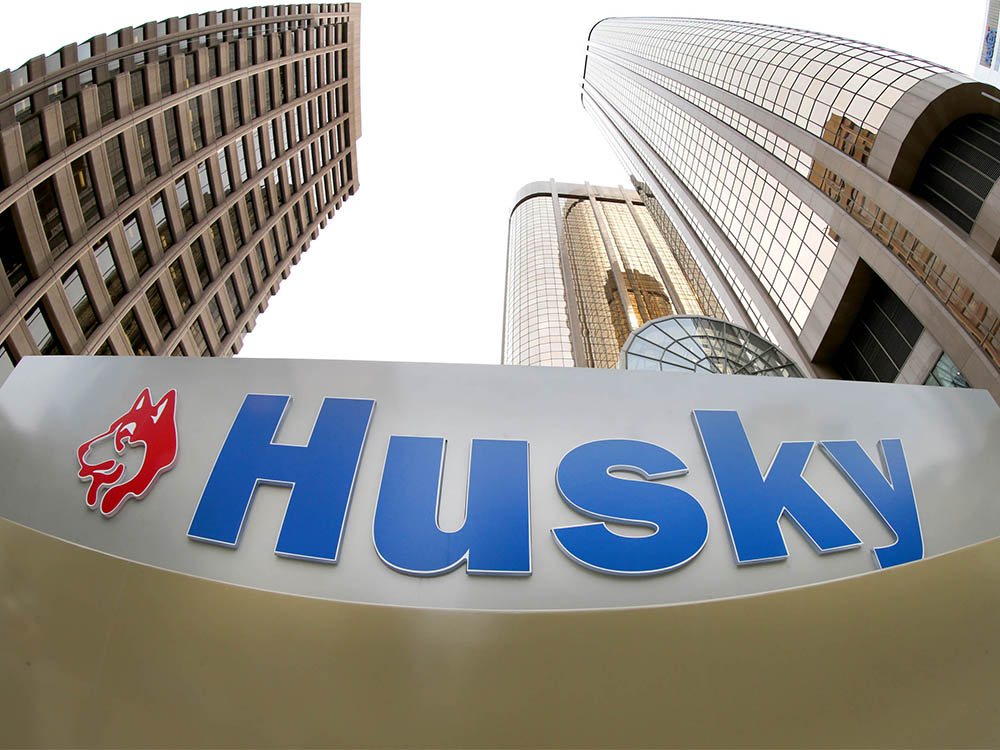 Rebound begins
Despite the deluge of negative news, there are a few signs of hope emerging.
Oil prices have begun to rally this month with indications
gasoline and jet fuel demand are gradually picking up. Stronger Alberta natural gas prices could spur more drilling in that segment of the industry.
Three pipeline projects stuck in regulatory limbo for years — Keystone XL, the Trans Mountain expansion and Enbridge's Line 3 replacement project — are all inching ahead.
Last month, the federal government rolled out a $2.4 billion assistance package to encourage producers to reduce their greenhouse gas emissions and clean up inactive wells.
Ottawa has also offered measures to ensure small and mid-size producers have access to credit, although the Alberta government says the entire sector will need up to $30 billion in additional liquidity.
"The common theme you see in all of it is … not giving up and just hunkering down and trying to survive the storm," said Energy Minister Sonya Savage.
Finally, Canada still has the third-largest proven oil reserves in the world and m
any producers are already lean and battle-tested, having weathered several years of adversity.
"The forces at work are telling us this is a mature industry and we're going to see elements of consolidation … and that's kind of natural and unavoidable," said Rob Peabody, CEO of Husky Energy Inc.
"But I do think that Alberta and Saskatchewan and the Canadian oil industry can still play a very important role in this industry."
---
This is Part Two of our series on how COVID-19 has affected Alberta's politics and economy.
Read Part One:
How the 'horrible trade-off' to contain COVID-19 blew up Alberta's economy and its finances
---
You can read more of the news on source