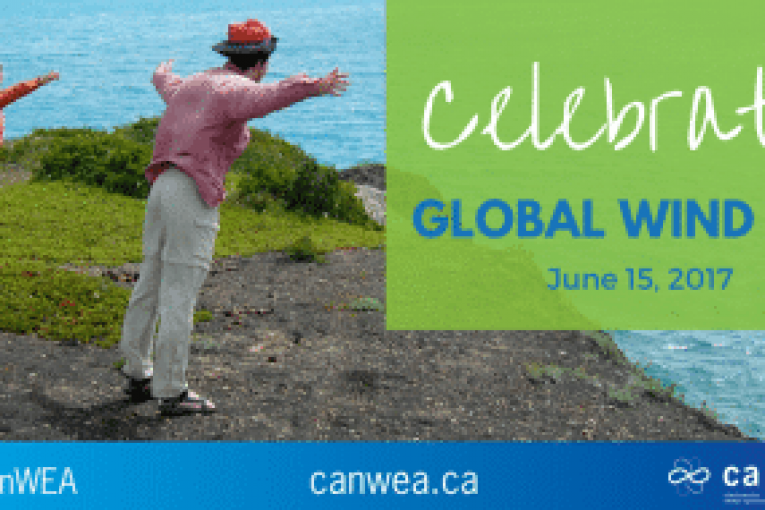 Get creative and celebrate Global Wind Day 2017, enter the Power of Wind contest
For the past nine years, people in Canada and around the world have been celebrating Global Wind Day.
I've been one of them. Every year, I look at the many positive strides governments, businesses and individuals have taken to fulfill their inherent responsibility to use our planet's resources in a more sustainable way. And every year, I see momentum building towards more environmentally-conscious ways of producing and using energy.
This past year has been no exception. In fact, on a day that's been set aside to discover wind energy and the important role it can play in moving us to a low-carbon future, it's incredibly exciting to look back at just how much progress has been made.
In Canada, there were 21 new wind energy projects representing more than 700 MW of generating capacity commissioned in 2016, continuing a strong growth trend that has seen more wind generation built over the last 11 years than any other form of electricity generation. Globally, more than 54 GW of new wind energy capacity was added last year to bring worldwide installations to nearly 486 GW. There are now more than 90 countries producing wind energy. Nine of those have surpassed the 10,000 MW mark, including Canada, which has the eight largest wind turbine generating fleet in the world.
As impressive as those numbers are, they only tell part of the story. Just as important are a long list of other achievements over the past 12 months that will set the stage for wind energy to continue to grow in the future. Here's a sampling:
Underpinning all of these initiatives is a vision of a future powered by clean, emissions-free, renewable energy. It's a vision shared by countless individuals across the globe, and Global Wind Day is a celebration of the many positive steps they are taking to try and make it a reality. At CanWEA, we want to tap into that same kind of enthusiasm, creativity and ingenuity by asking Canadians to share their own vision of a renewable energy future and the possibilities it holds.
That's why today we're launching our seventh annual Power of Wind contest*, and are inviting students and members of the general public to submit a photo or visual image that conveys how they see wind energy contributing to Canada's future. The top three entries will win $1,000 prizes and, along with 10 honourable mentions, will be featured in the 2018 Friends of Wind calendar.
A calendar is a great way to keep the spirit of Global Wind Day alive all year long. Powerful images can also send a strong and compelling message about moving towards the next century of clean growth. I certainly felt that way after seeing the submissions to last year's Power of Wind contest, and that feeling was reinforced earlier this year, when I was honoured to be part of the judging panel for WindEurope's Global Wind Day photo competition, Capture the Power of Wind 2017.
The winning photographs were unveiled today, and they are spectacular. They will be displayed on the WindEurope and Global Wind Energy Council websites, as well as across all social media channels, so be sure to have a look. And check out the Global Wind Day website to see the many events marking Global Wind Day around the world. You just might find your own reason to celebrate.
*Note: This Contest is intended for viewing and participation in all Canadian provinces and territories with the exception of Québec.
You can read more of the news on source