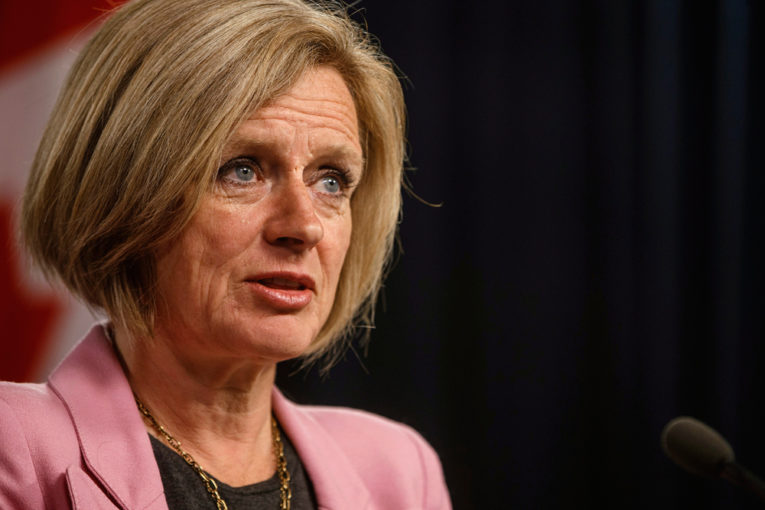 CALGARY – Oil and gas executives dismissed a series of new tax breaks as "Band-Aid solutions" that won't help spur new investments in the beleaguered sector until new pipelines are built.
Finance Minister Bill Morneau and Alberta Premier Rachel Notley announced a series of tax breaks Wednesday and Thursday, respectively, aimed at spurring investment in the oil and gas industry.
Those breaks include immediate deductibility of expenses for new plant and equipment and clean-energy technology from Ottawa, new exemptions from the carbon tax for drilling companies, and a proposal to buy rail cars to move oil to U.S. refineries from the Alberta Government.
While executives said they wouldn't turn down offers of assistance, the measures do little in the short term while Canadian oil prices are subject to record-setting discounts relative to the U.S. crude oil benchmark due to a lack of export pipelines.
One of the measures, contained in Morneau's fall economic update, was a 100 per cent deduction in the first year for new manufacturing, processing machinery and equipment, an incentive similar to that available in the U.S.
"The changes in the deduction rates for the equipment does very little for and E&P company in Western Canada," Advantage Oil and Gas Ltd. president and CEO Andy Mah said. "Most of the companies are non-taxable at this point because our revenues have diminished so significantly."
"A lot of the E&P companies already have a pretty sizeable deductibility from prior investments that haven't paid out," Mah said.
The biggest problem facing the Canadian oil and gas industry is the regulatory delays for building projects such as pipelines and LNG projects, Mah said.
Canadian Energy Research Institute vice-president, research, Dinara Millington thinks the measure could benefit producers embarking on new projects as it "will impact their bottom line and project economics, too."
But few producers are embarking on new projects right now.
The new deduction allowances are "a step forward," Cenovus Energy Inc. spokesperson Sonja Franklin said in an email, adding that "the allowance for energy producers is less attractive than that for similarly trade-exposed industries, and it still leaves us at a competitive disadvantage to U.S. energy producers."
"Also, due to the oil pricing crisis facing the Canadian oilpatch, producers won't likely be able to take advantage of this tax measure any time soon because companies are not planning an significant capital spending in the near future," Franklin said in an email.
Cenovus has previously said it won't embark on new growth projects until new export pipelines are closer to being completed.
Prime Minister Justin Trudeau made Calgary his first stop after the fiscal update announcement in Ottawa, but was greeted by a pro-pipeline rally outside the Calgary Chamber of Commerce event, in the heart of the city's downtown, chanting, "Build that pipe."
Trudeau told business executives at a Calgary Chamber of Commerce event that he was "very, very aware how crucial" the stalled Trans Mountain pipeline expansion is to Canada.
"There is no question that folks in Alberta, folks here in Calgary, are living through extremely difficult times. This is very much a crisis," Trudeau said.
Ottawa purchased the Trans Mountain pipeline system for $4.5 billion from Houston-based Kinder Morgan Inc. earlier this year but work halted on the expansion project in August when a Federal Court of Appeals judge ruled the federal government had not properly consulted with affected First Nations along the route.
The federal government has since announced more consultations and a renewed regulatory process for the pipeline.
Earlier Thursday, Notley called on Ottawa to buy locomotives and rail cars to deal with the "real and present danger" that US$40 to US$50 per barrel oil price discounts pose to the Canadian economy.
… producers won't likely be able to take advantage of this tax measure any time soon because companies are not planning an significant capital spending in the near future

Cenovus Energy
"Since work stopped on the Trans Mountain pipeline in August, it's cost the Canadian economy more than $6 billion," Notley said at a forecast breakfast hosted by the Canadian Association of Oilwell Drilling Contractors on Thursday. "The only long-term solution to this is building new pipelines and getting more value from our resources."
Bloomberg News reported Ottawa would likely reject Alberta's request to purchase locomotives and railway cars to move oil out Alberta, where a glut of crude has built up in storage tanks given pipeline constraints and a slower-than-expected ramp up in oil-by-rail exports.
Alberta signalled its willingness to buy the railway cars even if Ottawa wouldn't on Thursday.
"If Ottawa won't come to the table, then we'll get it done ourselves," Notley said.
Advantage's Mah said the proposal to buy new train cars to ship oil out of storage were a "band aid for all the issues that we didn't address earlier."
Notley also announced that drilling companies would be exempted from its carbon taxes for a number of the fuels they use to drill wells in the province.
But the deepening crisis in the oilpatch is expected to continue next year, according to COADC, which is estimating less than 1 per cent increase in wells being drilled in 2019, compared to the current year, amid a deep downturn.
"Our members are on life support," CAODC president Mark Scholz said in a release.
Financial Post with files from Bloomberg

• Email: [email protected] | Twitter: geoffreymorgan
You can read more of the news on source