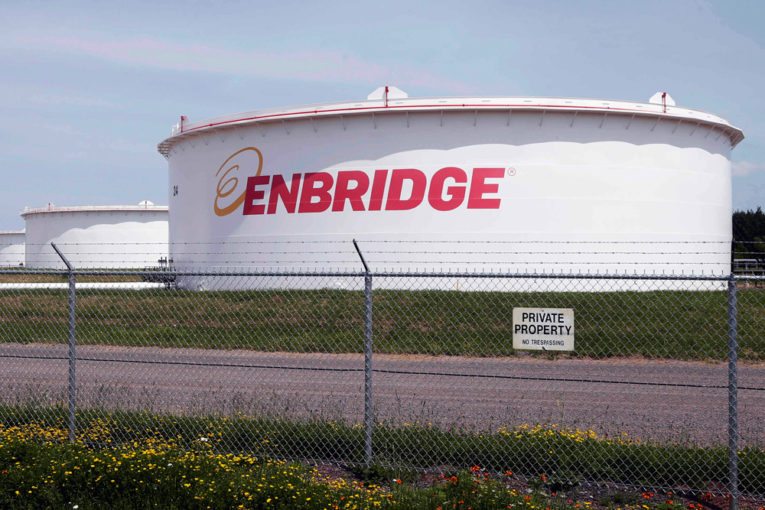 CALGARY – Investors are returning to the long-shunned oil patch following a critical approval of Enbridge Inc.'s Line 3 pipeline project through Minnesota this week.
Long-depressed Canadian energy stocks surged Friday after the market digested the news that a Democrat-controlled regulatory commission in Minnesota approved a critical pipeline through the state a day earlier, with the S&P/TSX Capped Energy Index rising one per cent.
"Today, I think, marks the significant beginning of momentum coming back into Canadian (exploration and production)," Eric Nuttall, partner and senior portfolio manager with Toronto-based fund manager Ninepoint Partners LP, said of the pipeline approval.
The Minnesota Public Utilities Commission approved Enbridge Inc.'s Line 3 pipeline replacement project through the state late Thursday.
The commission approved the project along the company's preferred route, with one small change to avoid a lake that is culturally important to the Fond du Lac Band in the state; it will allow the company to complete the $9 billion project, effectively doubling the capacity to 760,000 barrels of oil per day.
"We eliminated a potentially disastrous event that would have impaired fund flows back into Canada. Thankfully, that was not the outcome," Nuttall said, adding that he himself had begun re-investing in Canadian energy stocks.
Nuttall, who manages a $200-million energy fund, had previously sold off his domestic holdings and moved money into U.S. producers as the domestic sector faced pipeline uncertainty and rising regulatory uncertainty.
Earlier this year, he said, he reinvested in Canadian oil and gas producers. "We were 70 per cent in the U.S., now we're 70 per cent in Canada. Canada offers the best leverage to an increasing oil prices," Nuttall said.
Enbridge's shares jumped four per cent on Thursday as the regulators in Minnesota signalled they would grant the Calgary-based pipeline giant a certificate of need, approving the project, then rose more than seven per cent, or $3.32 per share, to $47.22 each on Friday.
"We are very pleased," Enbridge president and CEO Al Monaco said in a statement following the commission's decision. "This project will also help ensure Minnesota and area refineries reliably receive the crude oil supply they need for the benefit of all Minnesotans and the surrounding region," he said.
Enbridge said in a release that the change would not affect the project's roughly $9 billion in costs. It has already spent $3.6 billion on the project so far and still expects the pipeline to be operational in the second half of 2019.
Houston-based investment bank Tudor, Pickering, Holt & Co. said the approval was "certainly a positive for both Enbridge and the Western Canadian Sedimentary Basin."
Similarly, GMP FirstEnergy analyst Ian Gillies said in a research note that the approval was "one of the more important regulatory decisions regarding the Canadian oil and gas industry."
The decision also led to a wider rally in the Canadian oil patch.
"It's a positive development for oil producers in Canada and also for U.S. refiners as increased transportation capacity would help reduce pipeline congestion out of Canada," Cenovus Energy Inc. spokesperson Reg Curren said in an email.
Cenovus shares rose 2.4 per cent to $13.65 on the Toronto Stock Exchange on Friday. Suncor Energy Inc. rose slightly more than one per cent to $53.50 per share, and Canadian Natural Resources Ltd., which was up 2.5 per cent to $47.45 per share.
Still, some oil and gas executives believe their sector continues to face significant challenges, even with the pipeline approved and the federal government's recent purchase of Kinder Morgan Inc.'s Trans Mountain pipeline and expansion project for $4.5 billion.
"This was a U.S. decision. It says nothing about Canada's ability to process applications for pipeline projects. It says nothing about Canada's problems," said Gary Leach, president of the Explorers and Producers Association of Canada, an industry group of independent oil and gas producers.
Leach said "there's still a lot of concern in our industry" about the way Canada is revamping its rules for regulating and approving new pipelines in the country.
Industry groups have lobbied hard against the federal government's plans to revamp the National Energy Board's pipeline review process and say the proposed new rules would result in no new pipeline projects being built in the country.
However, with the approval of Line 3 and the purchase of Trans Mountain, analysts are far more bullish on the sector now than just a few months ago.
"With Trans Mountain and Line 3 looking way more positive than they did just two months ago, that could change producer behaviour," St. Louis-based Edward Jones senior analyst Jennifer Rowland said Friday.
"It gives them hope. Now there's a line of sight to that pipeline capacity coming on, whereas a few months ago, we were all wondering if any one of these were going to happen," she said.
• Email: [email protected] | Twitter: geoffreymorgan
You can read more of the news on source