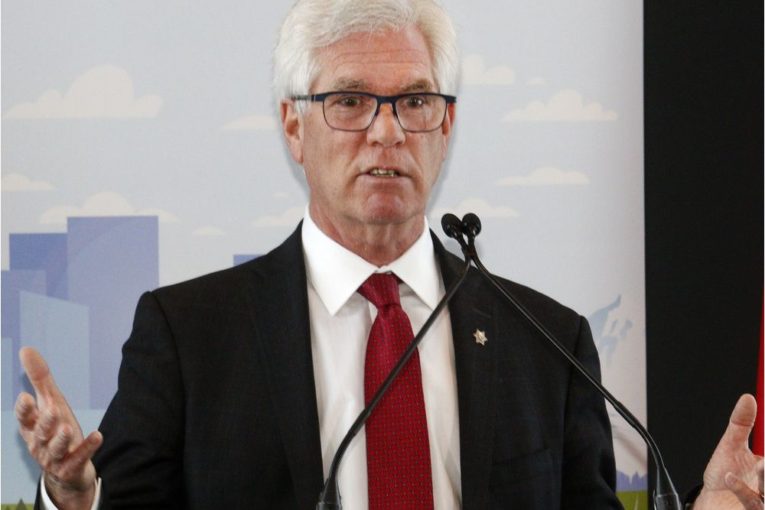 It's not a bluff or a ploy.
Listening to Kinder Morgan CEO Steve Kean talk Monday about the Trans Mountain pipeline expansion, it's clear the energy company is steely eyed and deadly serious about its decision to halt non-essential spending on the $7.4-billion project.
If the energy firm does not find a solution by May 31 to give its project more certainty moving ahead, there's a real threat it could pull the plug on the critical development to triple the amount of oil moving from Alberta to the west coast.
"We have been advancing this project for over five years now, and we still don't have the clarity that we need," Kean told analysts on a conference call.
"We don't have the power to control this. We have been successful in our court actions to date, but we can't build a project in the courthouse."
The company, along with much of the oilpatch, is deeply frustrated by the project being harassed and delayed by the NDP government of British Columbia.
Since his election last year, B.C. Premier John Horgan has vowed to stop the project using every tool at his disposal.
Despite gaining approval in 2016 from the National Energy Board and the Trudeau government, the project is a year behind schedule and clouded by uncertainty.
No one should be surprised it's come to this point.
A stalemate was always going to happen if the B.C. government was allowed to toss obstacles in the project's way with impunity.
As Kinder Morgan pointed out, a company doesn't have the wherewithal to resolve a jurisdictional fight between two levels of government.
The energy company has already spent $1.1 billion to date on the expansion. With the spring construction season set to arrive, it is about to move into a period of heavy capital spending of up to $300 million a month.
A court challenge of the project's approval, and a separate one on B.C.'s environmental certificate, are awaiting a legal ruling.
But at least those cases are well-understood.
The B.C. government's decision to send a constitutional reference case to the courts on a proposal to restrict bitumen shipments into the province hasn't come forward yet, adding more fog to the landscape.
Where does that leave Alberta?
The province can attempt to restrict the flow of oil to B.C., allowing gasoline prices to soar in the Lower Mainland.
Such a step would increase the pain on the government next door — and its consumers — although that might simply undercut the majority support Trans Mountain enjoys across B.C.
It makes more sense for Alberta to examine using its own economic might to make sure the pipeline gets constructed, be it through providing financial instruments or a direct investment.
Frankly, this might be the last major oil pipeline project built to the coast in Canada.
Alberta needs it to be finished. The project is worth billions of dollars in additional royalties to the treasury.
The Trans Mountain expansion makes economic sense, which is why Kinder Morgan has locked up shipping commitments from producers.
Government intervention should be the last resort, but we're quickly coming to that stage.
Canadian governments also have a long history of getting involved in energy mega-projects, from federal loan guarantees for the cross-country natural gas pipeline in the 1950s, to governments investing in the Syncrude project in the 1970s and the bi-provincial upgrader in the '80s.
"This is not a subsidy, it's a correction of a government-imposed cost," said University of Calgary economist Trevor Tombe. "There is no risk to taxpayers if the pipeline is built."
Any provincial action shouldn't let the federal government off the hook.
The Trudeau government needs to get into the ring in this battle royal, and not just pleading with everyone to follow Marquess of Queensberry rules while the brass knuckles are being deployed.
In an interview, Natural Resources Minister Jim Carr said "all options are on the table, and that includes financial, legal and regulatory."
Ottawa will consider a host of ideas, such as taking a financial position in the project, or using its declaratory legal powers under the Constitution to ensure the line is finished.
"The principal impediment to getting this project built is a government in British Columbia that I don't think has understood just the kind of impact their cloudy uncertainty is creating," Carr said.
I suspect the B.C. premier understands exactly what he's doing — trying to fight Trans Mountain to a standstill — even if it risks undercutting investor confidence in the country.
Kinder Morgan Canada's stock fell 12.6 per cent Monday, while energy industry investment continues to lag behind the United States.
"This is a gong show," said Rafi Tahmazian, a senior portfolio manager with Canoe Financial in Calgary. "It's situations like this that continue to maintain our fear of investing in Canada."
Oil producers are equally upset with the gridlock facing pipelines.
After the demise of Northern Gateway and Energy East, "the world is looking at us as a country that isn't worthy of their interest or investment," said Tim McMillan, head of the Canadian Association of Petroleum Producers.
"If we aren't in a crisis now, I don't know what would be described as one."
If there's any good news, it's that Kinder Morgan hasn't pulled the pin on the project yet.
The company will negotiate with various parties and attempt to reach an agreement within seven weeks that would let it proceed.
Kinder Morgan is open to talking with Alberta about taking a financial stake in the venture, Kean added.
But time is running out on the embattled project.
If the federal government doesn't solve this mess quickly, yet another Canadian pipeline will bite the dust.
And that's no bluff.
Chris Varcoe is a Calgary Herald columnist.
You can read more of the news on source