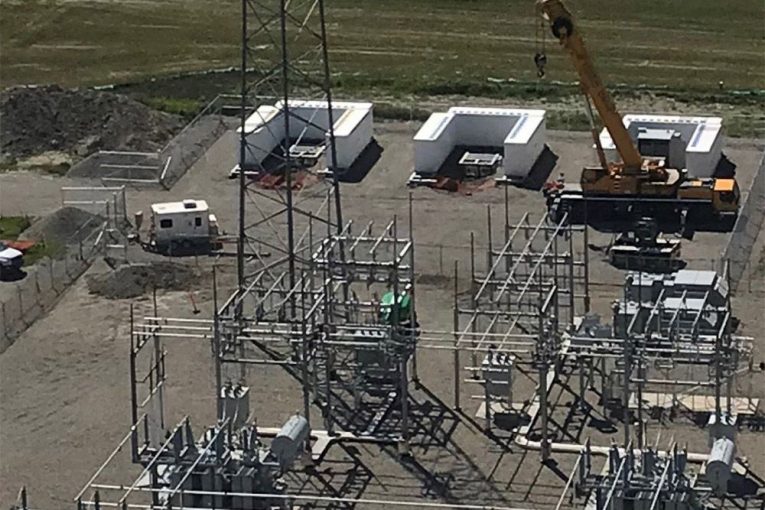 It's slightly smaller than the size of a soccer pitch and uses technology from Tesla.
According to executives with Alberta's largest power generator, it has huge potential and the project is "really cool."
If the technology works on a larger scale, it could be a "game-changer" for the electricity industry helping manage the issue surrounding renewable energy not being available when the sun doesn't shine or wind doesn't blow.
Later this month, Calgary-based TransAlta Corp. will flip the switch on Alberta's first utility-scale, lithium-ion battery storage facility, known as the WindCharger project.
The development, northeast of Pincher Creek, will be able to store electricity from the company's nearby Summerview wind farm and then discharge it when needed.
The project, costing about $16 million to build, consists of three Tesla lithium-ion battery storage groupings, capable of distributing 10 megawatts (MW) for up to two hours, providing up to 20 MWh of storage capacity.
"It is really cool . . . It was put together in a matter of months, in terms of construction. It was great when we saw the batteries coming up from Tesla and in place," said John Kousinioris, TransAlta's chief operating officer.
"It's an opportunity for us to match storage and our renewable wind power generation."
Alberta is a leading jurisdiction in Canada for developing wind power and some solar projects are also moving ahead. Battery storage facilities could be a key piece in a larger puzzle of how to balance the intermittent nature of wind and solar resources.
"When the wind is blowing or prices are really low, what we will do is take power from the wind farm to actually charge up the batteries," Kousinioris said in an interview Tuesday.
"We charge them up and wait until they're needed from a value proposition and then we discharge them . . .
"When it's up and running and fully charged, it can actually meet the needs of Pincher Creek" at full capacity for about 90 minutes.
The project received a $7.7-million grant from Emissions Reduction Alberta. The organization, using money collected from Alberta's levy on industrial greenhouse gas emitters, wanted to know if the emerging technology could be used on a commercial scale in the province.
"At the highest level, we want to see the first made-in-Alberta, large-scale energy storage project coupled with wind power," said Mark Summers, the group's executive director of technology.
"Ultimately, we view energy storage as an enabler for intermittent renewable electricity."
Construction on WindCharger began this spring and it will begin operating later in August.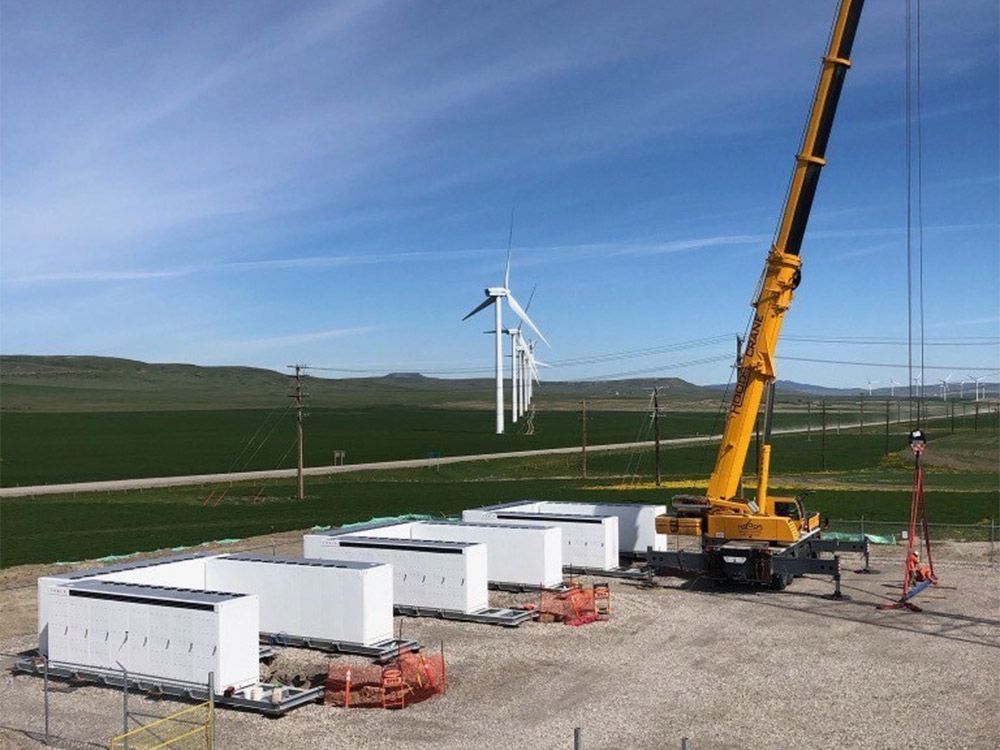 Other storage projects are also in the works, including Teric Power's 20 MW battery storage development north of Grande Prairie, which is expected to start operating in December.
And Enmax's $14.5-million Crossfield hybrid battery project will combine an existing gas turbine with a new 10 MW lithium-ion battery from GE Renewable Energy. The project will be commissioned early next year.
"The energy sector is undergoing a period of transformation and battery storage is at the forefront of that," Chris Joy, Enmax's vice-president of business operations, said in a statement.
Experts believe energy storage is poised for rapid growth in the power industry, particularly as prices for batteries continue to drop.
"The technology is going to be a game-changer with respect to the electricity industry," said Duane Reid-Carlson, chief executive of consultancy EDC Associates.
Pacific Gas & Electric (PG&E) began building the massive 182 MW Moss Landing battery storage system in California last month, while other large projects are on the drawing board.
The grid-connected energy storage market is projected to see global annual revenues increase from US$4.2 billion this year to $9.5 billion by 2025, according to energy consultancy IHS Markit.
Battery storage projects are taking off as the industry leverages some of the advancements in batteries for electric vehicles, said Sam Huntington, an associate director of energy storage with IHS Markit.
"Grid batteries are really riding the coattails of the electric vehicle boom, so that is bringing costs way down and leading to a lot of innovation," Huntington said Tuesday from Boston.
"We are about to hit this big boom and all these batteries will come on to the grid. We will learn a lot more about the economics of the projects."
Last year, an energy storage road map was assembled by the Alberta Electric System Operator (AESO), which manages the province's power grid.
It found energy storage could help optimize intermittent power generation, reduce transmission and distribution infrastructure costs, and provide fast response for the grid operator, in case power is needed quickly.
The report also noted Alberta's policy and legislation lack clarity, while energy storage doesn't have the same ease of connection to the system as other electricity assets.
However, Alberta still has nine proposed battery storage projects in the works.
"What we are seeing now is early adoption in Alberta," said AESO's Mike Deising. "It's just going to be a question of pace. The other (issue) is the magnitude and size of these facilities."
Aside from proving the technology can work in Alberta, such projects also have to make an adequate return over the coming years.
"The real challenge will be, will it make any money?" TransAlta CEO Dawn Farrell said on a conference call last week.
"You store for about two hours and then undo it when the prices are higher. So you are time-shifting the value of energy. At the end of the day, it has to pay for itself."
But TransAlta sees the potential, as do other companies now investing in battery storage facilities around the world.
"It's just a bit of the future," added Kousinioris.
"Over time, they will form an important component of the grid."
Chris Varcoe is a Calgary Herald columnist.
You can read more of the news on source