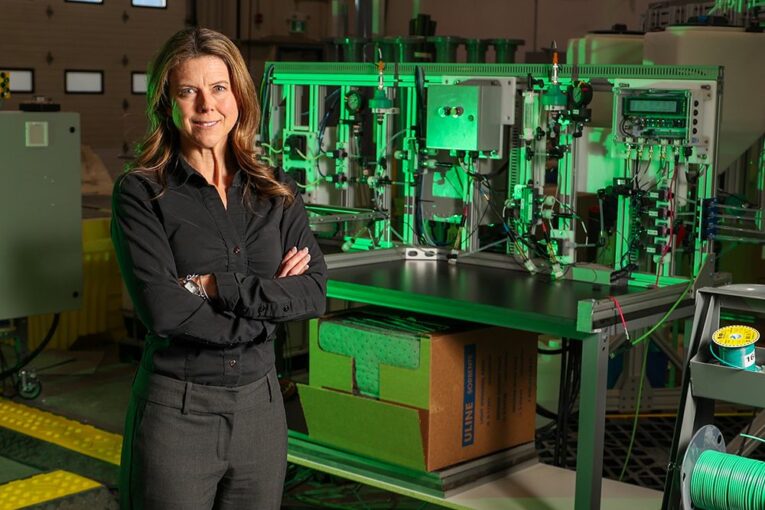 In the heartland of Canada's oil and gas industry, Alberta's cleantech sector is taking flight, and Summit Nanotech Corp. now has more than 50 million ways to validate the transformation.
We apologize, but this video has failed to load.
Try refreshing your browser, or
tap here to see other videos from our team.
Varcoe: Summit Nanotech lands $67M in funding, accelerating growth in Calgary's flourishing cleantech sector
Back to video
The Calgary-based company, which uses advanced nanomaterial in a process to extract lithium from brine water, will announce Wednesday it has closed a US$50 million (C$67 million) fundraising round.
The round was led by Vancouver-based Evok Innovations and BDC Capital, the investment arm of the Business Development Bank of Canada.
"It really does allow us to accelerate our growth faster than we had originally expected, which is super important because the customer demand for our technology is so high," Summit founder and CEO Amanda Hall said in an interview.
"Most of the customers who are looking for lithium extraction technology, they wanted it last year, not two years down the road."
Founded in 2018 by Hall, a former oilpatch geophysicist, Summit has grown from about 15 employees last year — after it closed a Series A round of US$14 million — to more than 70 workers, with the bulk of its staff based in Calgary.
Company officials expect the workforce will top 100 by year's end.
Last spring, Summit moved into a 26,000-square-foot facility near the Calgary airport, where it has a lab and manufactures nanomaterials.
It has a lithium-extraction pilot facility now operating in Chile that was commissioned in September, and six mining customers supplying it with raw feedstock.
Results in South America have gone well; Hall hopes to be operating the technology on a commercial scale in about two years.
Despite economic turmoil and headwinds facing Canadian technology firms these days, the financing round for Summit was oversubscribed.
"With all the volatility in the world, with inflation and wars and COVID and the uncertainty in the market, the lithium price and lithium demand has continuously marched uphill," she added.
"It gives our investors and our team a lot of security that we're on the right path and we're in the right market."
Recommended from Editorial
Calgary startup awarded $1-million grant for greener lithium extraction

Compelling Calgarians: Amanda Hall, making the energy industry more green

Calgary-based company secures $27M in federal funding to develop lithium extraction in oilpatch
Summit Nanotech is part of a growing cleantech community in Alberta, and there are expectations it will get much bigger in the coming years.
Companies such as Eavor Technologies and Validere Technologies are also expanding in the city, while traditional energy giants are investing time and money in clean technology research and development.
According to a report last week by the International Energy Agency, the global market for mass-manufactured clean energy technologies will be worth US$650 billion annually by the end of this decade if countries live up to their commitments surrounding energy and climate.
The Canadian government, for example, will require all cars and passenger truck sales to be of zero-emissions vehicles by 2035.
Lithium demand is growing as the critical mineral is used in rechargeable batteries, such as for mobile phones, electric vehicles and cameras.
The IEA report noted the average price for lithium was almost four times as high last year than in 2019.
"The demand for lithium is skyrocketing," said Cheri Corbett, senior partner of BDC Capital's climate tech fund.
"Batteries, in general, will play an increasingly important role in decarbonizing our economy, and we believe that Summit has the right technology to ensure that lithium mining is done both in a responsible and a sustainable manner."
Marty Reed, a partner at Evok Innovations, said he met Hall several years ago and was impressed by the Calgary entrepreneur.
"She's just incredibly compelling and a great example of some of the amazing talent that we have coming out of the kind of legacy incumbent energy companies," he said.
"It's the right CEO focusing on the right problem at the right time."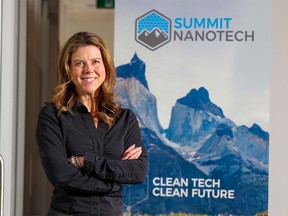 Alberta has a lot at stake in the evolution of the cleantech sector.
The energy transition could create an additional 170,000 jobs in cleantech and contribute more than $60 billion to the province's economy by 2050, a report conducted for the economic development organizations for Calgary and Edmonton concluded.
The study, released a little more than a year ago, pointed out Alberta already has 945 cleantech companies, including 462 headquartered in Calgary, that directly employ 14,600 people. Another 137,000 Albertans work — both directly and indirectly — in the broader cleantech industry.
While Alberta has considerable strengths that should enable the sector to expand, "capital investment is the key to pursuing a clean energy transition and realizing the associated benefits," the report stated.
"When I look at the Calgary ecosystem, there is incredible knowledge about energy and about engineering and about transition. There is incredible entrepreneurial talent that has had success globally," said Karen Hamberg, Deloitte Canada's national clean technology leader.
"So all of the elements, whether it's the money, the talent — there's certainly no shortage of ideas — it's all happening there in Calgary."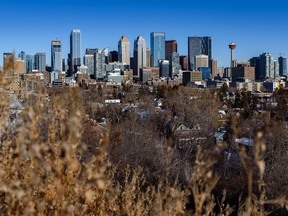 A separate report issued Wednesday by Deloitte Canada cautioned that the country can't attain its climate goals without speeding up the commercialization and adoption of cleantech, and deploying technology at scale domestically.
The study noted it can take between a dozen and 15 years in Canada to commercialize innovative ideas.
"We need to be putting in the effort around market creation and the market development," added Hamberg.
Hall believes it's an advantage to grow the firm out of Calgary. She noted Alberta-based companies have experience in resource extraction, working in remote areas and coming up with scientific solutions.
"We stand on the shoulders of giants in everything we do," Hall said.
"We have the mindset, we have the attitude, we have the grit and we have the knowledge to make a huge impact in the cleantech space."
Chris Varcoe is a Calgary Herald columnist.
You can read more of the news on source