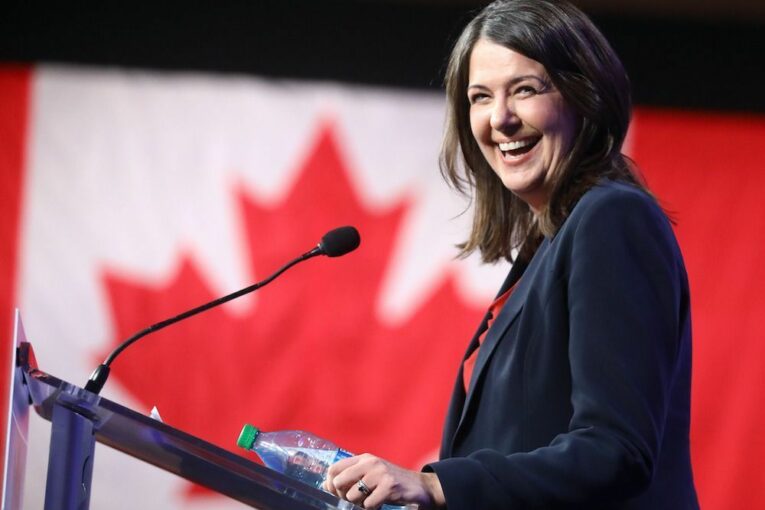 When Danielle Smith was sworn in as Alberta's 19th premier on Tuesday, benchmark U.S. oil prices hovered just below US$90 a barrel.
We apologize, but this video has failed to load.
Try refreshing your browser, or
tap here to see other videos from our team.
Varcoe: Strong financial hand for a new premier, as oil hovers near $90 and a huge surplus awaits
Back to video
In the spring of 2019, when Jason Kenney became Alberta's premier, oil was wedged near $64 a barrel.
And when Rachel Notley assumed the job more than seven years ago, West Texas Intermediate (WTI) crude was mired near $59 a barrel.
For an economy and a government budget that leans heavily on unpredictable energy prices, Smith takes over the province's helm during a position of relative strength — something that hasn't been seen since Jim Prentice took over the premier's position in the fall of 2014.
With last week's agreement by OPEC+ to reduce production to protect oil markets, it signals that high crude prices are likely in the cards — at least for a while.
"The government finances are now incredibly strong," University of Calgary economist Trevor Tombe said Tuesday.
"It will give the government quite a bit of fiscal room in the short, medium and long term, even if oil prices come down from their current high level."
Last month, credit rating agency DBRS Morningstar confirmed the province's long-term debt rating at AA (low) and changed the trend of its outlook to positive from stable, reflecting the improving financial and economic situation in Alberta.
The upturn followed the province's first-quarter results showing an expected surplus of $13.2 billion for this budget year. DBRS said the improved outlook will mark the lowest debt burden facing Alberta since 2017–18.
"Things are great right now when it comes to Alberta's finances," said Travis Shaw, senior vice-president at DBRS Morningstar.
"But the risk is that can change quite quickly."
Such is the reality facing Alberta premiers, as government finances remain tied to the fickle fortunes of world commodity prices, including energy and agriculture products.
When Prentice and his finance minister Robin Campbell took over the job in September 2014, WTI crude had spent the previous nine months hovering between $90 and $107 a barrel.
By New Year's Eve, oil prices were trading below $55.
Recommended from Editorial
Recession proof? Alberta economy expected to avoid Canadian GDP shrinkage

'Screaming for people': Nearly half of Alberta businesses looking to hire

'We're finally having our turn': Boom times are back in Alberta

Alberta's economic forecast grows more optimistic, but challenges persist: ATB
"They can drop in a hurry . . . You have to find a sweet spot where you can control your spending. When prices go up, everyone wants to do everything," Campbell said in an interview.
"If I was the new finance minister taking over for Premier Smith, I would be trying to make sure ministers understood that just because oil is at 90 bucks a barrel right now, it might not be there next month or next year."
Oil prices soared earlier this year following Russia's invasion of Ukraine and the energy crisis unfolding in Europe. Prices for WTI crude tumbled from $120 a barrel in June to below $80 by late September as concerns of a global economic slowdown increased.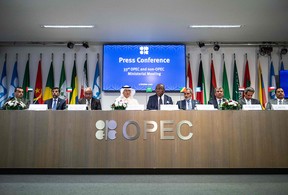 On Tuesday, the International Monetary Fund (IMF) released its new world economic outlook, cautioning that global growth will decelerate to 2.7 per cent next year (from 3.2 per cent in 2022) with high inflation, Russia's invasion of Ukraine and the pandemic continuing to affect the outlook.
Canada's economy is projected to grow by 1.5 per cent next year, less than half this year's rate. The IMF forecasts more than a third of the global economy will shrink this year or in 2023.
Soaring inflation, escalating interest rates and fears of a recession could all dampen demand for energy and have repercussions for Alberta.
"As concerns grow about a potentially slowing global economic growth environment, with that is likely to come weaker energy prices — and that will take some of the strength out of Alberta's finances . . . government will need to account for that," Shaw added.
"Ultimately, there's been a change in leadership and we'll wait to get some clarity on what fiscal and economic policy is under this new premier."
Commodity markets remain volatile, but news that OPEC+ has agreed to cut output by two million barrels per day, beginning in November, pushed WTI crude above $90 a barrel late last week, before closing Monday at $89.35.
"It's a clear acknowledgment that they're preparing for a recession," said Al Salazar, vice-president of intelligence at energy analytics firm Enverus.
"We're slowing . . . and they're willing to defend the price."
For Alberta petroleum producers, it provides some degree of confidence that there's a price floor under the market, barring some unforeseen events. Years of global underinvestment by the sector have also led to tight supply levels.
"It's a pretty big development," said Paul Colborne, CEO of Calgary-based Surge Energy. "It's sending a great signal. I think they truly are doing what they said and they're defending $100 (oil)."
Such upbeat sentiment should provide some comfort to the Smith government as the economy continues to grow.
Tombe believes the province can balance its books even if oil markets gear down into the range of $70 a barrel.
"Oil prices can fall from their current highs even further and that still will not undermine the government's high level of resource royalties," he said.
"Far and away, the fiscal space available to the new government is higher than any in recent memory."
Chris Varcoe is a Calgary Herald columnist.
You can read more of the news on source