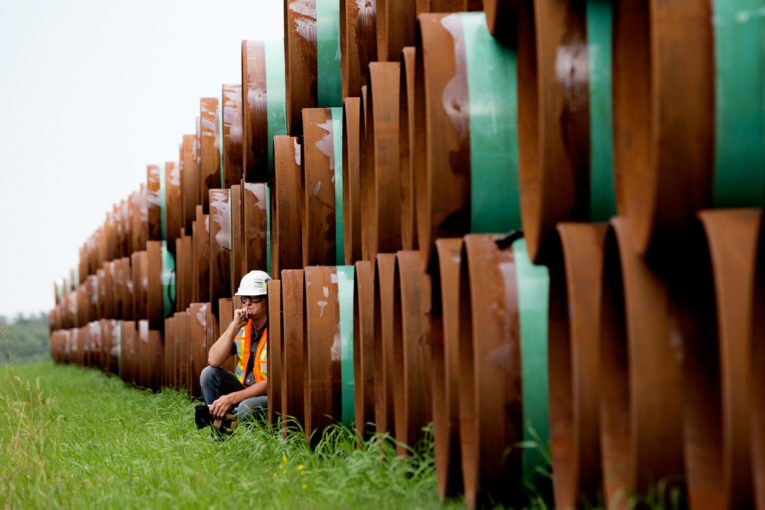 Lost in the meltdown of global oil prices and energy demand are small but important signals for Canada's energy sector.
New pipeline projects are shuffling ahead, ever so slowly.
But in this environment of rock-bottom oil prices and thousands of barrels being shut-in by western Canadian petroleum producers, does it even matter?
On Tuesday, Enbridge CEO Al Monaco said the Line 3 replacement project is moving closer to getting the permits required south of the border to start construction.
"We don't have a firm date of completion and that's because we're waiting for the permits to come through. We are very hopeful that we will be getting our permits soon for Line 3 in Minnesota," Monaco said at the company's annual meeting.
"We had a very good announcement on Friday by the Minnesota (Public Utilities Commission), which gave their final written orders related to the approval of that project. So, hopefully, with that out of the way, we can focus on the actual permitting."
Construction is expected to take about six to eight months to complete. It will only begin once all necessary permits are in hand, leading to 4,200 construction workers being hired to build the development.
Line 3 is seen as the next major project that will add significant additional transportation capacity for oil producers in Western Canada. Once complete, Line 3, which moves oil from Alberta to Superior, Wis., will increase its capacity to 760,000 barrels per day, up from about 390,000.
The Canadian portion of the pipeline was finished late last year. The U.S. side of the project has been awaiting key approvals.
It has been sidetracked by regulatory issues and other hurdles in the U.S. that have pushed its completion date from 2019 into 2020, and potentially longer.
But Enbridge is getting closer to seeing U.S. construction start.
Incremental headway has also been made this year on the Trans Mountain expansion and Keystone XL, although not without challenges.
Construction is now underway on the $12.6-billion Trans Mountain project and it's expected to be completed by December 2022.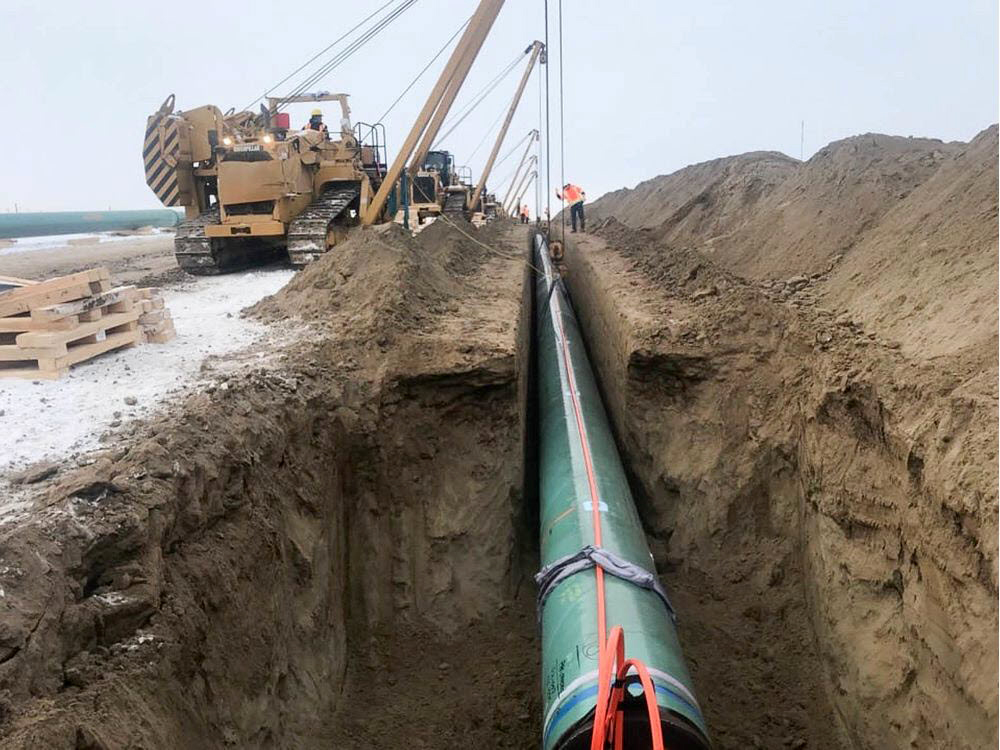 Work has also begun on parts of TC Energy's Keystone XL pipeline, which will move western Canadian oil to U.S. Gulf Coast refiners.
The Kenney government announced last month
it would make a $1.5-billion equity investment in the project, and provide a $6-billion loan guarantee to TC Energy to complete the pipeline and have it operating by 2023.
It received
another setback last month
with a U.S. federal court ruling that could cause delays of up to a year, although TC Energy executives said last week the company can complete "a significant amount of work in the United States in 2020."
However, these steps come as Canadian producers shut-in oil output due to low prices and an unprecedented drop in energy demand caused by the COVID-19 crisis.
"I know we are well north of 600,000 barrels a day off (production) already, probably getting closer to a million barrels off right now in Alberta," Energy Minister Sonya Savage said in a recent interview.
As Reuters reported, Enbridge confirmed recently it wouldn't need to ration capacity on its Mainline network next month as production levels fall. Crude-by-rail shipments, which hit 412,000 barrels per day in February, are also dropping.
Benchmark U.S. oil prices, which fell briefly into negative territory last month, jumped more than $4 on Tuesday, closing at US$24.56 a barrel.
Where does this upheaval leave new pipeline developments?
Several analysts and industry players believe these long-awaited initiatives will still go ahead.
Many U.S. refiners are configured to use heavy oil and Canada has the ability to quickly turn its production back on when demand returns, said Canadian Energy Pipeline Association CEO Chris Bloomer.
Two of the projects — Trans Mountain and Keystone XL — have government backing. And these are also major construction developments that can create jobs in the middle of a brutal economic downturn.
"This is a long-term business investment. You just don't turn these things on a dime," said Bloomer.
"The pipe has been purchased, the right-of-way has been cleared, and people are ready to go and put it together."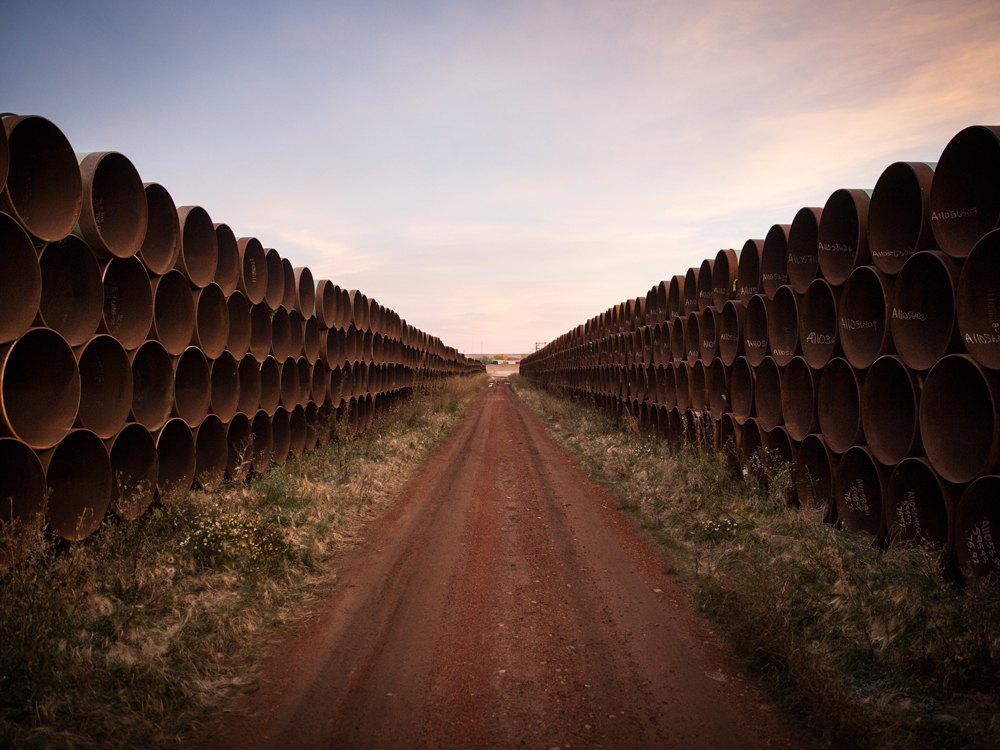 Heading into the year, western Canadian oil supply available for export was more than 4.4 million barrels per day, while pipeline capacity was about four million barrels.
The coronavirus has led to significant demand destruction and, for the first time in several years, Canada will have excess pipeline capacity, said Kevin Birn of energy consultancy IHS Markit.
"The importance of new pipelines in this current environment has certainly waned in the very short term, but in the longer term, there is a need for greater incremental capacity," he said.
"Clearly, if those pipelines were in the ground (today) they wouldn't be utilized," added National Bank Financial analyst Patrick Kenny.
"But come three years-plus, Western Canada is going to figure out a way to fill those pipelines, assuming commodity prices have rebalanced and demand has come back."
Those are important caveats.
It will be critical to see demand for gasoline and jet fuel return — and commodity prices to improve — before oil production is reactivated, and it's unclear how long the damage will last.
Depending on when global oil demand picks up, it's conceivable new pipelines could come on stream without being fully used, but "that would largely be a temporary issue," said Ben Brunnen of the Canadian Association of Petroleum Producers.
"The COVID constraints and corresponding economic contraction doesn't change the long-term need for increased oil egress," he added.
One thing that's certain about new pipeline projects today is the lack of certainty over getting them built. The oil-price collapse, global pandemic and economic recession add more volatility to a complex equation.
But these projects continue to inch ahead, even if it's only in slow-motion.
Chris Varcoe is a Calgary Herald columnist.
You can read more of the news on source