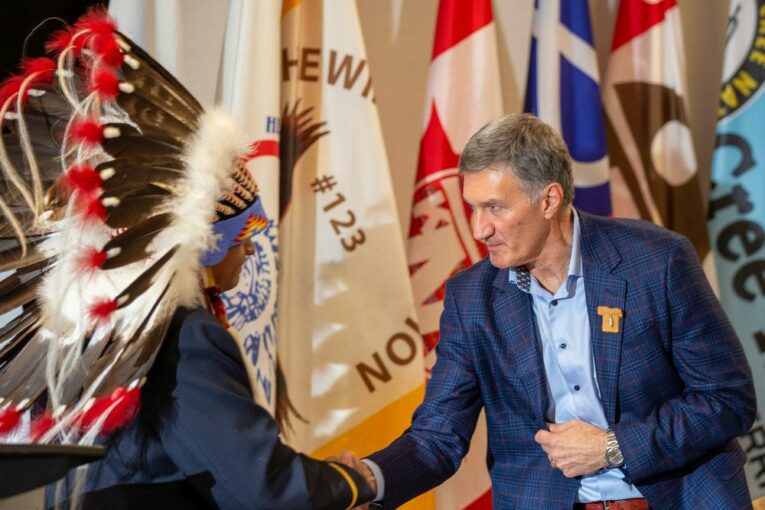 The code name for the billion-dollar deal was "Project Rocket" and liftoff arrived this week.
We apologize, but this video has failed to load.
Try refreshing your browser, or
tap here to see other videos from our team.
Varcoe: 'Project Rocket' launches with $1B Indigenous ownership stake in Enbridge pipelines
Back to video
Enbridge, the country's largest energy infrastructure company, and 23 First Nations and Metis communities in northern Alberta struck a historic partnership on Wednesday, billed as the largest of its kind in North America.
Calgary-based Enbridge sold a nearly 12-per-cent stake in seven different pipelines in the oilsands region for $1.12 billion to Athabasca Indigenous Investments, which represents the First Nations and Metis communities in northern Alberta.
And the agreement should become a template for Indigenous ownership in other major developments in Canada, including conventional oil and gas infrastructure, renewable power and carbon capture and sequestration hubs.
"Project Rocket really is meant to symbolize the fact that we want to move up, we want to move forward," Enbridge CEO Al Monaco said Wednesday when asked to explain the code name.
"We started with consultation and accommodation, we moved up through the various layers of engagement with Indigenous groups — and this is really the pinnacle. So, I think a rocket exemplifies that we are rising up.
"Is it the model? Boy, we'd sure like it to be."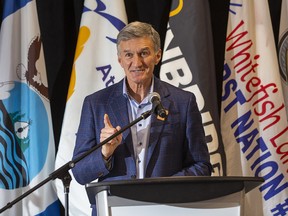 Under the agreement, Athabasca Indigenous Investments has obtained a stake in the seven existing Enbridge-operated pipelines.
Combined, they transport about 45 per cent of Canada's oilsands production to hubs in Edmonton and Hardisty.
The deal will permit Enbridge to continue recycling capital from its existing businesses into other areas, including the energy transition business, as well as strengthen its relationship with Indigenous communities, noted Colin Gruending, Enbridge's executive vice-president.
(On Thursday, Enbridge announced the acquisition of Dallas-based renewable business Tri Global Energy for US$270 million in cash and assumed debt.)
The pipeline assets are underpinned by long-term contracts with customers.
As Friday marks the second annual National Day for Truth and Reconciliation, the announcement is timely.
Recommended from Editorial
Indigenous communities to buy stake in seven Alberta Enbridge pipelines

Fort McKay Metis Nation builds booming business in oilsands sector
Some Indigenous leaders have strived for years to acquire an ownership position in the Trans Mountain pipeline expansion and other energy developments that affect their communities.
"Today's investment means that we have a very important seat at the table," Chief Greg Desjarlais of Frog Lake First Nation told reporters.
"This deal is the benchmark."
Desjarlais and other leaders in the partnership spoke passionately about the effect the agreement will have by providing a stable source of long-term revenues.
Fort McKay Metis Nation president Ron Quintal said the agreement will see his community obtain five-per-cent ownership in the partnership and it will provide about $500,000 in annual revenue.
For his community, more money can be directed to education, infrastructure and housing.
"What that will do is help us, giving us a bit of breathing room when it comes to going to banks to look at mortgages to build new homes," Quintal said in an interview.
"It's a signal to Ottawa . . . allow Indigenous communities to be able to create their own prosperity so they can fundamentally, at the end of the day, achieve economic reconciliation."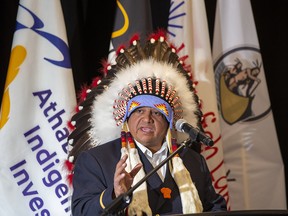 There have been previous deals involving Indigenous communities buying energy assets in Alberta, although not at this scale or with such a large number of partners.
In 2017, Suncor Energy announced the sale of a 49-per-cent stake in its oilsands storage terminal north of Fort McMurray to the Fort McKay First Nation and Mikisew Cree First Nation for $500 million.
In late 2019, ATCO and Canadian Utilities sold a combined 40-per-cent equity ownership in the Alberta PowerLine partnership — which owns the Fort McMurray West transmission line — to seven Indigenous communities.
There's been frequent discussions about the federal government selling part or all of the Trans Mountain pipeline to Indigenous groups, once the ongoing expansion project is completed next year.
New ownership opportunities are also ahead involving energy transition developments such as wind and solar farms, hydrogen or carbon capture developments.
Enbridge has proposed a carbon dioxide sequestration hub in the Wabamun area west of Edmonton; it will be co-developed and co-owned with four First Nations and the Lac Ste. Anne Metis Community.
Other deals will come.
"They want to be partners in the energy transition that everybody talks about through the full cycle of energy assets, not just when we need to build a project," Monaco said.
Yet, there are barriers to overcome.
A report released Thursday by the Conference Board of Canada found most Indigenous communities lack access to affordable capital needed to buy ownership in major developments. Remote communities face unique barriers, such as increased building, transportation and operating costs.
So what can bridge this gap?
Loan guarantees can be an effective tool to provide Indigenous communities with access to capital, and they're an "appealing way for governments to support equity participation in major projects because they do not require an outlay of cash," the report stated.
"There is certainly a need for a national effort to improve access to capital for Indigenous communities and loan guarantees," said Matt Belliveau of the Conference Board of Canada.
In this week's pipeline deal, the Alberta Indigenous Opportunities Corp. (AIOC) played a key role. The provincial Crown corporation provided a loan guarantee of $250 million to allow Athabasca Indigenous Investments to help its members secure financing.
AIOC chief executive Chana Martineau noted loan guarantees can help Indigenous communities obtain capital, but it also lets them access it at favourable rates. The corporation has deployed a little more than $400 million in such loan backstops since 2020.
"You can talk about reconciliation a lot, but this is moving beyond that and putting action behind your words," Martineau said.
If Ottawa is serious about reconciliation, developing new entities such as Alberta's Crown corporation will be needed to see more projects successfully touch down.
"This partnership is historic," concluded Justin Bourque, president of Athabasca Indigenous Investments.
"I hope that all new developments that happen on traditional Indigenous lands include those traditional Indigenous people in that ownership."
Chris Varcoe is a Calgary Herald columnist.
You can read more of the news on source