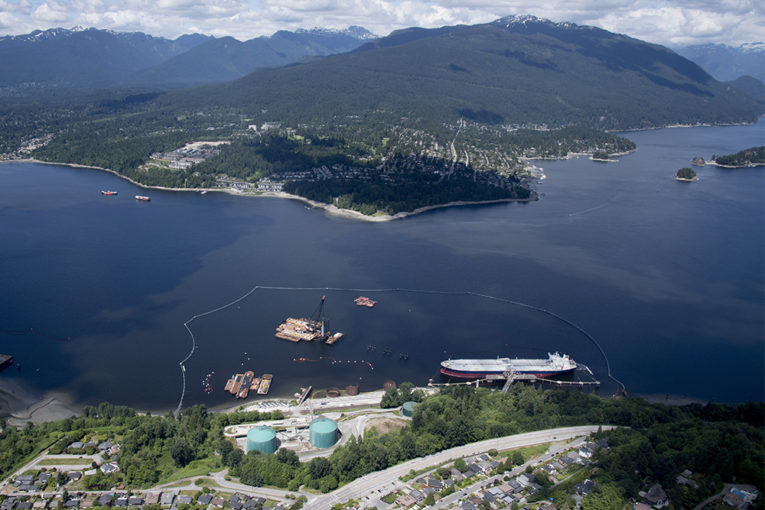 Finance Minister Bill Morneau had two telling exchanges Wednesday at a Calgary luncheon to tout the federal government's historic decision to buy the Trans Mountain pipeline.
One moment occurred when he bumped into entrepreneur Brett Wilson in the middle of the Big Four Building just before a speech to the Calgary Chamber of Commerce; the other came after two protesters interrupted his address.
The two episodes captured the conflicting sentiments surrounding Ottawa's $4.5-billion acquisition this week of Trans Mountain to ensure the pipeline's expansion is completed: optimism mixed with a sense of the difficulties ahead.
In the centre of Canada's oilpatch, there's relief progress is finally being made to resolve the country's market access problems, but a realization the project has several obstacles to clear, including more civil disobedience.
But for a city and industry still recalibrating from the pain of the oil price collapse in 2014, any confidence is welcome.
"For Calgary, this is a good day because we've got the promise of an ongoing fight to finish a pipeline. We don't have a pipeline. The expansion is not built," Wilson, a co-founder of FirstEnergy Capital and former Dragons' Den investor, said before the speech.
"But it's encouraging we finally have a step in the right direction. And if we can get an arena and a new convention centre, there's a vibe in Calgary that says we're ready, and we're ready to play again."
While Wilson was speaking, Morneau was winding his way through the crowd of more than 500 when he bumped into the Calgary businessman, who has been critical of the Trudeau government's energy policies.
The talk immediately turned to pipelines.
"In the interest of national pride and unity, I think what we're doing is the right thing," Wilson told the finance minister.
Morneau responded with a message he repeated several times throughout the day: the oil pipeline will be built.
"This was not our first, best solution, obviously," the minister replied to Wilson, the chairman of Canoe Capital.
"We'd rather it not have been this conclusion, but it's the right conclusion given where we're at, because we've got to get the project done."
Related
Braid: Morneau trumpets pipeline restart – but can it be finished?
Morneau tells Calgary audience Ottawa's ownership of Trans Mountain is temporary
B.C. protesters vow to fight on after Ottawa buys controversial pipeline
Five Things: the next steps for getting the Trans Mountain project done
The right conclusion, as he called it, was Ottawa's contentious decision to buy out Kinder Morgan's Trans Mountain pipeline, which ships oil from the Edmonton area to Burnaby, B.C.
The $7.4-billion expansion will triple the pipeline's existing capacity, and help Alberta petroleum producers move oil to tidewater and, potentially, to export markets in Asia.
Morneau stressed he will look for a private sector buyer to acquire the project at some point, although it's unclear how long that will take.
The investment decision was embraced by Premier Rachel Notley, whose government has been lobbying to see the line built and is locked in a bitter struggle with B.C. Premier John Horgan, who wants the development stopped.
To make sure the project is finished, Alberta will provide up to $2 billion to act as a backstop, in the case of extraordinary circumstances, such as future cost overruns.
With a lack of pipeline capacity costing Alberta an estimated $6.5 million a day in government revenues, it had to act.
During his speech, Morneau noted the last time he spoke in the city, he encountered a sense of anxiety surrounding the ability of Canada to get its natural resources to market.
It's a worry, he said, the federal government shared, which was one of the factors behind Ottawa's decision to buy the entire project.
As the new owner of a crude oil pipeline, Morneau also came face to face with one of the challenges Kinder Morgan has been grappling with daily: vocal, committed opponents who won't give up.
Less than four minutes into his speech, the Toronto MP was interrupted by anti-pipeline protesters carrying banners that read: "No Bailout for Climate Crime!"
Before being escorted out by security, one shouted at the minister: "This project will never happen," triggering a chorus of boos from the business crowd.
"What we all realize is that hard things are hard, and we will continue to face challenges doing things that are going to make an enormous difference for our economy," the minister replied.
His point isn't lost on local business leaders who desperately want to see the project built, to help restore confidence that major energy infrastructure can be finished after the rapid-fire demise of the Energy East, Northern Gateway and the Pacific NorthWest LNG projects.
"It is widely recognized that expanded market access is absolutely essential for the Canadian energy sector to get a full and competitive price value for our production," said Rich Kruger, CEO of Imperial Oil, one of the shippers on the Trans Mountain line.
The reality is few oilpatch leaders like the idea of government intervention in a development that is clearly commercially viable.
For those in the Calgary business community, however, this was Ottawa's only card to play.
Now, it's time to move on and get a pipeline built.
"There was a mood that we're having trouble attracting investment to Calgary, to Canada, because we can't get anything done. We can't build pipelines," said Steve Allan, chairman of Calgary Economic Development.
"We have to demonstrate we can."
Chris Varcoe is a Calgary Herald columnist.
You can read more of the news on source