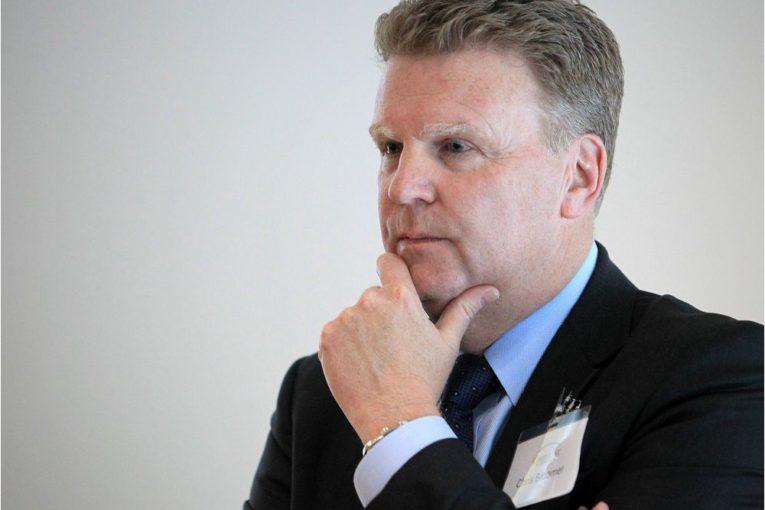 Chris Bloomer says the country's pipeline industry "isn't trying to be the tall poppy."
But there's no doubt the head of the Canadian Energy Pipeline Association has grabbed the spotlight in the past week after skewering the federal government's new Impact Assessment Act.
In short, the industry group sounded the alarm about what it sees as myriad challenges facing the sector today, including incoming federal rules that will impact how — and if — new pipelines are approved.
"We are not trying to be political with this. We're just putting forward our position on how we view this new bill," Bloomer said in an interview Wednesday.
As the organization's chief executive, Bloomer appeared before a parliamentary environment committee last week and dissected the new legislation, known as Bill C-69.
The act will significantly overhaul how energy projects are evaluated, impacting the development of new oil and natural gas pipelines.
For example, there likely won't be any new ones.
"It is difficult to imagine that a new major pipeline could be built in Canada under the Impact Assessment Act, much less attract energy investment to Canada," Bloomer told the committee last Thursday.
"My mother always said, 'Never say never.' But in the current environment, we can't see how one is going to be proposed."
Leaving the velvet gloves at home, Bloomer didn't pull any punches. He described the difficult landscape facing the country's pipeline industry, one that has seen major projects shelved and uncertainty lurking around every corner.
"It's not good news," he said in Ottawa. "You can pick your poison."
Policies such as the federal tanker ban off the northern British Columbia coastline, provincial emissions rules, proposed methane emission reduction targets, and the B.C. government's proposed restrictions on Alberta bitumen shipments have all eroded investor confidence.
"New projects are at a grinding halt and we have major problems as a sector, and a country, accessing new markets for our energy products to the world," he told the committee.
First announced in February, the bill will see the National Energy Board overhauled and renamed the Canadian Energy Regulator. Major energy projects will be jointly reviewed by the newly created Impact Assessment Agency of Canada.
The government contends the process will establish a more comprehensive examination process than in the past, studying a project's impact on the environment, health, Indigenous communities, social and economic effects.
Ottawa insists the changes will cut red tape and reduce review timelines.
Related
Regulatory 'poisons' are 'suffocating' the oil industry
Braid: The NDP tries to fight off Ottawa's bloated Bill C-69
Lawyers stumped over new gender and identity provisions for environmental impact assessments
"These better rules will increase regulatory certainty and clarity, encouraging investment in Canada's natural resources sectors," Caroline Theriault, press secretary for federal Environment Minister Catherine McKenna, said in a statement.
Those in the energy sector disagree.
Rather than removing some of the broader public policy objectives that were tacked on to the NEB technical-based reviews, the federal government has gone in the other direction.
The legislation "appears to double down on the very factors that created the toxic regulatory environment for major projects that this regulatory review process was intended to fix," Bloomer said.
Bill C-69 doesn't fix a process that is "expensive, lengthy, polarizing and ends with a discretionary political decision," he added.
"If the goal is curtail oil and gas production, and to have no more pipelines built, this legislation may have hit the mark."
For Alberta and the oilpatch, these are worrying signals.
Building energy infrastructure is essential if the sector is to find new markets, maximize price and develop existing resources efficiently.
Oilsands production is increasing and more pipelines are needed to ship crude to market. Promising plays in Western Canada — such as the Duvernay and Montney formations — will require new infrastructure to thrive.
At the same time, pressure is mounting on governments and industry to decarbonize.
The bill is moving ahead as a national debate has erupted over the Trans Mountain expansion, one of two pipelines approved by the Trudeau government in 2016.
It also comes on the heels of the Energy East and Northern Gateway projects being nixed, shelving more than $23 billion of industry investment.
At the parliamentary committee meeting, Terry Abel of the Canadian Association of Petroleum Producers pointed out that while U.S. oilpatch investment will increase by double digits this year, it will likely fall by three or four per cent north of the border.
The industry and investment community see little in the bill to reverse that trend, he said.
The Alberta government also has concerns with parts of the legislation, such as whether Ottawa can meet its legislated timelines for reviews, given the expanded scope of project assessments.
On the other side, environmental groups are worried about the bill's vagueness and the Trudeau government faces a conundrum: how to reduce Canada's emissions while encouraging more oil and gas production.
While industry wants an approval process to know how it can get projects built, environmentalists want an assessment process to examine if energy projects should even be considered.
"We should not be building major new pipelines," said Keith Stewart of Greenpeace Canada.
CEPA, which represents major pipeline operators, notes it members have assets in other countries. They're pursuing international opportunities because of the investment uncertainty in Canada and "further seismic regulatory changes."
"The sector is suffocating because of it," Bloomer said.
One point is clear as this debate unfolds: the new Impact Assessment Act is creating deep consternation within Canada's energy sector.
And leaders within the pipeline industry aren't about to let their voices be muffled.
Chris Varcoe is a Calgary Herald columnist.
You can read more of the news on source