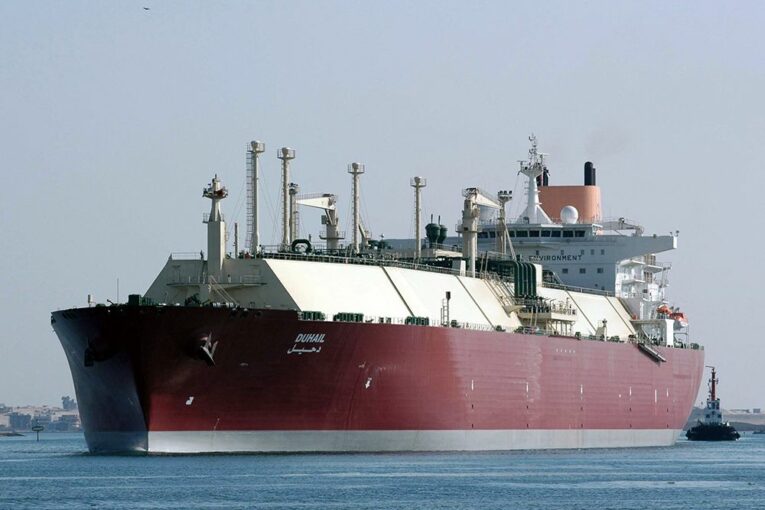 Like a kid with their face pressed up against the toy store window, Canada appears set to watch — and wait — while other countries charge ahead with bold plans to export more liquefied natural gas to the world.
We apologize, but this video has failed to load.
Try refreshing your browser, or
tap here to see other videos from our team.
Varcoe: 'Painful to watch' — Canada stuck in neutral as U.S. and Qatar accelerate LNG deals with Europe
Back to video
The United States announced a deal Wednesday to significantly boost the amount of LNG shipped to the United Kingdom next year, while QatarEnergy recently inked a long-term agreement to sell up to two million tonnes of LNG annually to Germany, starting in 2026.
In Canada, it's crickets from Ottawa.
"We've actually become our own biggest stumbling block to grow and be a global energy superpower, simply because we think naively that our vision of supplying energy to the world is smarter than what the people are asking for," said Michael Belenkie, CEO of Advantage Energy, a Calgary-based natural gas producer.
"It's painful to watch."
Alberta Energy Minister Peter Guthrie, who will lead a trade mission to Germany next month to discuss energy security and LNG, is also vexed this country could miss out on helping meet the energy needs of Europe and Asia.
"Germany, they come to Canada, they're asking us for supply of LNG, and Trudeau says there's no business case for this," Guthrie said Friday.
"It's just beyond comprehension."
Recommended from Editorial
Clock ticking on potential of Canadian LNG exports to Europe, minister tells committee

LNG Canada CEO says case for doubling export capacity 'very strong'

Opinion: On its current course, Canada is missing the LNG boat again

Varcoe: It's time for Ottawa to stop dithering about backing a bigger Canadian LNG industry
The spotlight on LNG markets has intensified in the wake of Russia's invasion of Ukraine and the energy crisis hitting Europe. EU countries are striving to shift off of Russian energy.
On Wednesday, the White House announced it will work with industry players to ensure at least nine to 10 billion cubic metres of LNG is shipped over the next year from U.S. export terminals to the U.K., more than double last year's levels.
In late November, state-owned QatarEnergy and joint venture partner ConocoPhillips signed two agreements to send LNG to Germany, part of a 15-year supply agreement.
European LNG imports have hit record highs this year, while benchmark prices on the continent closed at US$41.73 per million British thermal units earlier this week, according to Rystad Energy.
The energy consultancy recently forecast that total LNG investment will surge to US$42 billion in 2024, up 55 per cent from this year's level. It anticipates global gas demand will jump 13 per cent by the end of this decade.
South of the border, the U.S. has become a major LNG powerhouse in less than a decade.
This should also be a critical moment for Canada to help, to see new projects get the green light, to build on the country's natural advantages, such as plentiful gas reserves in the Montney formation and a shorter shipping time to Asian markets from the British Columbia coast than from U.S. terminals.
Yet, this country is still unable to export any LNG. While one major project is under construction in B.C., there's room for much, much more to be done.
"It's a lost opportunity for Canada. There's a need in the world. There's a void being caused by the fact that Russian gas is not going to be consumed in Europe — and there's an opportunity to fill that void," said Jackie Forrest, executive director of ARC Energy Research Institute.
"If it's not going to be us, it will be others, as we can see. So Canada loses out."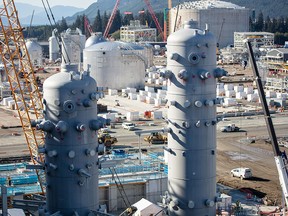 The Shell-backed LNG Canada development at Kitimat, B.C., is now being built to ship supplies to Asia; partners in the consortium are contemplating a second phase.
One other project, the smaller US$5.1-billion Woodfibre LNG development near Squamish, B.C., is heading into full construction next year.
The Haisla Nation's Cedar LNG development, and the proposed Ksi Lisims LNG Project in B.C. — an alliance between Nisga'a Nation, Western LNG and a group of Canadian gas producers (including Advantage Energy) — are progressing.
Yet, there's an obvious lack of support from an ambivalent federal government to see the sector grow significantly and send gas abroad, which could displace higher-emitting coal used in other countries to generate electricity.
"There's a huge opportunity for Canada," said Forrest. "The problem is we don't have a lot of projects progressing and that's because it's sort of uncertain — the regulatory process (and) if Canada is OK with increasing the emissions associated with LNG domestically."
Comments in October by federal Finance Minister Chrystia Freeland that Canada should fast-track energy and mining projects to help our allies heat their homes and manufacture electric vehicles ignited some hope within the industry of a pending shift in attitude.
Guthrie, who will travel with Premier Danielle Smith and Finance Minister Travis Toews to Germany and Poland in mid-January to discuss energy security and potential partnerships, hopes Ottawa is ready to acknowledge more LNG projects are needed.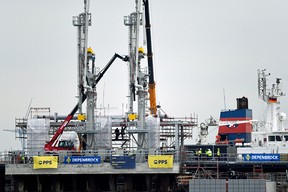 Former TransCanada Corp. CEO Hal Kvisle, who co-chaired an advisory panel on natural gas for the province, noted some Canadian petroleum producers are moving gas into the U.S. for eventual export. The expansion of America's LNG sector is also pulling up gas prices across North America.
However, Kvisle believes that it matters if Canada can't develop its own LNG industry that connects the Western Canadian Sedimentary Basin to global markets.
"We continue to produce the gas today, we just produce it into discount markets rather than producing it into a premium market," he said. "Why would we want to put our producers in a position where they have to sell at a discount?"
Even if a new LNG project went through the entire regulatory process — at a huge cost and prolonged timeline — and received the necessary approvals, there are no guarantees politicians would let it move ahead.
And so we wait.
"We have ended up in a spot where I feel like the rest of the world is laughing at us a little bit," said Belenkie.
"This is stuff that we could do if we had a government that would show some leadership."
Chris Varcoe is a Calgary Herald columnist.
You can read more of the news on source