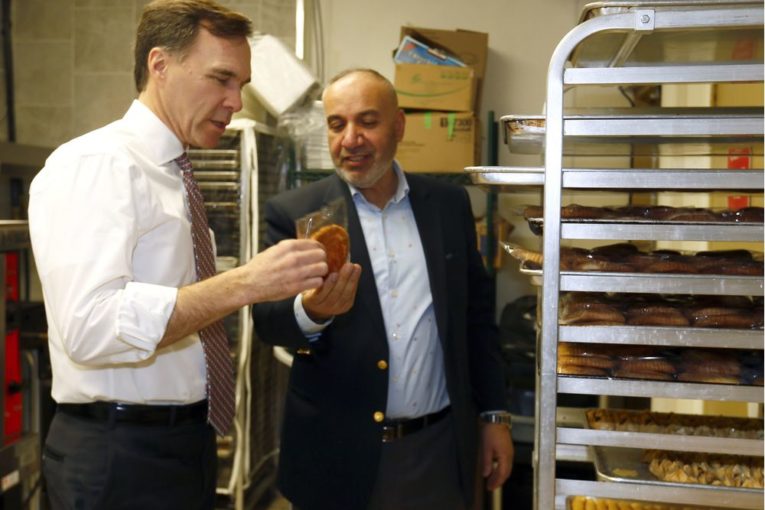 Trust us.
Federal Finance Minister Bill Morneau stopped in Calgary on Wednesday as part of his post-budget tour, and while he never uttered those words, he didn't have to — the underlying message was clear when it comes to hot-button issues affecting Alberta.
Whether it's building new pipelines, concerns about business competitiveness or falling oilpatch investment, the theme is pretty similar: Don't worry, Ottawa is working on it.
The minister spoke to 200 people at a Calgary Chamber of Commerce breakfast and Morneau touched on the major items in last week's budget, including investments in science and research, gender equality measures and managing the economy.
But many Albertans are focused on pipeline politics, the United States energy industry kicking into overdrive and concerns about this country's business sector remaining competitive as the U.S. slashes corporate taxes.
Asked about the Trans Mountain pipeline expansion, Canada's finance minister reiterated Ottawa's support for the $7.4-billion project, stressing it's critical for the country to get world prices for its resources.
Talks are going on behind the scenes to move the federally approved development ahead, although Morneau wouldn't detail what's being done to resolve the current impasse between Alberta and British Columbia.
"What I'd like people in the room to know is that everything that is going on is not necessarily on the front page of the paper," he said. "Some things going on are not actually helped, in terms of their effectiveness, by being on the front page of the paper.
"We have a number of people across our government that are very focused on trying to intervene to get to a better outcome."
It's soothing talk; let's hope a solution is found quickly.
But if you're looking for answers on what the federal government's next step is to end the fracas between Alberta and B.C. over Trans Mountain, keep searching.
Alberta Energy Department officials and lawyers have been in Ottawa this week meeting with federal authorities on the pipeline front, although there's no word yet on how it's unfolding.
Speaking from Houston, where she's attending an international conference, Alberta Energy Minister Marg McCuaig-Boyd said the pipeline issue has dominated many of her conversations in Texas this week, illustrating the importance of getting the Trans Mountain expansion completed.
She also met with federal Natural Resources Minister Jim Carr to press the province's point.
"I reiterated that we need leadership from Canada, not just leaving it up to our premier to do all the work," she said.
Make no mistake, this is a high-stakes game for the Notley government and Alberta's energy industry.
Without enough pipeline capacity to get product efficiently to market, Canada faces the prospect of the price discount on western Canadian heavy oil remaining steep for the next couple of years.
Earlier this week, a report by the University of Calgary said the "invisible cost" of pipeline bottlenecks means Alberta is losing up to $6.60 for every barrel of heavy oil exported to the U.S.
"We need to see the government of Canada take concrete steps that enable the construction of the pipeline," former Alberta energy minister Ken Hughes said after the chamber breakfast. "We haven't seen that so far."
A growing concern in Alberta is the disparity of fortunes between the Canadian and U.S. energy sectors, with money surging into shale oil plays south of the border, but drilling programs shrinking north of the 49th parallel.
The American energy sector's growth trajectory is even more impressive.
The International Energy Agency predicts the U.S. will boost liquids production to an eye-popping 17 million barrels per day by 2023, up more than 25 per cent.
Canadian production is also set to increase, but with pipelines already full, more crude will be transported by rail. The Paris-based agency forecasts oil shipments by train will soar to 390,000 barrels a day in 2019, up from 150,000 barrels a day in December.
This trend means higher costs for petroleum producers trying to get oil to market, lower royalties for Alberta, and less incentive for companies to invest in Canada.
Imperial Oil CEO Rich Kruger, who also attended the speech, said a number of factors impact the industry's competitiveness, from operating, manufacturing and construction costs to regulatory timelines.
"Our industry is very challenged from competitiveness (issues) … that's why you see capital flow to one jurisdiction versus another," he said.
Another business issue on the front burner is U.S. tax reform, with corporate rates in America falling to 21 per cent from 35 per cent.
Canadian business groups were pressing the Trudeau government to take steps in the budget to address this impact. Morneau said Ottawa needs more time to study the U.S. regulations, which are still being developed.
The finance minister knows these tax changes are creating anxiety for many business leaders who are concerned it will impact investment decisions.
He pointed out Canada maintained lower corporate tax rates than the U.S. for the past 15 years and that didn't produce a significant difference in investment flows.
"I'm not saying taxes aren't important," Morneau added. "We are looking at it to ensure it's not something that creates a competitive disadvantage, but we need to do it with our eyes open."
Again, there were no hard details on what will happen next, just a general sense that the issue was being studied and would be addressed — unless it isn't.
Albertans are a patient lot, but at some point talk needs to give way to action.
Propelling pipelines ahead would be a good place to start if the federal government really wants to build that trust.
Chris Varcoe is a Calgary Herald columnist.
You can read more of the news on source