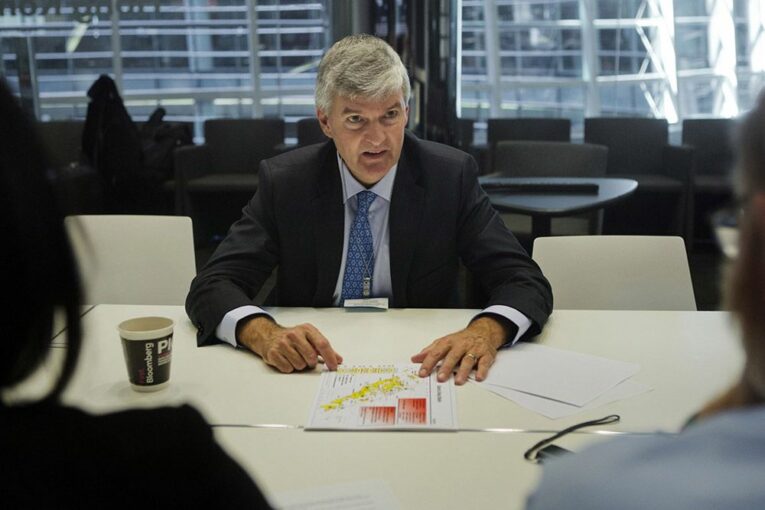 An avalanche of oilpatch earnings Thursday showcased the prolific profitability of the sector with high energy prices, but also some of the pressures ahead — the effect of inflation and the push to spend more capital.
We apologize, but this video has failed to load.
Try refreshing your browser, or
tap here to see other videos from our team.
Varcoe: Oilpatch earnings soar, but concerns persist over inflation, emissions cap
Back to video
A longer-term concern is also on the horizon: the incoming greenhouse gas emissions cap on the Canadian oil and gas industry being developed by the federal government.
"I'm very worried that if we remain on this path, it could lead to shutting in production at a time when the world is literally crying out for more oil and gas production," Cenovus Energy CEO Alex Pourbaix said on an earnings call.
"Those are much more aggressive goals than are being asked of any of the other industrial sectors in the country . . . I don't think they're possible to hit."
Oilsands giant Cenovus and the country's largest gas producer, Tourmaline Oil Corp., both released strong second-quarter results this week that showed a hefty jump in profits and cash flow.
They also included higher capital budgets for the year.
Tourmaline, which produced an average of 503,000 barrels of oil equivalent (boe) per day in the quarter, generated record cash flow levels for the April-to-June period.
Net earnings hit $823 million, up 96 per cent from a year earlier.
"It's probably the best quarter we've ever had in any of the companies we've had," Tourmaline CEO Mike Rose, who previously headed Duvernay Oil Corp. and Berkley Petroleum Corp., said in an interview.
"We don't really have any debt anymore and have an enormous amount of free cash flow and . . . we're returning a lot of cash to shareholders, but also think shareholders want some amount of growth — call it measured growth."
The company managed both, unveiling another special dividend, and plans to increase capital spending to $1.5 billion this year, up from about $1.25 billion.
The change reflects an increase in its exploration and production program in the second half of the year, as well as a contingency for inflation.
"The $250-million increase, one-third of it is inflation and two-thirds of it is the incremental growth," Rose added.
The oilpatch earnings parade showed the power of supercharged oil and gas prices on the bottom line of Canadian producers.
Benchmark oil prices surged above US$100 a barrel earlier this year following Russia's invasion of Ukraine, closing Thursday at US$96.42 a barrel.
Natural gas prices have also soared, hitting a 14-year high in the U.S. earlier this week.
Whitecap Resources announced second-quarter earnings of $381 million, up from $19 million a year earlier, while Crescent Point Energy reported Wednesday it had net earnings for the period of $332 million.
Baytex Energy made $181 million in the quarter, while MEG Energy reported $225 million in net earnings.
Tourmaline also unveiled a new exploration and production growth plan through 2028, which will see it increase annual output by six per cent.
At Cenovus, the integrated producer reported profits of $2.4 billion, up 50 per cent from a year earlier.
It raised its capital budget by $400 million this year to about $3.5 billion, directing more money to its Sunrise oilsands project.
Cenovus is earmarking $100 million to its conventional oil and gas segment to account for rising labour and equipment costs, along with increased drilling activity.
It's also dedicating an additional $100 million to its offshore division, including money to fund preliminary work to restart the West White Rose Project off the coast of Newfoundland and Labrador.
"If you think of that $400-million capital addition, probably about $100 (million) of that represents true inflation," Pourbaix said.
In the oilsands, where more planning and longer lead times are required, the effect of higher costs has not been as significant as in the conventional side of the business, which is seeing higher costs for pipe casing and for contracting rigs.
"We are right in the process of developing our budget for 2023 and obviously inflation is going to be something that we have to consider . . . but right now, it's something that is manageable," Pourbaix said.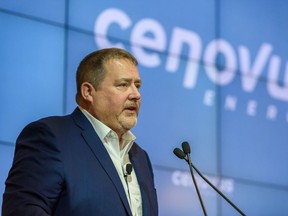 Rising operating costs are becoming a common theme across the sector.
Project costs are also going up.
On Thursday, TC Energy increased the estimated price tag for the Coastal GasLink pipeline to $11.2 billion, up from $6.6 billion. CEO Francois Poirier cited changes to the project's scope, inflation, the effect of the pandemic and other extraordinary events for the higher cost.
Analyst Jeremy McCrea of Raymond James said increased expenses and supply chain constraints are affecting the industry, but noted producers benefit from higher energy prices.
"Inflation is a concern — a very big concern . . . but when you have commodity prices where they are, you are going to have inflation, there's just no way of getting around it," he said.
While inflation is a short-term issue, a longer-term concern is the incoming federal cap on oil and gas emissions.
Last week, the Trudeau government began consultations on its planned emissions limit for the sector, with draft regulations expected to be developed by year's end.
Modelling in the federal government's emissions reduction plan this spring forecast industry emissions will fall 42 per cent by 2030, although details must be finalized.
Cenovus, a member of the Pathways Alliance of oilsands producers that have agreed to collaborate to reach net-zero emissions by 2050, remains concerned about the federal initiative.
"The risk could be a cut in production from Canada at a time when these resources are just incredibly, desperately needed worldwide," Pourbaix said.
At Tourmaline, Rose didn't wade into details of Ottawa's policy, but said Canadian gas output should increase to displace coal used in power generation in Asia.
From a gas producer's perspective, he's also watching to see how the cap affects future industry output.
"The world needs more gas," Rose added.
"The whole industry is reducing their emissions. And, you know, that's the part that seems to get lost with the federal government."
Chris Varcoe is a Calgary Herald columnist.
You can read more of the news on source