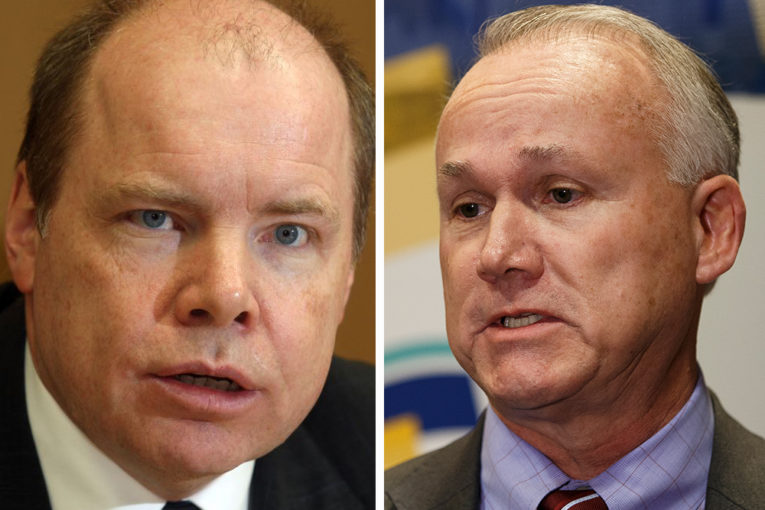 Two key figures are leaving their posts in Alberta's energy universe in the coming weeks during a period of upheaval for the sector.
But two familiar figures will be stepping in to replace them.
The Alberta Electric System Operator, which manages and operates the province's power grid, announced Tuesday chief executive David Erickson will leave the organization Jan. 31 after almost a decade in the job.
He will be replaced by Michael Law, AESO's chief operating officer and the point person in Alberta's transition to a new electricity capacity market.
Meanwhile, one of the most prominent oilpatch voices is going to retire next month.
Gary Leach, who has spent 12 years as president of the Explorers and Producers Association of Canada, will officially step down on Nov. 12.
Tristan Goodman, an executive with the Alberta Energy Regulator, will replace him at the Calgary-based industry association.
"At some point, it's time to get off the playing field and toss the football to somebody who wants to move the ball down the field," Leach, 65, said Wednesday.
The departure of such senior executives isn't unexpected, but it is meaningful.
Both have played major roles in the development of Alberta's energy industry over the past decade.
Erickson guided the province's electricity system during the large-scale rebuild of its transmission system and as it shifted towards adding more renewable generation.
Leach has been an effective industry spokesman, leading the country's small, intermediate and independent oil and gas producers during an evolutionary period.
A Calgary-raised lawyer, Leach took over the Small Explorers and Producers Association of Canada in 2006 (as it was then called) and headed the group when it shortened its name seven years later.
The change reflected the forces sweeping across the oilpatch, such as the growing capital requirements on producers as the shale revolution took off.
"The dollars required just got bigger and we saw our members grow in size," Leach said.
"You are investing $200, $300 or $400 million a year — in the Canadian business world that's not small — and the scale of operations was getting bigger."
During his tenure, Leach witnessed dramatic policy shifts, such as the contentious 2007 "fair share" royalty review by the Stelmach government and the Notley government's royalty examination in 2015.
The rise and fall in commodity prices — benchmark oil prices topped US$147 a barrel in 2008, and plunged below $27 a barrel in 2016 — marked a trying time for smaller producers as many retrenched, struggled or failed.
When he took on the job more than a decade ago, EPAC had 300 members; today it has about 150, although the companies are generally larger.
Leach said another issue he's seen unfold has been the growing global concern around climate change, and the public shift has impacted Canada's fossil fuel sector.
The debate spilled into areas such as building oil pipelines and the battle over Northern Gateway, Energy East and the Trans Mountain expansion.
Leach believes Canada has enormous resources to tap, but some politicians struggle with the broader question of growing oil and gas production.
"The U.S. sees their energy endowment as a huge strategic advantage," he added. "Canada hasn't grasped that opportunity."
The challenges in Alberta's electricity sector are no less daunting.
Erickson, who joined AESO as its chief financial officer, said he's contemplated for several months stepping down as he approached his 20th year with the organization.
With the shift firmly underway towards a new electricity capacity market and the transition to more renewable power, "it seemed like a good time to go and try to do something else," said Erickson, who turns 55 in January.
"We're at a logical jumping off point."
During Erickson's tenure, AESO embarked upon an aggressive — and often controversial — plan to build electricity transmission lines in Alberta.
At the time, the province was suffering from an infrastructure deficit, as it hadn't built new power lines in 20 years, although consumption had almost doubled.
The rebuild is almost complete and has cost consumers about $10 billion over the past decade, but it needed to be done, he said.
"The challenge with that was it clearly impacts a lot of people," Erickson said. "It impacts landowners and they had a lot of legitimate questions … and it impacts the people who pay the bills."
Some of the biggest policy issues in the industry have unfolded in recent years.
As part of the NDP government's plan to overhaul the electricity sector, Alberta is phasing out coal-fired power plants and aims to add 5,000 megawatts of renewable energy by 2030.
A capacity market, which begins operating in 2021, will see generators receive payments for having power available, regardless of whether it's sold into the market. It is intended to entice private-sector investment into building new generation.
While the move to deregulate Alberta's power industry almost 20 years ago was complex, today's transition "is orders of magnitude harder," said Erickson, who was paid $926,976 in compensation in 2017.
"Not only are we bringing in the capacity market, which is absolutely the right thing to be doing, we're also changing the way in which we're producing and moving power around, because of the phasing out of coal and the introduction of renewables," he said.
"I'm confident it is going to work out fine."
Energy Minister Marg McCuaig-Boyd said Erickson has played a critical role in moving Alberta toward its goal of seeing renewable power making up 30 per cent of generation by 2030.
"He's become a very trusted adviser," she said. "He has the ability to make complex situations understandable and (he's) very reasoned and thoughtful."
Those kinds of skills will be needed by the new crop of leaders in the years to come.
The names are changing at the top of these organizations, but the far-reaching challenges for Alberta's energy industry remain just as onerous as before.
Chris Varcoe is a Calgary Herald columnist.
You can read more of the news on source