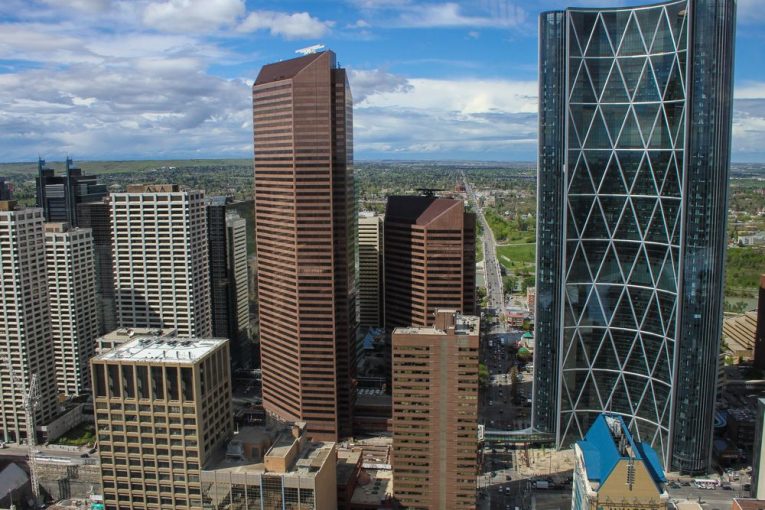 Welcome to the job, Calgary city councillors.
Here's some good news that ushered in your swearing-in ceremony Monday: the vacancy rate in downtown office buildings is beginning to decline.
But here's the bad news: the rate still sat at a whopping 25.7 per cent in the third quarter. That is down marginally from the peak of 26.4 per cent registered in the April-to-June period, according to a new Avison Young report.
"The worst is definitely behind us," said Todd Throndson, Avison Young's managing director in Calgary.
"The negativity of the market over the past two years has subsided and we're now looking at a flat period — and then we'll be looking at a lift in nine months."
For a city that has seen more For Lease signs in the downtown than full parking lots, it's a sliver of hope.
Throndson noted there's been more activity recently among non-energy companies looking to lease smaller amounts of space inside the core area, while the owners of an office building on 7th Avenue S.W. recently applied to convert it to a 72-suite residential rental building.
These are signs the downtown is beginning to recalibrate, although there's still a long way to go before Calgary's office market moves into a balanced position.
Even a reasonably optimistic scenario sees the downtown vacancy rate marooned above 25 per cent until the end of 2019, according to the Avison Young report.
This issue is one of the toughest challenges facing the new council and Calgary's corporate community heading into 2018.
With one in four office buildings sitting empty, the municipal property tax burden will continue to shift to businesses operating outside the downtown.
Due to the annual reassessment process — a system designed to be revenue-neutral for city hall — downtown towers with falling values, attracting lower rents, will inevitably pay less in municipal property taxes.
This trend is already affecting companies outside the core that must pick up the slack.
Last year, the value of the downtown office towers fell by $3.8 billion, to $17.4 billion.
Almost three-quarters of all non-residential property owners faced a tax hike because of reassessment; about 1,000 were looking at increases of 30 per cent or more until council intervened.
In January, council came up with a $45-million plan to dip into its reserves and limit the tax increases to no more than five per cent.
But the shift is expected to continue, with one recent report predicting the assessed value of the downtown office structures will drop by another 15 per cent this year.
Mayor Naheed Nenshi told reporters Monday he wants to extend the $45-million relief program for another year and is working with city administrators to identify how council can pay for it.
"Some of it will come from our savings. That's our biggest source of money and it is our rainy day fund — and it's raining," he said.
On Monday, four other council members agreed the issue is among the priorities to sort out in the weeks ahead.
Coun. Ward Sutherland, currently vice-chair of council's finance committee, said the tax shift on to suburban businesses must be addressed over the longer term during discussions with the province.
For 2018, he agrees with Nenshi that extending the tax cap is necessary, with money coming from the city's fiscal stability reserve.
Coun. Druh Farrell, whose Ward 7 covers part of the downtown, said it's "too early to say" if the tax cap should be extended another year because council needs time to review its fiscal reserves and budget requirements.
However, the significant tax swing has revealed a deeper problem of Calgary relying too much on one area of the city for revenue, with the downtown serving as the "Mount Olympus" of tax generation, she said.
"We will need an ongoing effort to get the downtown back on its feet and those offices filled again," Farrell said. "But it's going to be tough in the short term."
New councillor Jeromy Farkas would consider extending the program to limit business tax increases next year, but said he wants to see an external audit of all city reserve funds, as well as new efforts to contain spending at city hall.
Another rookie, Ward 3 Coun. Jyoti Gondek, thinks the city's assessment department and industry experts should come up with a few potential options to address the broader problem.
"It's not just the downtown core that is suffering," she said. "It is the periphery communities, especially in places like Ward 3 when you're seeing their … taxes going up, almost triple in some cases. That is not sustainable."
Once the political debate ends, extending the cap for another year makes sense, as many local businesses are still finding their feet after the recession.
The longer-term solution must be to find ways to fill the empty downtown buildings with new or expanding businesses. That's easier said than done.
But as the mayor pointed out Monday, a new budget has to be passed within the next few weeks.
The clock is ticking. And progress on the problem with Calgary's empty office towers remains painfully slow.
Chris Varcoe is a Calgary Herald columnist.
.com
You can read more of the news on source