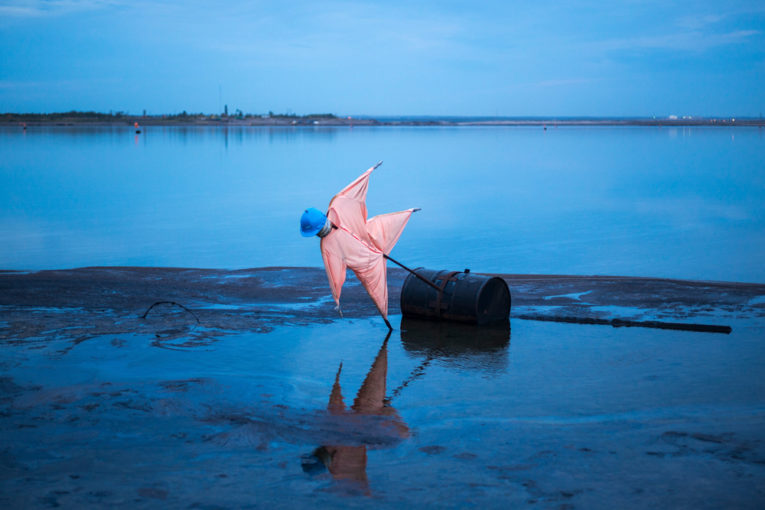 In a rural patch of prairie along the U.S.-Canadian border, the towns of Portal, North Dakota, and North Portal, Saskatchewan, couldn't be closer. They share a fire department, and the first eight holes of the local golf course are in Canada, while the ninth and the club house are in the U.S.
But here in the Bakken shale patch, one of North America's most-prolific oil fields, the U.S.-Canada border represents a drillers' divide. Spurred by a surge in crude prices, North Dakota's production is rising more than three times faster than its counterpart in the Bakken region of Saskatchewan. The output difference between the two countries runs deeper than the shared field.
While U.S. drillers deploy more rigs than any time since 2015 amid a fracking surge in the Permian Basin, companies including ConocoPhillips, Royal Dutch Shell Plc and Equinor ASA have sold operations or pulled out of Canada's oilsands, the world's third largest source of crude reserves.
A shortage of pipelines and a regulatory environment that's often slower and less certain than in the U.S. has helped spark the flight of capital southward, said Tom Whalen, chief executive officer of the Petroleum Services Association of Canada, a trade association representing oil servicing companies.
"We are kind of dying by our own sword," Whalen said in a phone interview. "We are making it very difficult to do business."
Capital spending on exploration and production in the U.S. may rise 9.1 per cent to US$132.5 billion this year, according to a survey by the Oil & Gas Journal. That's faster than in Canada, where spending, excluding the oilsands, is projected to increase 5 per cent to $28.7 billion (US$21.6 billion). Including the oilsands, where investment has been tailing off after a number of major projects have recently been completed, the figure would drop 2 per cent to $40.1 billion.
Canada's heavy crude discount to West Texas Intermediate futures has nearly doubled since October as export pipelines out of Canada filled to capacity and projects to expand pipeline capacity face opposition and potential delays.
Tax Law
A new tax law in the U.S. has helped oil companies by reducing the corporate rate and allowing companies to write off some assets sooner than in the past. Routine licensing for a well in Alberta takes 79 to 119 days versus 30 to 60 days in Texas, according to a report last year by the Canadian Association of Petroleum Producers.
Enerplus Corp. Chief Executive Officer Ian Dundas estimates that 10 years ago, his company allocated 90 per cent of its capital spending to properties in Canada and 10 per cent to its U.S. holdings. Those percentages have been reversed, he said in an interview.
Much of the shift came because the Calgary-based oil and gas producer changed its strategy from being a conventional producer to focusing on prolific shale plays like the Bakken and Marcellus. However, Canada's regulatory environment only helped accelerate the shift.
"You've got to have the right regulatory momentum," Dundas said. "The momentum just kept building for the U.S., and Canada just kept getting more complicated and more expensive."
In April, PSAC cut its forecast for the number of wells drilled this year in Canada by 500 to 7,400 amid a wider-than-normal discount for Canadian crude. In a survey this year, the trade group found that 9 per cent of its members sought to expand into the U.S. and 14 per cent wanted to leave Canada, a response that Whalen called "alarming."
"I do see potential for growth in the U.S.," Kevin Neveu, CEO of Calgary-based Precision Drilling Corp., said in a May conference call. "It's a little hard to be quite as bullish on Canada" where the opportunity to grow market share is "quite limited."
Saskatchewan's Bakken geology doesn't offer the scale of North Dakota's, Mark Oberstoetter, lead analyst for Canadian upstream research at Wood Mackenzie, said by phone. The reserves that can be exploited at US$60 crude are about one-twentieth as large as in North Dakota. Wells are shallower, smaller and cheaper, he said.
Producers have the option to connect to rail in both regions but counterparts in North Dakota are enjoying a recent improvement in pricing received on the back of the Dakota Access Pipeline which started operation last year, Oberstoetter said.
As Canadian oil prices have fallen, the population of North Portal has dropped from about 143 to 112 after oil prices collapsed, Lindsay Davis, village administrator, said by phone. "There is a lot more property for sale. We have some empty homes."
"People moved on, moved away," she said.
Bloomberg.com
You can read more of the news on source