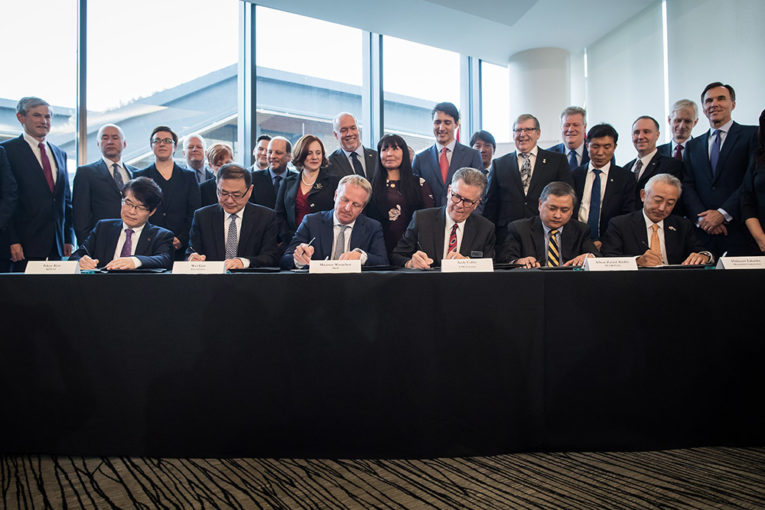 A thick blanket of snow fell on Calgary on Tuesday morning, while warmer fall weather greeted folks in Vancouver.
That seems appropriate, given the recent turn of events blowing across Canada's oil and gas sector.
As Royal Dutch Shell Plc and its international partners gave the green light to their mammoth liquefied natural gas (LNG) project on the west coast, oilpatch leaders were carefully navigating their way through treacherous, icy streets in downtown Calgary.
Yet, the mood in both cities was upbeat, given the positive signal the country's first major LNG development sends to the natural gas sector, foreign investment and the ability of Canada to get large energy projects built.
Costing up to $40 billion once it's completed, the B.C. facility represents the largest private-sector investment in the country's history.
"It's the first signal of, 'Yeah, let's get this country moving,' " said Andy Mah, CEO of Calgary-based Advantage Oil & Gas, in the midst of a 90-minute commute.
"It does offer hope that there's a future in this basin," added Gary Leach, president of the Explorers and Producers Association of Canada.
"This is the opposite story to the Trans Mountain disappointment of a few weeks ago."
Tuesday's announcement by Shell and its partners — Petronas, PetroChina, Mitsubishi Corp. of Japan and Korea Gas Corp. — was widely anticipated. Yet, it still represents a significant breakthrough for the oil and gas sector.
Natural gas prices have been mired in a deep funk for months and capital spending has been cut. Oil pipeline projects have faced delays at almost every turn, while few major oilsands developments are proceeding.
LNG Canada, with a liquefaction plant and export facility to be located at Kitimat, B.C., is the first major LNG proposal to move ahead in the country.
Once it begins operations in the middle of the next decade, the project will consume about two billion cubic feet (bcf) of natural gas per day. That's significant, as western Canadian production now sits around 16.5 bcf per day.
LNG Canada will mark the first major opportunity for natural gas producers in this country to access export markets outside of the United States, where domestic output is climbing.
Tourmaline Oil Corp. CEO Mike Rose said the project won't boost western Canadian gas prices in the short term, but should increase demand and support stronger prices once the facility is operating.
As the second-largest producer of Canadian gas, Tourmaline isn't increasing its output this year. However, it does intend to spend money and grow production over the medium and long term.
The project's timing is important.
Significant foreign investment will finally flow back into Canada's energy sector after several big-ticket projects have failed.
With the recent legal setback facing the Trans Mountain expansion, and the deaths of the Northern Gateway and Energy East pipelines, a positive decision by Shell brightens the investment outlook.
"At least getting one project going improves the psychology a little bit," Rose said.
"For the sector, (this) is a bit of confidence we can get pipelines and projects built."
The investment also demonstrates Western Canada has massive gas reserves that can be produced at a low cost and be competitive on the global LNG stage.
It should be noted that Canada's energy sector faces stringent environmental rules and regulations, and developing additional LNG projects in the country would help displace the use of coal in China and other nations.
"Not only will it help the world reduce greenhouse gas emissions, but it will help us grow our economy here and create thousands of jobs," federal Natural Resources Minister Amarjeet Sohi said in an interview.
LNG Canada will employ about 900 people once it's operational, and about 10,000 people during peak construction.
A 670-kilometre pipeline, called Coastal GasLink, will be built by Trans Canada to move gas from the Montney formation to the facility.
Aside from having access to a large gas resource, Shell noted the project will be able to send LNG shipments to Japan in just 10 days, compared with 24 days from the U.S. Gulf Coast.
The project has the support of all 25 First Nations along the pipeline route, although environmentalists have criticized the entire project for its impact on future greenhouse gas emissions in British Columbia.
"Getting an LNG project to a final investment decision is like a moon landing; it is very, very difficult to do," Maarten Wetselaar, director of integrated gas and new energy for Royal Dutch Shell, said at a news conference in Vancouver.
Shell says global LNG demand grew by nine per cent last year and it expects that will double by 2035.
With such positive factors in play, Canada's oilpatch expects a new LNG industry — not just one plant — will eventually be built in the country.
"What people are hoping for is that it provides a bit of a jolt to energy infrastructure in Canada," added Ian Archer, associate director of North American natural gas for consultancy IHS Markit in Calgary.
For Canada's oil and gas industry, Tuesday's announcement was the right signal at just the right moment.
Now the industry needs to see the Trans Mountain, Line 3 and Keystone XL projects move ahead to provide additional relief to oil producers.
"There are still a lot of hurdles in Canada to work through compared to the U.S., but I think this does mark a shift in sentiment," concluded Mah.
"This project starts to turn that wheel and say we can do this — and we can do it very well in Canada." 
Chris Varcoe is a Calgary Herald columnist.
You can read more of the news on source