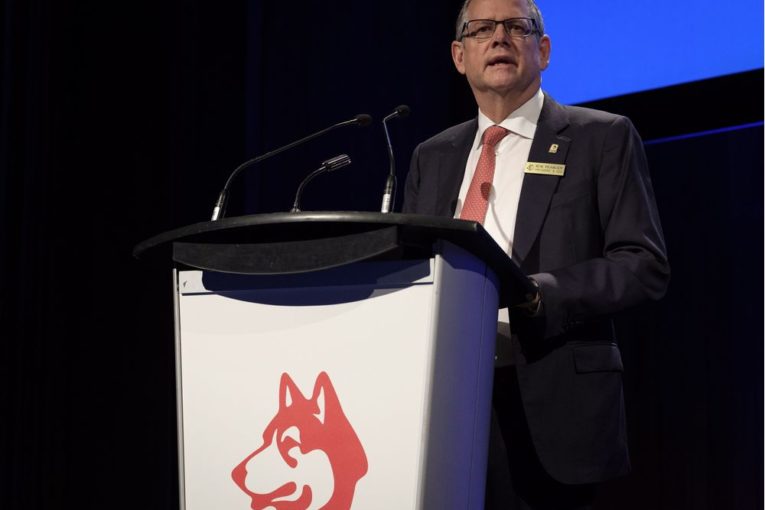 Fight or flight.
These are the normal instinctual reactions when someone is suddenly attacked or surprised.
For intermediate oilsands producer MEG Energy Corp., its fight-or-flight response toward a hostile takeover offer from Husky Energy Inc. is now clear: Dig in and battle against the $6.4-billion bid while it searches for a white knight.
The Calgary-based oilsands producer issued a statement Wednesday from its directors urging shareholders to reject Husky's cash-and-stock offer, valued at $11 a share.
The response triggered a quick rebuttal Thursday from Husky.
"Nothing in the MEG circular changes the clear and compelling value our offer delivers to MEG shareholders," Husky CEO Rob Peabody said in a statement.
For its part, MEG's board contends the unsolicited offer is opportunistic and undervalues the company's assets and technology, as well as its future prospects.
The company, which produces about 100,000 barrels per day of bitumen from its Christina Lake property, has grappled with a sinking share price and a heavy debt load in recent years.
Like much of the sector, it is now being squeezed by the significant price differentials affecting Western Canadian heavy oil.
The firm hired a new CEO, Derek Evans, earlier this year, sold off assets, pared debt and is now poised for growth, said board chairman Jeffrey McCaig.
But are investors really willing to wait for the lure of a better future, versus cashing out now?
The more intriguing question is what price would secure a winning offer for MEG?
"This is a saga that will play out over the next few months," said analyst Jennifer Rowland of Edwards Jones.
"I'd be surprised if, at the end of the day, MEG remains as a stand-alone company … With this blowout in differentials, it definitely puts them in a harder negotiating position."
As one of the few remaining independent oilsands producers, MEG has attractive assets in northern Alberta and some innovative technology under development.
It also has significant hurdles to overcome, including the steep discount hammering Canadian oil prices due to the ongoing pipeline constraints.
The difference between benchmark West Texas Intermediate (WTI) crude and Western Canadian Select (WCS) heavy oil prices sat at US$49.25 a barrel Thursday after reaching $50 last week.
About 70 per cent of the company's production is exposed to the price discount today.
In its directors' circular, MEG outlines a plan to grow production at Christina Lake to 210,000 barrels per day by 2028. The company also has $7.6 billion in tax pools that Husky would gain access to if it succeeds.
"Husky has the financial wherewithal to more fairly compensate MEG shareholders for these benefits," states MEG's release.
That, of course, would imply the larger integrated producer is willing to increase its offer. At this stage, there's no indication an improved bid will happen unless another player shows up on the battlefield.
"Ultimately, we see a deal being consummated here, albeit likely at a higher price than Husky's current offer," said a report Thursday from analyst Chris Cox of Raymond James.
"We believe that the risk of an interloper is relatively low, and rather see a higher bid being necessary to garner sufficient shareholder support for the deal."
In its own release Thursday, Husky swatted aside MEG's negative reaction.
MEG is now searching for a white knight to arrive, similar to what Trinidad Drilling Ltd. accomplished earlier this month when it uncovered a higher offer from Precision Drilling Ltd. to trump an unsolicited takeover bid from rival Ensign Energy Services Inc.
In its statement, MEG said it is investigating alternative transactions to Husky's offer and expects to open a data room in the coming days.
"Based on the interest already received … MEG is confident that one or more superior offers or other more attractive alternatives for shareholders will emerge," states the circular.
Eric Nuttall, a senior portfolio manager with fund manager Ninepoint Partners LP, which owns MEG shares, said it's essential to get an white knight on scene to get Husky to materially increase it proposal.
"MEG isn't saying no, they are just saying no to the price Husky offered," he added. "Without an interloper, I would say a bid above $13 would be challenging."
Rowland said large oilsands producers Imperial Oil, Suncor Energy and Canadian Natural Resources would be logical suitors for MEG, but she doesn't see a bidder from outside the country getting involved.
The response and counter-response from both sides is expected, coming straight out of the handbook for hostile takeovers.
Ultimately, MEG's options are limited given overall investor sentiment toward the sector and the price differentials battering many Canadian oil producers.
A just-say-no defence rarely works. This battle will likely boil down to whether another logical candidate steps forward in such a turbulent environment.
"This is a buyer's market because so few are available," said Canoe Financial portfolio manager Rafi Tahmazian, a former MEG investor.
"The great opportunity for Husky is their competition is far and few between right now … Everyone is getting hurt by this differential issue."
Chris Varcoe is a Calgary Herald columnist.
You can read more of the news on source