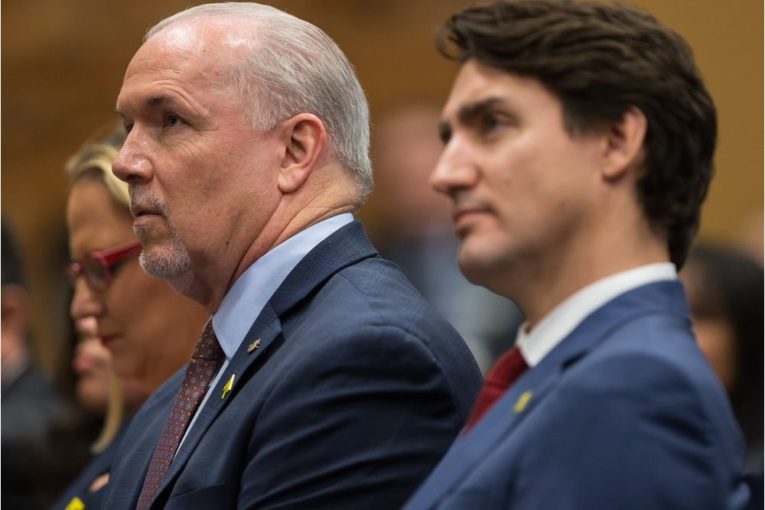 No compromise. No surrender.
It's unlikely a quick settlement in the Trans Mountain imbroglio will happen Sunday when Prime Minister Justin Trudeau sits down with Premiers Rachel Notley and John Horgan to discuss the pipeline deadlock.
Expectations are low a resolution will result from the three-way talks in Ottawa.
Not low like one-in-a-million odds — "So you're telling me there's a chance" — but more like the long odds that the Toronto Maple Leafs will win the Stanley Cup this year.
It's possible, but c'mon, it's highly improbable.
Given the stakes at play, and the fact each side has painted themselves into a corner on where they stand, it's hard to see much wiggle room for negotiation.
Alberta and Ottawa are insistent: the federally approved project will be built.
"Failure is not an option," Finance Minister Bill Morneau said this week.
Horgan has been equally resolute.
He will keep fighting the pipeline expansion designed to triple the amount of bitumen and refined product moving from the Edmonton area to Burnaby.
"I will defend to the end the rights of B.C. to stand up and defend our coast," he told reporters in Victoria.
That leaves Alberta, the energy industry and investors with little hope any deal can be brokered quickly.
"Under any scenario, I don't think we're going to leave announcing a solution," said one senior Alberta official.
"I don't think there is a compromise, honestly. Horgan is just on the wrong side of the issue."
The clock is ticking, as Kinder Morgan said they need a settlement figured out by May 31.
The company is unwilling to face unqualified risk from delays heading into the big-spending construction season and the potential for more hurdles coming from B.C.
But hope springs eternal, even if it appears spring will never come to Alberta this year.
The prime minister is flying back from his trip to Peru to meet with the duelling premiers, after his own cabinet gathered this week to examine its legal, legislative and financial options.
Morneau said the federal government is looking at ways it can "de-risk" the project, a point reiterated Friday by Natural Resources Minister Jim Carr.
Sunday's meeting appears to be only the opening round of talks between the three combatants.
"I would simply describe it as an opportunity to advance the conversation," Cameron Ahmad, the prime minister's spokesman, said Friday from Lima.
There have been some suggestions Horgan would stand down if the federal and Alberta governments joined his court reference on B.C.'s ability to restrict bitumen shipments.
However, Ottawa is adamant it holds sole jurisdiction on interprovincial pipelines.
Groups in B.C. have talked about more money going into marine safety and spill response to satisfy Horgan, but Ottawa already has put $1.5 billion into its Oceans Protection Plan.
In Victoria, expectations are also low that Sunday's session will break the logjam.
"We are all very firm in our position, so I don't know what they would present because they haven't given us any clues yet," said one B.C. government official.
A typical Canadian compromise may not exist.
If not, what happens next as the deadline approaches on Trans Mountain's fate?
On Monday, Alberta will introduce Bill 12, giving the province the tools to impact oil exports into British Columbia.
It's part of Notley's pressure plan to increase the pain for consumers in the Lower Mainland, propelling gasoline prices around Vancouver to as high as $2 a litre, experts predict.
The bill should move quickly through the legislature, letting Alberta turn down the taps to B.C. in just a few weeks.
"We don't have a lot of time to roll out economic pressure strategically anymore," said the Alberta official.
"We are just going to act really toughly, really quickly."
Alberta is also assembling a financial strategy to mitigate the risk to Kinder Morgan investors, either through financial instruments or by taking a stake — or buying outright — the pipeline.
That could occur through the Alberta Petroleum Marketing Commission (APMC), a Crown corporation which manages the province's involvement in the Sturgeon Refinery and its commitment to ship oil on the Keystone XL pipeline.
Former APMC chief executive Richard Masson said there are risks for Alberta in whatever deal it makes, but the economic costs of letting the project fail are too great to ignore.
Acquiring a partial stake in the project likely wouldn't be enough to ensure the expansion is finished or take up all of the risk for Kinder Morgan shareholders, he said.
Buying the project outright would be feasible, but expensive, given the existing 1,150-kilometre pipeline profitably ships oil into Burnaby today.
Providing low-interest loans or grants would be simpler for Alberta — and possibly Ottawa — to cover the risk to company shareholders in case unforeseen delays impair their rate of return.
Whatever Alberta and Kinder Morgan decide, they have six weeks to find a fix and conclude negotiations.
"There are no simple solutions," said Masson, an executive fellow at the University of Calgary's School of Public Policy.
"The best solution is to try to provide the cost overrun protection to existing shareholders … that if things go really wrong, the government is here to make sure your returns don't get wiped out."
All of these plans are moving in tandem, which makes the situation highly fluid and combustible.
Sunday's meeting will set the tone for the coming weeks. At this stage, no one is prepared to blink.
A pipeline compromise seems out of the question.
Chris Varcoe is a Calgary Herald columnist.
You can read more of the news on source