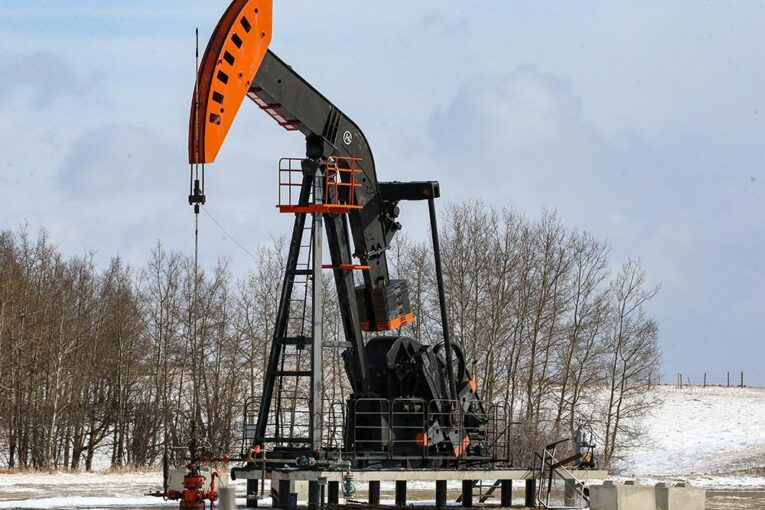 What follows seven years of famine? At least two years of feast — and maybe more — for Canada's oil and gas sector.
We apologize, but this video has failed to load.
Try refreshing your browser, or
tap here to see other videos from our team.
Varcoe: 'Finally fun again' — after seven tough years, a comeback is underway for battle-tested drillers
Back to video
The stars are lining up for a bullish 2023 for the oilfield service industry after it finally enjoyed a promising recovery this year.
Canadian drilling levels are expected to be up about 20 per cent this year from 2021 levels.
Next year is looking even stronger, despite nagging concerns about a global recession, high interest rates, red-hot inflation and a new federal emissions cap.
At the Canadian Association of Energy Contractors (CAOEC) annual outlook luncheon on Wednesday, the industry group forecast about 6,400 oil and gas wells will be drilled next year.
It represents a 15 per cent jump from 2022 levels and would be the highest number seen since 2018.
Buoyant commodity prices, surging profits by petroleum producers who are willing to spend more, and the expected completion of the long-awaited $21.4-billion expansion of the Trans Mountain pipeline — boosting export capacity out of Western Canada — are strengthening the broader outlook.
After a seven-year downturn that began with the collapse of global oil prices last decade and culminated in the 2020 pandemic, this represents an upbeat period for both petroleum producers and oilfield service firms.
"The light at the end of the tunnel, I think, is finally there. It's still volatile times. We still see commodity prices moving up and down," CAOEC president Mark Scholz told reporters after the event.
"I just think energy is in demand and will continue to be in demand . . . 2023 is going to be a very fragile time for the global economy. But from our perspective in our sector, we don't see things slowing down."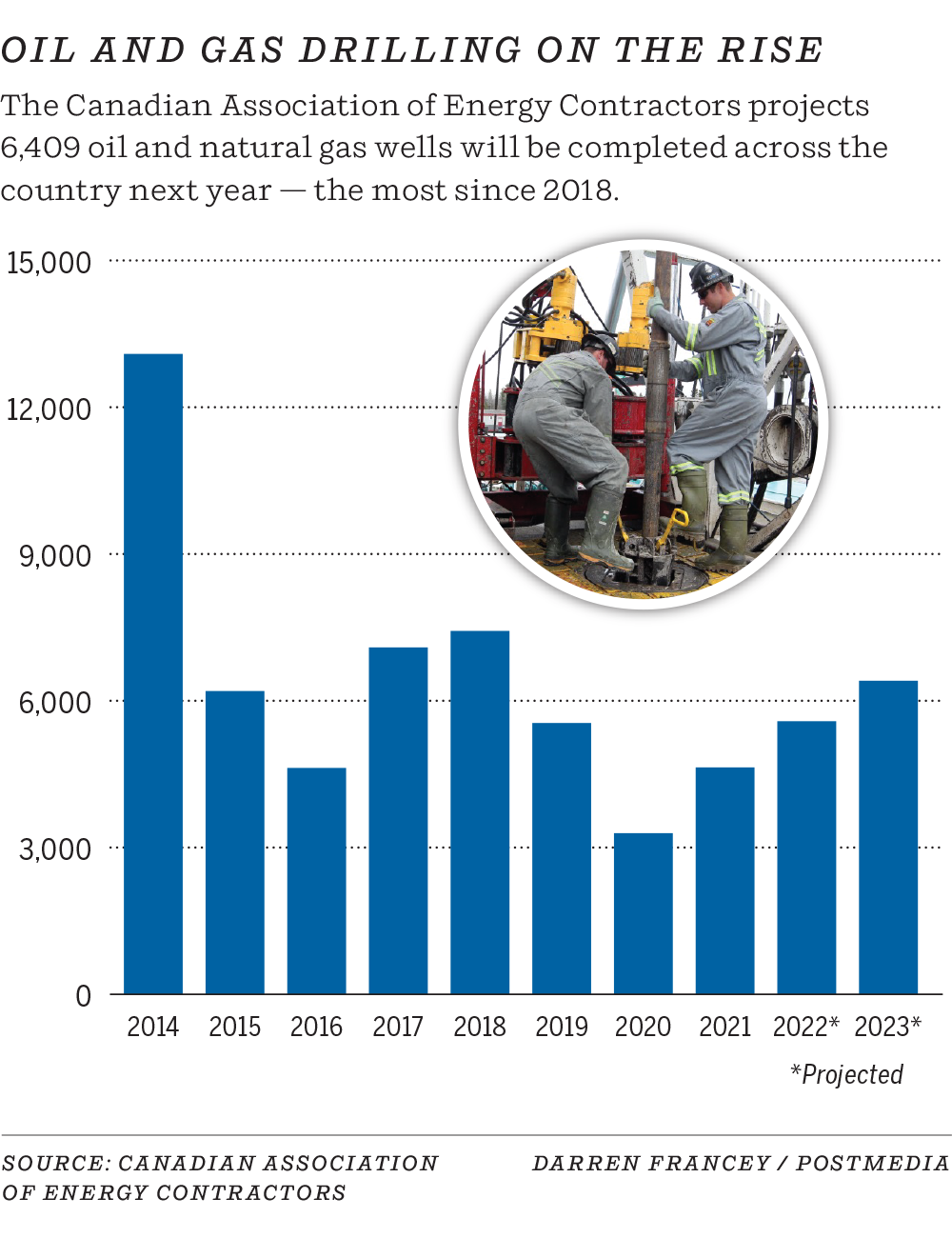 If 2023 unfolds as expected, it would mark the second year of a rebound for the sector for the oilpatch following a gruelling period.
Two years ago, only 3,293 wells were drilled in Canada as energy prices tanked, representing a 75 per cent drop from 2014 levels.
Prices began to rally last year as energy demand recovered. Following Russia's invasion of Ukraine in February, oil prices spiked, topping $100 a barrel this summer. On Wednesday, West Texas Intermediate (WTI) crude closed at US$77.94 a barrel.
Gas prices have also been strong this year, with U.S. benchmark prices trading at US$7.71 per million British thermal units on Wednesday.
Even with the discount facing Western Canadian Select heavy oil deepening recently and inflation running hot, the industry is posting stellar profits. Producers are beginning to spend more to grow or maintain output.
For drillers, it's been a long haul.
Recommended from Editorial
Canadian oilpatch expects 15% increase in wells drilled next year

Varcoe: 'Controlled whiplash' — drillers bullish for 2022

Varcoe: Drillers expect return to pre-pandemic activity in '22
Bob Geddes, president of Ensign Energy Services, said he's seeing producers on both sides of the Canada-U.S. border bump up capital expenditures by at least 10 to 15 per cent for next year, which will translate into more work.
"Everything is pointing in the right direction. I am very bullish about 2023," Geddes said in an interview.
"I've been in the business since 1980 and it's always been feast or famine . . . Our third quarter was busier than our first quarter (during the winter drilling season) and I can't remember the last time that happened."
One of the biggest challenges facing the sector this year has been supply-chain delays, along with higher inflation and the limited availability of workers.
The CAOEC forecasts an additional 5,437 jobs will be created next year with more drilling, up 15 per cent to about 42,350 direct and indirect positions.
During an address to the association, Premier Danielle Smith noted the average monthly rig count for the sector is up 75 per cent from last year and said the energy industry will continue to be at the "forefront of Alberta's economy."
"We all know that the global economy is currently very choppy . . . We need all levels of government to do their part to keep the sector strong," she added. "We will go to the wall for you."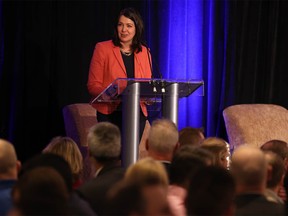 Politics aside, there is a sense of optimism throughout much of the Canadian industry after years of downsizing and spending less.
As Jason Jaskela, president of Headwater Exploration, said during a panel discussion at Wednesday's event: "The last seven years have been very, very difficult and the industry is finally fun again."
A survey last month by ATB Capital Markets of industry executives and institutional investors underscored that sentiment.
It found about 65 per cent of producers and energy services leaders expect an improving outlook over the next six months.
And 85 per cent of energy services executives anticipate more exploration and production activity from companies next year.
"One of the main conclusions of our survey was that 2023 is looking like it's going to be a growth year over 2022," ATB analyst Tim Monachello said in a recent interview.
Expectations of high oil and gas prices in the next three to five years are fuelling this optimism.
Battle-tested producers have also bolstered their balance sheets and are ratcheting up their capital programs. However, they're also being more restrained than during past upturns, significantly underspending their cash flow levels.
"I don't think that we're going to see companies jump out and try to spend a whole bunch of money because we have high commodity prices," said Birchcliff Energy CEO Jeff Tonken.
Advantage Energy CEO Michael Belenkie pointed out that the fortunes of western Canadian natural gas producers will depend on their ability to access pipelines and get their gas to market.
However, he agrees expectations for 2023 are improving. The Calgary-based producer expects to increase its capital spending next year by almost 10 per cent.
"Prices are supporting more activity," he added. "I think that there's more than seven years of prosperity for both (the oil and gas) businesses."
Chris Varcoe is a Calgary Herald columnist.
You can read more of the news on source