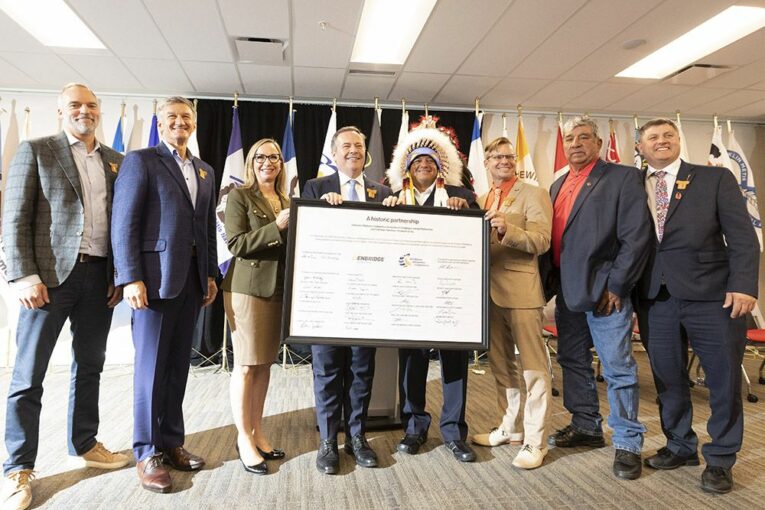 Oil pipelines, natural gas-fired power plants and cogeneration facilities.
We apologize, but this video has failed to load.
Try refreshing your browser, or
tap here to see other videos from our team.
Varcoe: Federal budget sparks hope for expanding Indigenous ownership in energy projects
Back to video
In the past three years, Indigenous communities and First Nations have acquired ownership stakes in several key natural resource projects in Alberta with the backing of loan guarantees from a provincial Crown corporation.
Now, it's time to take the program national.
With a new federal budget set to be released Tuesday, Indigenous leaders, industry players and the Alberta government want to see a new organization established that promotes economic reconciliation by accelerating Indigenous ownership of energy projects right across the country.
"I'm hoping to see a national Indigenous loan guarantee program. This issue has been overstudied and perhaps not well understood by Ottawa, in terms of the economic impact that it could provide," Niilo Edwards, CEO of the First Nations Major Projects Coalition, said Monday.
"I'd love to see the federal government make this a national program," added Chana Martineau, chief executive of the Alberta Indigenous Opportunities Corp. (AIOC). "It's time to rapidly expand and make this happen for more Indigenous communities in more areas."
The AIOC was created almost four years ago as a provincial Crown, with the ability to provide up to $1 billion in loan guarantees to assist Indigenous communities looking to invest in various sectors, including oil and gas, forestry, renewable energy, mining, agriculture and related infrastructure.
The guarantees help communities get access to third-party capital and become an owner of projects, providing their members with economic development opportunities, a revenue stream and a say at the board table.
Loan guarantees can range in size from $20 million to $250 million. The corporation can also provide small grants to bolster the capacity of Indigenous communities examining potential investments, such as for legal, environmental or technical work.
So far, AIOC has provided loan guarantees of $410 million for four projects.
Starting as early as 2024, these developments are expected to generate more than $31 million in annual revenue, affecting 61,000 people.
More agreements are in the works.
"The questions are starting to be, 'Will you have room for us?' " said Martineau.
Recommended from Editorial
What Calgary advocates and businesses want in the federal budget, from immigration to affordable housing

Indigenous communities leading Canada's clean energy boom

Indigenous groups hope for infrastructure dollars and economic development in budget

Alberta's $1-billion Indigenous Opportunities Fund may widen gap between rich and poor First Nations groups
In September 2020, AIOC announced its first deal, a $93-million loan guarantee to six First Nations to take an ownership piece in the $1.5-billion Cascade Power Project. The new 900-megawatt gas-fired power generation facility is being built near Edson.
The largest agreement to date was unveiled last fall, when Enbridge sold a 12 per cent stake in seven existing pipelines in the oilsands area to Athabasca Indigenous Investments for $1.12 billion. The group represents almost two dozen First Nations and Metis communities in northern Alberta.
The deal was billed at the time as the largest energy-related Indigenous economic partnership transaction on the continent. (AIOC provided a $250-million loan guarantee.)
Justin Bourque, president of Athabasca Indigenous Investments, said the agreement is forecast to generate a total of $10 million to $12 million a year in funds that will be injected into the communities.
One of the communities plans to use the money for a new school; others are talking about enhancing health and dental plans for members and building infrastructure, such as improving roads, he said.
Bourque doesn't think the agreement would have moved ahead the way it did — with 23 different communities on board as investors — without AIOC's involvement.
And that's why a national program makes sense.
"We are hearing the calls from across the nation and the push for the feds to create some sort of loan guarantee program to support Indigenous inclusion in resource developments," he said in an interview.
"I absolutely support it," added Alberta Energy Minister Peter Guthrie. "A good idea is a good idea."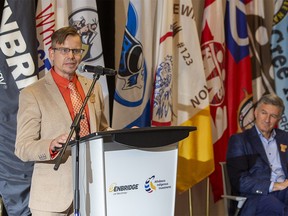 Business groups are also on board with the call.
In its pre-budget submission last fall, the Business Council of Alberta recommended the creation of a federal Indigenous loan guarantee project, similar to AIOC and the Ontario Aboriginal Loan Guarantee Program.
It noted many First Nations are interested in taking an ownership stake in various resources projects, but face the obstacle of getting access to competitive capital.
"A federal pool could be larger, which would enable more Indigenous participation and more equity partnerships to happen," said council president Adam Legge.
Other resource projects are moving ahead with Indigenous ownership, including the $3.3-billion Cedar LNG project off the coast of British Columbia. As Canada's first Indigenous majority-owned LNG facility, Cedar is a partnership between the Haisla Nation and Pembina Pipeline, and it was issued an environmental assessment certificate from the B.C. government this month.
Last year, 16 Indigenous communities — including 11 members of the First Nations Major Projects Coalition — acquired an option to buy a 10 per cent equity stake in the Coastal GasLink pipeline, exercisable upon the development's completion.
The coalition is made up of more than 130 Indigenous communities, and it's assisting members in various stages of discussions on various projects that represent more than $40 billion in combined investment.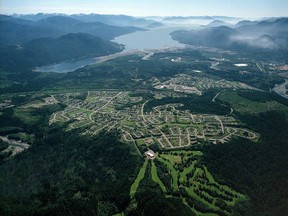 Several projects will need to secure financing in the next 18 to 24 months.
"For our members, it's more than just about commercial business. This is about building the economies that will raise the standard of living in our member communities," said Edwards.
Legge believes there's interest by the federal government in the concept of a national program, but wonders if Ottawa will exclude fossil fuel developments from eligible projects.
Will the budget create a national entity to see major projects move ahead?
We'll soon find out when Finance Minister Chrystia Freeland unveils the budget on Tuesday.
"A lot of us are very anxiously focused on whether or not the feds will answer the call," Bourque said.
"The road has been charted."
Chris Varcoe is a Calgary Herald columnist.
You can read more of the news on source