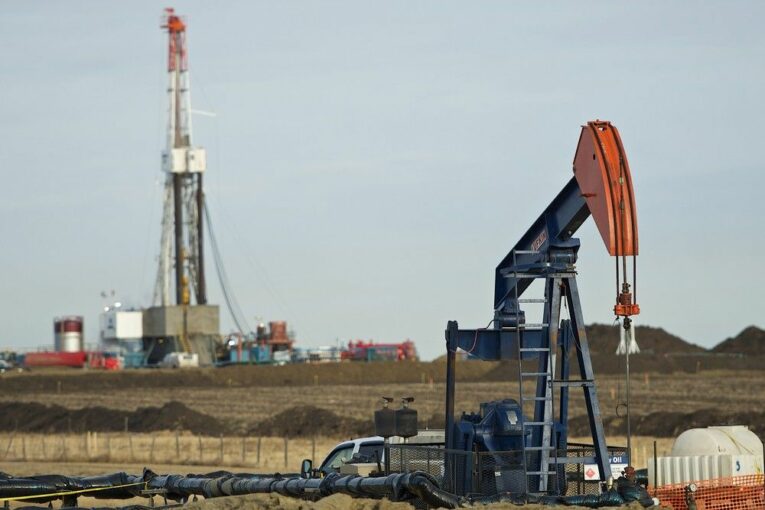 A parade of drilling rigs moved across the border to work in the United States last decade as the Canadian oilpatch struggled through a prolonged slump, but the traffic is beginning to reverse direction.
We apologize, but this video has failed to load.
Try refreshing your browser, or
tap here to see other videos from our team.
Varcoe: Drilling rigs coming to Canada after major exodus to U.S.
Back to video
Ensign Energy Services recently relocated one of its larger rigs from the U.S. to Canada at the behest of a customer, while Total Energy Services reported this week it brought a drilling rigs back into Western Canada from Texas in recent weeks.
Precision Drilling Corp., another Calgary-based company that also operates in both countries, previously moved two of its high-performance rigs into Canada and it's eyeing more heading north of the 49th parallel.
"We have the potential to move anywhere from one to maybe three or four more rigs back up into Canada, if the U.S. market weakens and if Canada were to further strengthen," Precision Drilling CEO Kevin Neveu said Thursday, after the company's annual general meeting.
On Friday, Total Energy CEO Dan Halyk said the company is currently retrofitting a drilling rig from the U.S. that was contracted by a customer on a take-or-pay basis. It's expected to begin operating in mid-June.
"The flip side is that five years ago, or three years ago, a lot of rigs were leaving Canada," Halyk said Friday, after the company released its first-quarter results.
"This is the first time ever we've moved a rig back to Canada."
The rig repatriation is occurring as sentiment — and profitability — has improved across much of the Canadian oilfield services sector over the past year.
Increased spending by producers has bolstered drilling work and demand for other oilfield services.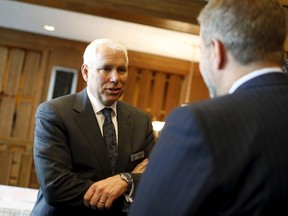 Data from the Canadian Association of Energy Contractors (CAOEC) indicates 17 rigs shifted into the U.S. after oil prices tanked in 2014, many destined to work in busy areas such as the Permian Basin in Texas.
However, over the past two years, five rigs have moved back.
"It's a huge undertaking to relocate a rig," said CAOEC president Mark Scholz.
"The fact you're seeing rigs relocate from the U.S. up to Canada, that's a good positive signal of confidence for the Canadian market."
It is also an indication of a bullish outlook for oilfield services firms after a prolonged period of pain, marked by large losses, layoffs and industry consolidation that began almost a decade ago.
The CAOEC has forecast 6,400 oil and gas wells will be drilled in the country this year, a 15 per cent jump over last year — and almost double the levels seen in 2020. Yet, it is still far off the 13,089 wells completed in 2014.
The size of the Canadian drilling fleet has contracted from 800 at the beginning of 2015 to a total of 439 land-based drilling rigs today. It's led to tight market conditions for certain types of rigs needed for deeper drilling in the Montney and Duvernay formations.
Drillers say it costs about $1 million to move a rig — and more if it needs to be winterized — with the tab picked up by their customers.
"The U.S. market, on the gas side, has gotten a little soft, so they paid to move the rig up here," said Ensign president Bob Geddes.
"The beauty of operating on both sides of the border is that they are fungible and can go either way."
Commodity prices have been volatile this year, with benchmark West Texas Intermediate crude prices hovering around US$70 a barrel on Friday, while U.S. natural gas prices closed at $2.27 per million British thermal units.
Neveu said one reason companies are bringing machinery north is to meet increased demand for high-performance rigs in the Montney formation in Alberta and northeast British Columbia.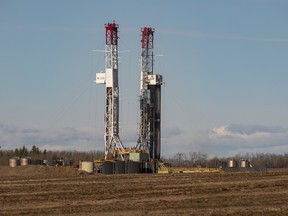 The pending completion of the Trans Mountain pipeline expansion and the expected startup of the LNG Canada project in 2025 should also spur drilling.
"Canada looks to be a lot more stable right now than the U.S.," Neveu said.
"As we look forward into 2024, we think the (Canadian) market could be more than five or seven rigs short. And that's when we think . . . they could move back to Canada."
Each rig typically creates about 25 direct jobs and another 10 supporting roles within the company, and it also triggers almost another 100 industry positions tied to the work.
In North America, industry activity levels remained relatively strong in the first quarter, but moderated in the U.S. as natural gas prices weakened, noted BMO Capital Markets analyst John Gibson.
He is forecasting a 10 per cent increase in Canadian rig activity this year, compared with five per cent growth in the U.S.
"It is not a bad environment to be a driller in the U.S., but Canada is the place to be in 2023 and in 2024."
And it's not just drillers eyeing the shift of resources into Canada.
Step Energy Services CEO Steve Glanville said the company, which offers coiled tubing and fracturing services on both sides of the border, is considering moving some equipment into Western Canada, although it hasn't made a decision yet.
The pressure-pumping market is much smaller in Canada than in the United States, but domestic demand has been robust this year.
"The last thing we want to do, though, is oversaturate the market," he said. "Until there are long-term contacts in place, we won't just be moving equipment back and forth."
Drillers also point out that the U.S. market still remains attractive in the long run as LNG exports from that country are expected to grow.
"Drilling rigs are highly mobile and will go to the best market," said Neveu.
"If the Canadian market is improving, expect to see a few more come back in this direction."
Chris Varcoe is a Calgary Herald columnist.
You can read more of the news on source