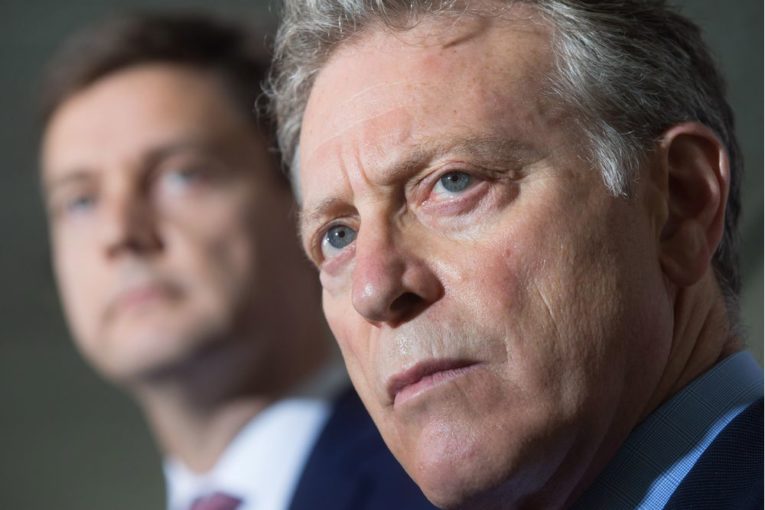 British Columbia has been looking to snatch more tools from its tool box to stop the Trans Mountain pipeline expansion from moving more oilsands crude to the west coast.
On Tuesday, the B.C. government reached for a political sledge hammer.
It's an effective tool for getting attention, complete with loud noises and impressive muscle-flexing motions.
But I doubt it will be quite so efficient at stopping a federally approved pipeline from being built, or from preventing Alberta oil from moving to the Pacific coast by pipe or rail for export.
B.C. Environment Minister George Heyman announced his government is introducing additional regulatory measures to protect the province from potential oil spills.
It's seeking feedback on a proposal to restrict the shipping of more diluted bitumen through the province. Heyman pledged to create an independent scientific advisory panel to make recommendations on "if and how heavy oils can be safely transported."
In an interview, he left little doubt the government in Victoria thinks it has the powers to do so under existing environmental rules, although almost everyone else says it doesn't.
"We are simply proposing that we'd introduce a regulation following consultation … to have no increase in the transport of diluted bitumen by rail or pipelines across British Columbia until there is certainty about our ability to clean up a spill," he said.
Of course, it's not quite so simple.
It's not simple in light of the fact the National Energy Board and federal cabinet have already approved Trans Mountain after studying these exact issues. (Chapter 8 in the NEB review is actually called "Environmental behaviour of spilled oil.")
It's not so simple when oilsands production continues to increase and existing pipelines are running full.
And it's not so simple when the current price discount on Alberta heavy oil, exacerbated by a lack of pipeline capacity, has cost the country almost $1 billion in lost economic opportunity in the past two months alone.
If Heyman was hoping to provoke a reaction, however, he struck pay dirt.
Premier Rachel Notley accused the B.C. government of playing games by threatening to take steps that are outside its provincial powers.
The proposed restriction is unconstitutional, and likely to breach trade deals, including the Canadian Free Trade Agreement and New West Partnership pact.
Notley called the action "rash," asserted it would make "a mockery" of the legal system and will jeopardize investor confidence in the country.
In response, Heyman said Albertans and the oil industry should view this as B.C. defending its economic and environmental interests, not trying to hurt its neighbour.
"We're far too busy in British Columbia and this is far too serious an issue to engage in stunts," he said.
The industry was more subdued than Alberta's premier, frustrated by the latest manoeuvre but resigned it's got another hurdle to overcome.
Terry Abel of the Canadian Association of Petroleum Producers said it appears B.C. wants to study the issue of diluted bitumen further, but noted there's already been a lot of work done by Ottawa on improving spill response capabilities.
Mark Scholz of the Canadian Association of Oilwell Drilling Contractors said it's difficult to understand what the move will accomplish "other than eating up even more time and B.C. taxpayer dollars."
And the Canadian Energy Pipeline Association called the proposed restriction "another transparent attempt to frustrate a major energy infrastructure project."
Kinder Morgan, which wants to triple the capacity of Trans Mountain with the $7.4-billion expansion, issued a statement saying the company would participate in the consultation process.
But it noted the previous B.C. government, in granting an environmental certificate for the development, confirmed Trans Mountain had met the province's conditions for oil spill prevention.
Let's not get too carried away with where this proposed regulation is going just yet.
The intent is to rattle cages and continue its uphill battle to block Trans Mountain from being built.
Heyman's talk about restricting any additional oil from moving by rail through B.C. — a Plan B for the oilpatch because of the lack of pipeline space — will certainly get people's attention.
University of Calgary law professor Nigel Bankes said there is nothing to stop B.C. from studying these issues, but at this stage, it's premature to question the legality of its proposal.
He noted Kinder Morgan went to the NEB in December over the City of Burnaby not granting municipal permits needed by the project — and subsequently won.
"Nothing today legally has changed," Bankes said.
"At the end of the day, the B.C. government does not get to regulate what is carried through a federally regulated project — and that would include a pipeline."
There's another game at play, however.
This step is part of a broader policy of making it difficult for Trans Mountain to move forward, part of a "death-by-a-thousand-cuts" scenario.
The project is already a year behind schedule. This is another roadblock. More are coming.
The real test will be if the federal government has the fortitude to withstand the political pressure and enforce its will.
"The decision we took on the Trans Mountain expansion remains in the national interest. And it was a decision based on facts and evidence — this has not changed," federal Natural Resources Minister Jim Carr said in a statement Tuesday.
He's right.
The project was deemed to be in the interests of the entire country when the federal regulator approved it in May 2016.
The pipeline can be constructed, operated and maintained in a safe manner, it concluded in a hefty 533-page report.
On that front, nothing has changed. It's just the noise from the B.C. tool box keeps getting louder.
Chris Varcoe is a Calgary Herald columnist.
You can read more of the news on source