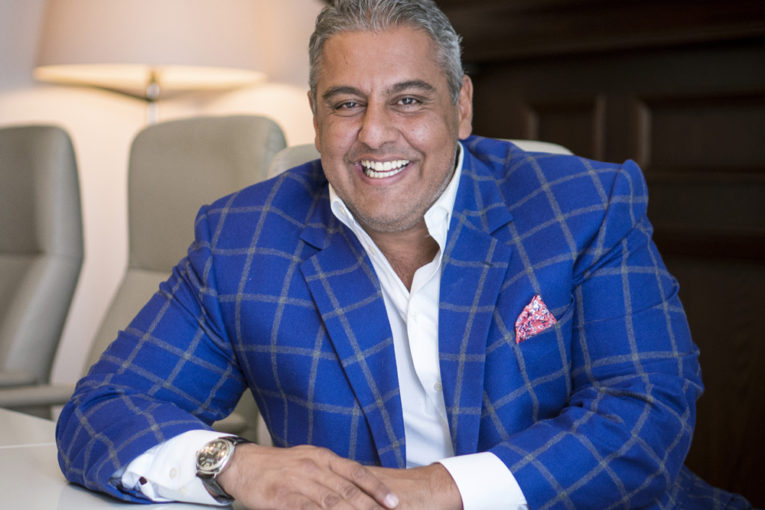 In the boardroom at his former merchant bank office in Calgary, Sonny Mottahed is taking down a black-and-white photo of the wooden derricks over Spindletop, the historic crude find that started the Texas oil boom.
In its place, he's hanging a photo of the "HOLLYWOOD" sign vandalized to read "Hollyweed," a playful riff on the Los Angeles landmark that he hopes heralds the start of a new boom in Canada: legal marijuana.
After 25 years in the oilpatch, most recently running his own advisory firm, Mottahed is striking out into the pot business. He's intrigued by the potential of the nascent industry as Canada prepares to legalize recreational marijuana this year, while dismayed at the challenges facing the oilpatch.
"The market wasn't doing any transactions," Mottahed said. "So I needed to look at doing some things differently."
Mottahed, 45, had his life shaped by the oil and gas business. He followed in the footsteps of his dad, an Iranian-born executive at Exxon Mobil Corp., launching a career that took him to more than 30 countries, with stops in London, Houston and Lagos. Around 2004, he tried his hand as an investment banker, first at companies including Raymond James, then at his own firm, Black Spruce Merchant Capital.
After three years of dealmaking, plunging oil prices had cooled the mergers market, and Mottahed was looking for new opportunities.
Ill-Equipped
Around that time, he met Jason Kujath, a tax lawyer who was planning to leave the legal field. The two had met with cannabis companies in the course of their work and found the management teams ill-equipped to raise the capital needed to start serious companies or manage them.
Mottahed, who knew little about the marijuana business at the time, toured U.S. states where pot is already legal — Washington, Oregon, Colorado — and met with industry players to collect advice and information. The trip convinced them the opportunity was real.
"The light-bulb moment for me was when I realized that this industry will be the next industry that is created — actually and truly created — in my adult lifetime," Mottahed said. The internet and mobile telecommunications were the other two.
His former oil-industry colleagues first greeted the news with raised eyebrows, but as the buzz around the new industry has grown, many have come to see his vision. Some have even invested.
Money Raising
Mottahed's company — 51st Parallel — raised a total of $22.5 million (US$18 million), which includes $1.5 million from himself, Kujath and another business partner. The rest came from oil industry contacts and other Calgary business people, he said.
"I've got to make these people money," Mottahed said. "And if I don't, I won't get any more Christmas cards."
51st Parallel purchased five acres of land in Lethbridge, Alberta, about two hours south of Calgary, where the company plans to build a 60,000-foot greenhouse and 25,000 square feet of processing and office space. The company, named after Calgary's latitude, is applying for eight retail locations — under the brand Pineapple — throughout Alberta.
Mottahed expects annual revenue of about $120 million and earnings before interest, taxes, depreciation and amortization of $30 million. The company has two expansions mapped out that could roughly triple those figures. He's also starting a firm called CBI2 Capital, which will make early-stage investments in other cannabis businesses.
Oil Woes
Mottahed says 51st's plans owe much to his oil background, which taught him the value of vertical integration and geographic concentration. He calls his departure from the oilpatch unfortunate, but he doesn't see Canada's energy industry solving its problems — too many regulations and taxes, not enough pipelines, and a bad environmental reputation — any time soon.
"If this precipitates for longer, there is no question there will be more intellectual drain out of the industry," Mottahed said. "People have to do something else if they can't make money in the oil and gas business."
There have been other benefits to the pot switch. Mottahed now wears Henley shirts and casual pants to work while his 50 suits gather dust in a closet. Since they were tailored to fit his nightclub-bouncer's frame — he's 6-foot-3, weighs 285 pounds and can bench press 455 pounds — he hasn't found any takers for the collection.
He's also earned a level of stature in Alberta's fledgling weed industry, even before he's sold a single gram.
"A lot of my clients, they would look at my 25 years in the oil and gas business as kind of being a junior," Mottahed said. "When people talk to me in the cannabis business and realize I've been in it for two years, they're like 'Wow, you've been doing this forever.'"
Bloomberg.com
You can read more of the news on source