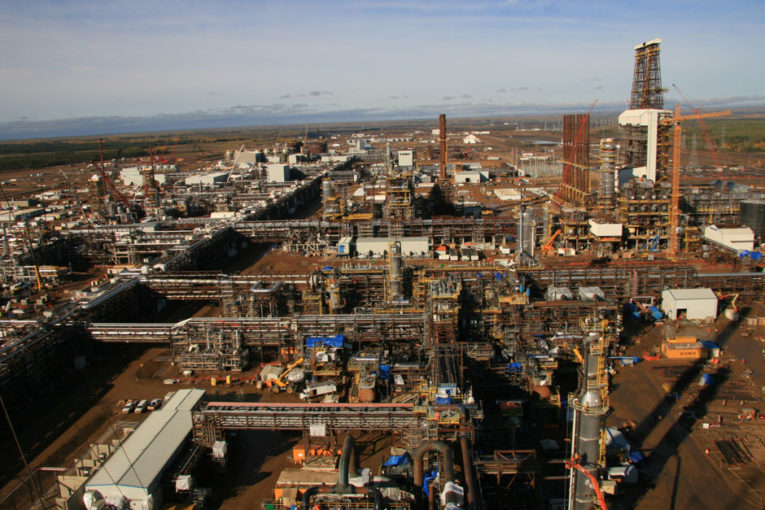 CALGARY – While other domestic oil companies have throttled back growth plans, Canadian Natural Resources Ltd. announced Thursday it's preparing to expand its biggest oilsands project.
Calgary-based Canadian Natural, the largest upstream oil and gas producer in the country, announced it was increasing its capital spending plans for the remainder of 2018 by $170 million, bringing its total for the year to $4.6 billion.
The additional money will be spent on preparations to expand the company's Horizon oilsands mine by up to 95,000 barrels of oil per day, potentially a 40 per cent capacity increase for the 240,000-bpd facility, while adding technology in place at competing operations like paraffinic froth treatment facilities which help reduce the project's emissions.
The company said the total cost of the proposed expansion would be $1.4 billion.
The move is a contrast to the stated intentions of competitors Cenovus Energy Inc. and Suncor Energy Inc., which have indicated they wouldn't sanction new projects in the oilsands until new export pipelines are under construction or until Canadian regulators reduce the costs and onerous burdens on energy companies.
"In the past, in the oilsands area, when there's a lot of activity, there was a lot of cost inflation," Canadian Natural president Tim McKay said in an interview, adding that there's an opportunity for the company to expand during a cyclical low in the sector.
"What we've seen today is we've got excellent people, crews, services and reasonable prices, so I think it's a win," McKay said. The company has yet to officially green light the expansion.
McKay said the company did not intend to ramp up capital spending next year even as it prepares for potential growth projects. Canadian Natural, which has yet to release its capital budget, expects to spend between $4.3 billion and $4.5 billion over the next few years.
Still, analysts expect the company could spend more money if it chose to do so.
"Part of the thing about Canadian Natural is they just have so much cash. I think it's a blessing and a challenge at the same time and if they weren't awash in cash they wouldn't be talking about this yet," Edward Jones senior analyst Jennifer Rowland said of the company.
"Certainly, they've got enough cash to start thinking about these kinds of projects," Rowland said.
Canadian Natural reported a 52 per cent increase in revenues in the second quarter, when it pulled in $5.9 billion compared with $3.9 billion in the same quarter a year earlier.
However, the company also reported an 8 per cent drop in net income to $982 million in the quarter compared to just over $1 billion in the same period last year.
Analysts focused primarily on the $2.7 billion in cash flow the company generated in the second quarter and tried to pressure the company to hike its planned share buyback program, as other energy companies have done in recent weeks and have been rewarded.
"Investors are looking for CNQ to make a bigger commitment because the cash is there," Rowland said.
Similarly, National Bank Financial analyst Travis Wood said in a research note that Canadian Natural used its free cash to buy back $440 million worth of its own shares and also to pay down its corporate debt.
Analysts repeatedly asked company executives on an earnings call Thursday whether the company would increase its share buyback program.
McKay and executive vice-chairman Steve Laut would only answer in general terms that the company would use its cash to repurchase shares, pay dividends, green light growth projects or, possibly, buy other companies.
Canadian Natural shares fell 2.4 per cent, to $46.28 in mid-day trading on the Toronto Stock Exchange on Thursday.
• Email:
You can read more of the news on source