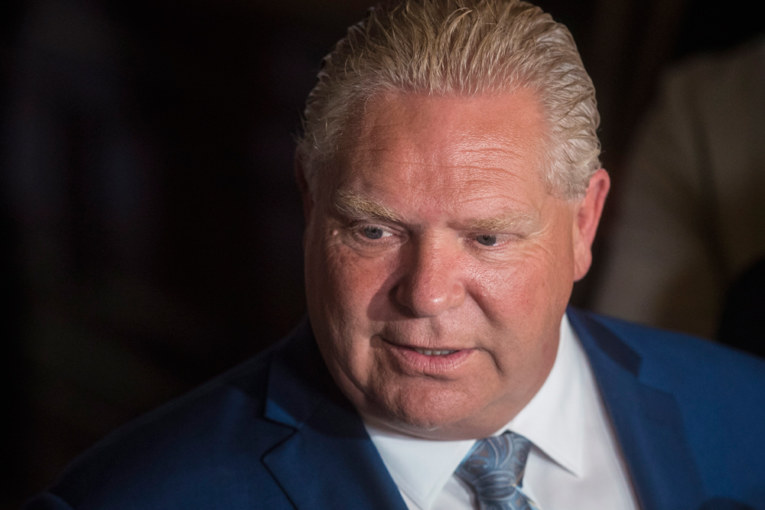 Suncor Energy Inc. and Enbridge Inc. are among Canadian fossil fuel companies seeking answers after Ontario premier-designate Doug Ford announced plans to unwind a cap-and-trade program that has issued $2.8 billion (US$2.1 billion) worth of pollution credits to dozens of companies.
Ford and his Progressive Conservative party said last week they would fulfill a campaign pledge and withdraw from the program, which sold credits to energy firms and fuel distributors that must hold enough of the allowances by the end of 2020 to match their greenhouse-gas emissions.
"They purchased because they figured they were going to need them by the 2020 deadline," said Michael Berends, managing director at Toronto-based cap-and-trade advisers ClearBlue Markets. "Now they're being told 'oh, you can't expect that.' Everyone's scared. These guys want to have market certainty."
Ford has said companies will be relieved of what he labelled a job-killing carbon tax, though he has yet to say what will become of their investment in cleaner air. Ontario's program was linked to California and Quebec, which have locked Ontario out of the secondary market to prevent dumping credits that could depress prices.
"As soon as we form government, we will provide clear rules to wind down the cap-and-trade scheme in a responsible manner," Ford spokesman Simon Jefferies said in an email statement. "We believe businesses across the province will be happy they don't have to pay this tax anymore."
Seeking Certainty
Dozens of companies have registered to take part in the program, though they aren't required to disclose their positions in the carbon market or say how much they invested. Suncor spokeswoman Sneh Seetal said the Calgary-based oil producer supports a price on carbon and will work with Ontario to develop a framework that "provides regulatory and investment certainty."
"Carbon pricing is a decision of the government," said Tanya Bruckmueller, a spokeswoman for Enbridge, Canada's largest pipeline operator by revenue. "We will work with them as well as the Ontario Energy Board to implement any policy changes."
Toronto-Dominion Bank, Canada's biggest lender by assets, has purchased credits, spokeswoman Lynsey Wynberg said, without providing further comment.
Ontario's move comes as carbon-pricing expands in the U.S. and China, the world's biggest polluter, which has committed to a national pollution program that could open by 2020. Phil Murphy, who replaced Chris Christie as New Jersey governor, has pledged to rejoin the nine-state Regional Greenhouse Gas Initiative led by New York. Virginia has taken steps to link to the program, while lawmakers in Oregon are debating their own carbon-pricing program.
Prices Down
Ontario emitters represent about 25 per cent of the three-region trading market, according to Colleen Regan, an analyst for Bloomberg New Energy Finance.
"In the near term, you could see prices move downward just because this is negative news for the program," Regan said. "It creates uncertainty and fear in the market that these programs are perhaps short lived and hinge too much on politics."
Large industrial users were given free allowances to lower their costs to meet new pollution standards. What becomes of those as well as the revenue the province took in remain unclear.
"Can these emitters sell their free allowances and actually end up making money off the program?" Regan said.
In its agreement with California and Quebec, Ontario said it would "endeavour" to give a year's notice before leaving the program and to exit only at the end of a compliance period, according to a report from Bloomberg New Energy Finance.
"It did very clearly say 'endeavour to' — which does imply there's no real legal obligation for them to stay in the program," Regan said.
Bloomberg.com
You can read more of the news on source