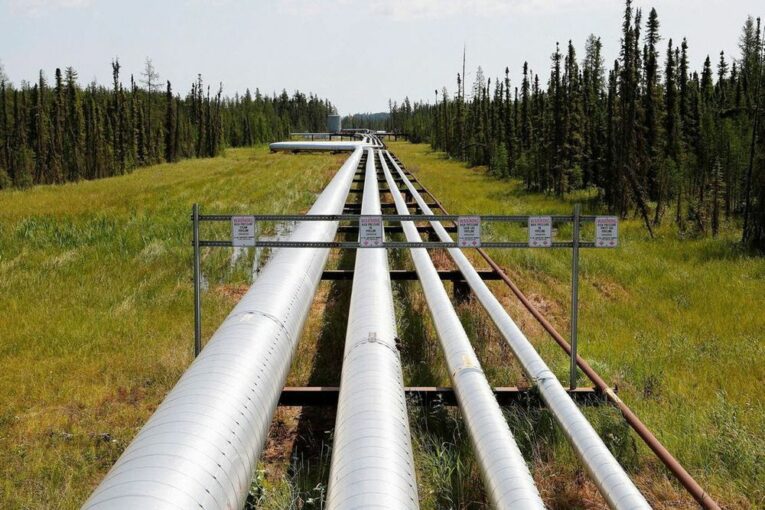 The following is a sample of the most-recent FP Energy newsletter, which hits subscribers' inboxes every Wednesday morning. Sign up here to get the latest edition every week.
If you weren't aware of some of the regional idiosyncrasies in natural gas pricing, you might be surprised to learn that western Canadian producers have seen spot gas prices plunge to zero in recent weeks, the opposite of the United States and Europe.
A rebound in demand for energy post-pandemic and Russia's invasion of Ukraine have propelled global prices for natural gas to new heights, with U.S. benchmark prices hovering in the range of US$8 and US$9 per thousand cubic feet (mcf).
Meanwhile, in Alberta, the benchmark AECO natural gas spot price briefly turned negative several times in August, largely due to high production levels colliding with seasonal maintenance and expansion work on TC Energy Corp.'s NGTL (Nova Gas Transmission Line) system — the largest gas transmission system in Canada.
"There's been a bunch of maintenance that has limited how much (production) can leave Alberta," said S&P Global Commodity Insights analyst Richard Frey. "When you lose that ability to move that production out of the province, you get a cratering of prices."
AECO pricing has since recovered to around $3/mcf, but analysts say some pricing volatility could continue thanks to further maintenance on the NGTL, an unplanned compressor failure and gas injection restrictions.
The temporary collapse in AECO, while frustrating for producers, isn't devastating. Only about 40 per cent of gas production is sold at AECO, according to analysis from the National Bank, as many producers pay to move their gas on long-haul pipelines to the U.S. West Coast, Chicago and Central Canada, where prices have been much higher.
However, the pressure on AECO has been enough to force some Canadian gas companies to shut in production. Canada's largest gas producer, Tourmaline Oil Corp., said Monday it would cut its third-quarter output by 1.5 per cent, or 7,500 barrels of oil equivalent per day (boepd). Kelt Exploration Ltd. reduced its full-year production forecast by 1,500 boepd to around 29,000 boepd.
As frustrating as it may be that natural gas prices are soaring seemingly everywhere in the world except Canada, there is a light at the end of the tunnel. TC Energy is nearing the end of a multi-year project to expand its NGTL network and remove bottlenecks. The company anticipates the expansion will be in service by the third quarter of 2023.
In the meantime, Canadian producers can also expect relief and higher prices, as scheduled maintenance is completed and the seasons change. Gas heats a lot of homes and winter is coming.
— Meghan Potkins

More trouble for Line 5
There's more trouble for Enbridge Inc. after a Wisconsin judge ruled the Calgary-based company must reroute the Line 5 pipeline around the territory of the Bad River Band of the Lake Superior Chippewa within five years. Enbridge says it was already working on it. The ruling stopped short of shutting down the pipeline, as the court expressed concern such a decision would carry "significant" policy implications for both Canada and the United States.
EMBATTLED

The bullish case for LNG
David Rosenberg: Liquefied natural gas is a reliable energy source investors should tap into it. Renewable energy undoubtedly has the greatest future growth potential — as governments strive for "net zero" by 2050 — but the reliability of LNG, combined with the lower associated emissions (relative to other fossil fuels), means governments can concurrently improve energy security while simultaneously reducing pollution.
EXPOSE YOURSELF
The bullish case for oil
Martin Pelletier: The world is struggling to meet energy demand due to inadequate supply, even in a weaker economic environment. However, while jawboning may have a near-term impact on pricing, fundamentals will eventually dictate the price and they are creating an excellent opportunity for investors.
IMAGINE THE UPSIDE

Binder glue
The next generation of vehicles won't be powered by Alberta oil, but they might drive on it. Research suggests that the heavy crude produced in Canada and Venezuela makes for good "asphalt binder," which is the glue that holds pavement together. And that's becoming a bigger consideration in road building as extreme temperatures increasingly pull pavement apart, setting up a long fight against the scourge of all drivers everywhere: potholes.
BEST IN THE WORLD

OPEC is still predicting lots of demand through 2023 (Reuters)
Tamarack Valley set to acquire Deltastream in $1.4-billion deal (Meghan Potkins)
U.K. consumers hardest hit by soaring energy prices in Europe (Financial Times)

FP Energy was edited this week by Gigi Suhanic. The Financial Post reporters documenting the energy transition are Meghan Potkins in Calgary, Gabriel Friedman and Naimul Karim in Toronto, and Marisa Coulton in Montreal. Want to get in touch? Send an email to [email protected].
You can read more of the news on source