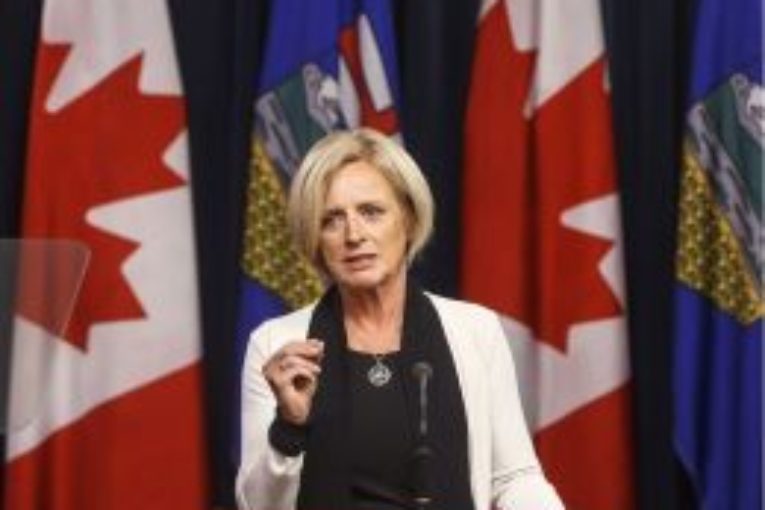 Alberta will cut oil production by 8.7 per cent starting in January in an effort to reduce the punishing price differential plaguing energy producers, says Premier Rachel Notley.
"We must act immediately, and we must do it together," she said in a speech Sunday at the Federal Building.
About 25 producers are expected to face cuts until the 35 million barrels of oil currently in storage are shipped out of the province.
"We have a fairly good sense of what we need to do to clear the market, and clear storage," Notley said, adding the decision was "very difficult.
"When markets aren't working … then we have a responsibility to act," she said. "This is a critically important matter for Canada's economy, not just Alberta's economy."
The price differential between Western Canadian Select and West Texas Intermediate has fluctuated in recent weeks, peaking at around C$45 a barrel. Western Canadian Select was selling for US$17 per barrel Friday.
Tim McMillan, president of the Canadian Association of Petroleum Producers, said the actions announced Sunday underscore a dire situation.
"It further reinforces the need for Canada to increase exports of our oil and natural gas to existing and new markets, which will ultimately help meet global demand and expand our customer base," he said in a statement.
No industry consensus
Producers are making 190,000 raw crude oil and bitumen barrels per day (bpd) more than can be shipped out of Alberta, said the province. Cuts will initially reduce the oversupply by 325,000 bpd, but eventually that number will drop to 95,000 bpd after excess storage is dealt with.
The plan, which would end Dec. 31, 2019, is expected to reduce the differential by at least US$4 per barrel relative to where it would have been otherwise.
Cenovus Energy Inc. CEO Alex Pourbaix, who has called for government-mandated cuts, lauded the news and said "these are not ordinary circumstances.
"The Alberta government has listened and responded quickly," he said in a statement. "The measures Premier Notley announced today will help balance the market in the short term until new rail and pipeline capacity comes on stream late next year and into 2020."
But not all producers have been on board to curtail production, and Notley said no industry consensus is expected.
Alberta's political parties did reach consensus however, with UCP Leader Jason Kenney and Alberta Party Leader Stephen Mandel pushing for cuts before the NDP laid out its plan.
"We've got to cut the differential in half," Kenney said at a Sunday news conference.
The UCP had proposed 10 per cent production cuts, but Kenney said he didn't want to "quibble over the numbers."
Mandel said the NDP decision was several months too late.
"It's about time the provincial government did something," he said. "The time has come to take responsibility for the inaction by this government … it's been frustrating."
The province pegs losses due to the oil discount at around $80 million per day, though estimates vary.
No new legislation required
The province is directing the Alberta Energy Regulator (AER) to launch the system of curtailment through existing legislation. The minister of energy will have authority to set monthly levels through a cabinet order.
Cuts will be determined on an operator basis, not by well or project. The baseline will be calculated by averaging the six months of highest production level over the past year for each company.
The first 10,000 bpd for each company will be excluded, said the province.
Kenney said he's concerned that exemption level will still hurt small producers. The UCP had suggested a higher threshold, limiting cuts to producers making more than 25,000 bpd.
He also said he believes the move will prevent job losses.
"A continued $40 price differential will potentially result in tens of thousands of layoffs," he said.
Crude-by-rail to ship out 120,000 bpd in 2020
On Wednesday, Notley announced Alberta would increase crude-by-rail capacity by an additional 120,000 bdp, starting in late 2019. The full complement of rail cars would ship out in 2020.
Crude-by-rail shipments already increased to a record in September — nearly 270,000 bpd — but the differential continued to grow.
Notley, who appointed three envoys tasked with examining short-term solutions, was in Ottawa and Toronto where she slammed the federal government for failing to take action.
Alberta had asked Prime Minister Justin Trudeau to boost rail capacity to provide relief, but the federal finance minister hinted that Ottawa was leaning away from that option.
Trudeau's most recent visit to Calgary Nov. 22 spurred a pro-oil rally in the city's downtown.
Natural Resources Minister Amarjeet Sohi said Sunday that Ottawa shared Alberta's frustration on the price discount.
"The status quo cannot continue," he said in a statement. "The fact is, our government inherited a flawed system that led to projects going before the courts rather than getting shovels in the ground.
"Our government has been taking steps since Day 1 to ensure that good projects can move ahead by making the issue of market access a priority."
The province said oil production cuts will add an estimated $1.1 billion to Alberta government revenue in 2019-20.
The bill contains 'some good provisions,' but it also has 'some real killers'
The story of one entrepreneur with a cutting-edge product who ran headlong into a swamp of regulation and political indifference
The so-called 'No More Pipelines' law will define Trudeau's legacy just as the failed National Energy Policy defines his father's time as prime minister for Albertans
Entitled to deduct interest expenses on 2004 Quest loan he used to satisfy judgments against himself and Hollinger Inc.
You can read more of the news on source