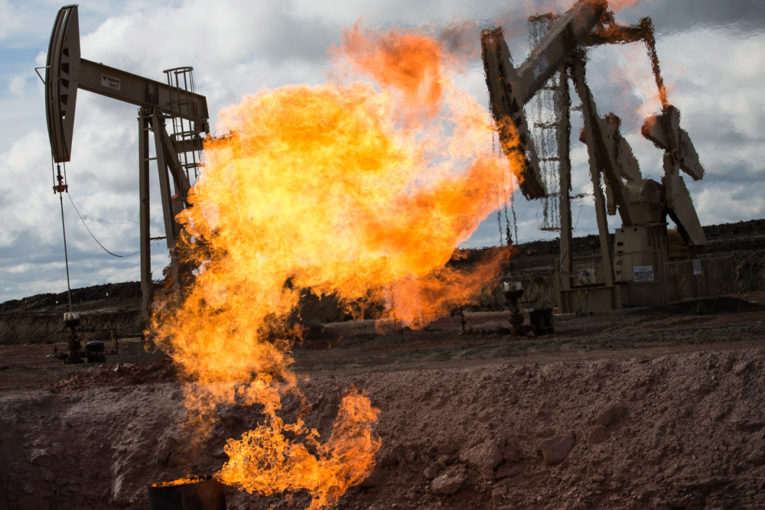 OPEC for the first time is forecasting that new oil supplies from its rivals will exceed growth in demand this year as the U.S. industry thrives.
The Organization of Petroleum Exporting Countries raised its expectation for supply growth from the U.S. and other producers for a fourth consecutive month, according to its monthly market report. The outlook suggests efforts by the group and Russia to clear a global glut by cutting supply are backfiring, as new production emerges, particularly in the U.S.
Oil rallied to a three-year high in January as the supply curbs by OPEC and Russia drain a surplus unleashed by a boom in U.S. shale oil. Prices have since retreated with the American shale industry continuing to flourish, propelling output to record levels.
While global oil demand will climb by 1.6 million barrels a day this year, more than previously thought, that can be covered by an increase of 1.66 million barrels a day of supplies from outside OPEC, the organization said. It raised non-OPEC supply growth forecast by 260,000 barrels a day in the latest edition, and that from the U.S. by about 12 per cent to 1.46 million a day.
As a result, OPEC's ongoing cuts won't be as effective in clearing the rest of the inventory surplus, the data showed. The cartel will be required to supply about 200,000 barrels a day less than anticipated in last month's report.
By changing its projections, OPEC is catching up with other forecasters like the International Energy Agency, the institution that advises oil-consuming nations. The IEA's estimate of non-OPEC growth in 2018 is still higher, at about 1.8 million barrels a day.
Nonetheless, the report showed that OPEC's supply curbs are continuing to shrink the global glut as most members implement their pledged cutbacks. Surplus oil inventories in developed nations have plunged by 85 per cent from the start of last year, to stand at about 50 million barrels in January.
OPEC estimates that its 14 members pumped about 32.19 million barrels a day last month, the lowest since April 2017. An average of about 33 million barrels a day is needed during the rest of the year, implying that developed-world stockpiles would contract by a further 110 million barrels.
Even though the cartel is nearing its inventories target, its most powerful member, Saudi Arabia, has said the market hasn't properly rebalanced and the supply curbs may need to continue next year. OPEC and Russia will review their progress when they meet in June.
Bloomberg.com
You can read more of the news on source